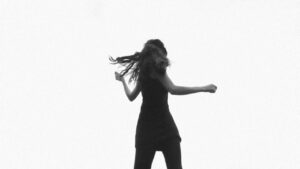 Wila Frank
Black Cloud
Tone Tree Music
Singer-songwriter Wila Frank's debut LP Black Cloud defies the expectations of a Music City artist. Like a number of musicians who have moved to Nashville in the wake of the city's big boom, Frank isn't a country artist. Her work hews closer to indie rock, with fetching quirks that make it distinctive. For instance, there is a repeated sharp fourth that gives the progression in "Oh Fate" an unconventional tinge.
Frank's singing sometimes adopts a disaffected, even laconic, tone, which makes the soaring climaxes of songs such as "Fire" even more stirring. A mathy guitar riff on the verses of "Tonight" succeeds to a buoyant vocal hook and emphatic guitar chords. One of the most distinctive aspects of Black Cloud is Frank and her band's ability to change demeanor tremendously quickly. It is almost like skipping chapters in a novel to find a completely dramatic arc.
The title track is haloed with synths and propelled by rhythm guitar, a piano ostinato, and an attractive line in the bass guitar. Frank's singing floats over this finely constructed arrangement, displaying a plaintive lyricism. A standout.
There is a hat tip to country music on "Ghosts and Guitars," but it adopts elements of Tejano music instead of the Nashville Sound. The album closer, "Executioner," has a stark electric guitar playing the Lamento progression. When the chorus begins,  drums enter with terse fills and Frank sings with sliding fluidity. There is a memorable, melancholy hook. The vocals soar, buoyed by the  band at full cry. After the last chorus, we are returned to the verse's electric guitar in a desolate coda.
Frank has shared a fascinating autobiographical essay via Talkhouse. She is distinctive and talented, both as a singer and as a songwriter. Many in Music City likely can scarcely believe their ears.
-Christian Carey