Kaija Saariaho (1952-2023)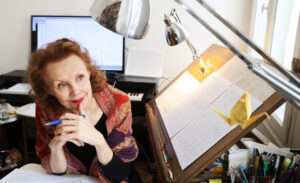 Sequenza 21 is saddened to learn of Kaija Saariaho's passing at the age of 70. The cause was cancer. Despite the toll taken by the disease, she continued to compose nearly to the end of her life. Hush (2023) for Finnish jazz trumpeter Verneri Pohjola, was her last piece.
Saariaho was one of the greatest composers of her generation, and a pathbreaker who encouraged composers in the next. She composed for nearly every genre of concert music and made electronic music at top flight studios, including IRCAM. 
The composer had an international career with champions throughout the world. A signature example is her opera Innocence (2018), a group commission by Finnish National Opera, The Royal Opera House Covent Garden, Dutch National Opera and San Francisco Opera. Saariaho has had a significant presence in the United States as well. Oltra mar was premiered by the New York Philharmonic to celebrate the Millenium. Her opera L'Amour de loin (2000) was the first by a female composer to be performed at the Metropolitan Opera in over a century. 
Generous tributes from all corners of the musical community, ranging from prominent composers, conductors, and performers, to admiring students and listeners, have been pouring out since this sad news was announced. Saariaho was not only a respected creator, by all accounts she was a keen collaborator and kind person. She will be missed by many, and her music will live on.
-Christian Carey