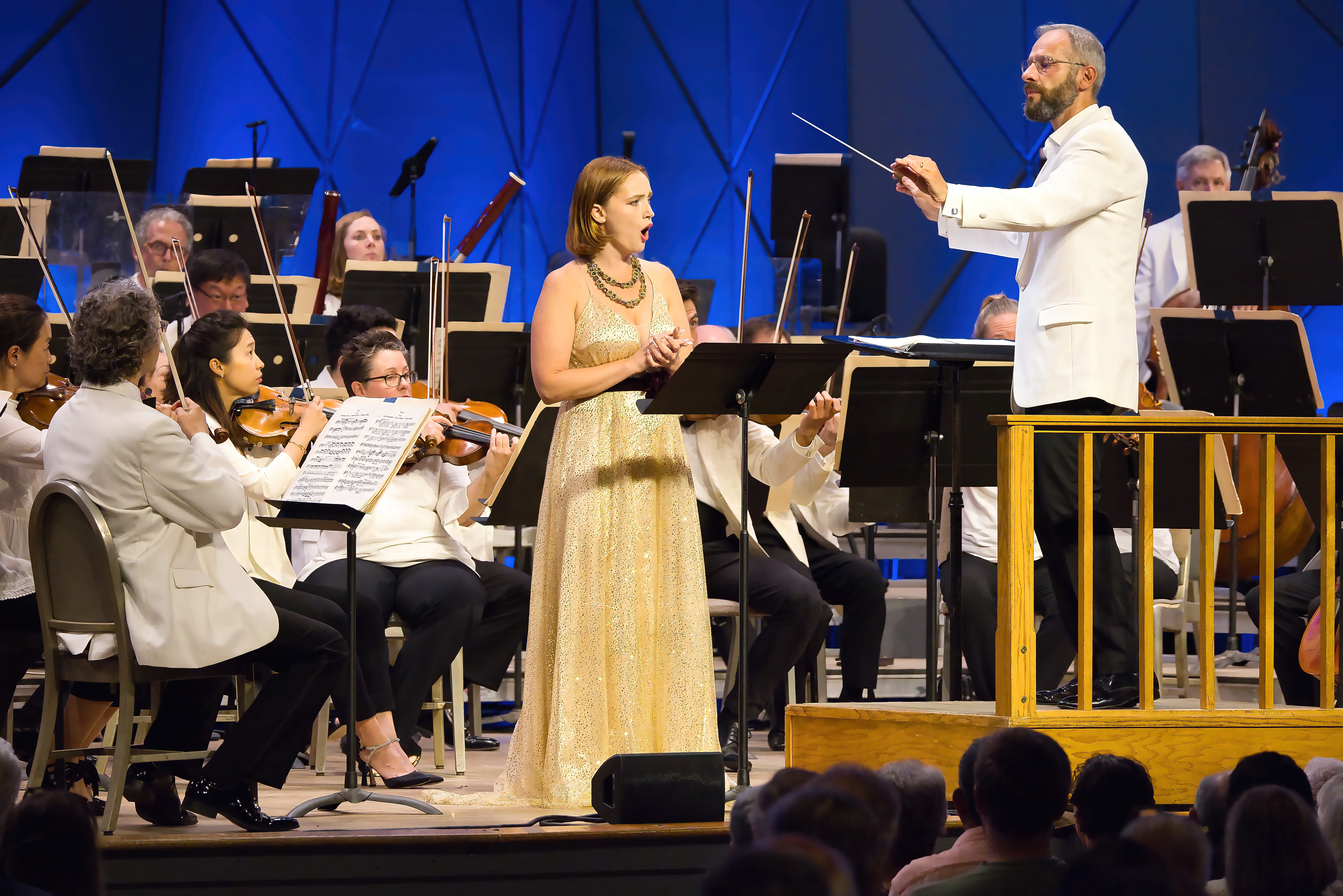 Boston Symphony Orchestra, Dima Slobodeniouk, conductor
Avery Amereau, mezzo-soprano
July 29, 2023
LENOX – This year's Festival of Contemporary Music at Tanglewood spotlighted female composers. Four created self-curated concerts, and others were featured on BSO concerts. Agata Zubel's In the Shade of an Unshed Tear, originally composed for the Seattle Symphony, was on the program Saturday night in the Shed. Before its performance, conductor Dima Slobodeniouk talked briefly with Zubel onstage. Prominent among their remarks were the stipulations of the original commission. Seattle was pairing Zubel's piece with works by Beethoven and wanted her to compose for a classical-sized ensemble, with only timpani for percussion. Slobodeniouk pointed out that new pieces in Europe are generally for a much larger orchestra. Zubel acknowledged that the commission was a challenge. 
With In the Shade of an Unshed Tear, the composer rose to the challenge. The timpani began the piece with thunderous attacks, the orchestra following in kind, creating a fortissimo sound that tested the boundaries of a classical-sized ensemble. Zubel employed glissandos grouped among the strings at a lower dynamic level. Still, the fortissimo material seemed inevitable to win out. In a swerve, a denouement followed by the timpani playing pianissimo proved an interesting and organic ending. 
Olivier Messiaen's Les Offrandes oubliêes is a relatively early piece. It is surprising how much of the composer's musical language was in place by the time he was in his twenties. An ascending mixed-interval scale serves as the principal theme. At the time, the composer was studying Rite of Spring and this is reflected in more rigorous passages that contrast the beguiling melodic ascent.
Mezzo-soprano Isabel Leonard was indisposed and Avery Amereau substituted for her as the soloist in Hector Berlioz's Les nuits d'été. With a beautiful, round tone throughout all registers from chest voice to high notes, Amereau's voice was well-suited to the considerable demands of Berlioz's half-hour long song cycle. Slobodeniouk and she had a few mild coordination challenges, but these were well worth the flexibility of their interpretation.
Maurice Ravel's Daphnis et Chloé, Suite No. 2 is one of the composer's finest orchestra pieces. Orchestrated with a deft hand for colorful, abundant contrasts, it encompasses sequences of delicate impressionist harmonies and neoclassical dancing rhythms, with powerful swells at climatic moments that bring the whole orchestra to bear. Slobodeniouk conducted the BSO with verve, urging them to make the most of tutti crescendos while also making ample room for solo passages. The orchestra played with precision throughout and abandon whenever appropriate. It was a satisfying, frequently inspiring evening.