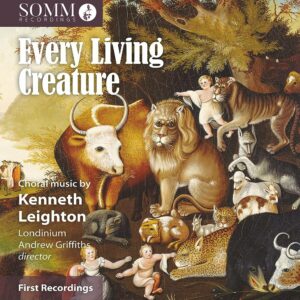 Every Living Creature
Choral music by Kenneth Leighton
Rebecca Lea, Nina Bennet, soprano; Ciara Hendrick, mezzo-soprano; 
Nick Pritchard, tenor
Finchley Children's Music Group, Grace Rossiter, music director
Londinium, Andrew Griffiths, director
SOMM Records
Kenneth Leighton (1929-88) was a distinguished composer and academic. He taught at various places, including Oxford where he had studied as an undergraduate, spending the bulk of his academic career at the University of Edinburgh. He wrote in many genres, but it is his music for choirs that is most prized. His choral music is rigorous in construction with vibrant rhythms and skilful formal designs; tonal, but never overly sentimental. Every Living Creature, performed by Londinium, the Finchley Children's Music Group, and a quartet of vocal soloists, conducted by Andrew Griffiths, is one of the finest recordings I have yet heard on the SOMM imprint, with a lively reverberant acoustic and wide dynamic range. It also contains a number of first recordings. Prior to the recording, some of the scores were not even published, languishing in library collections. 
The centerpiece of the recording, Laudes Animantium, Op. 61 (1971), is a celebration of animals, with a variety of poets' observations of creatures real and fanciful. Leighton himself was an animal lover, with a cat, rabbit, and dog who he often watched playing with his children in the yard. His faithful labrador retriever would sit at his feet while he composed, only stirring when Leighton played a chord or two that displeased him.
The piece's Prelude is from Song for Myself by Walt Whitman, the author describing animals as peaceful, ideal companions. Tenor Nick Pritchard, who gives several standout performances on the recording, sings the Whitman poem with a sweet-toned lyrical voice and excellent diction. Rebecca Lea sings with purity and beauty, animating the subjects of many of the movements. Soloists from the choir, Arielle Lowinger and Madeleine Napier, deserve plaudits as well for their singing, performing with fetching delicacy in "The Lamb."
The mood of the cycle shifts between movements, with a lively scherzo, "Calico Pie," a dramatically imposing "The Tyger,"  and a truly terrifying depiction of "The Kraken." Throughout, the choir is expressive and finely honed in its accuracy. Griffiths's direction keeps the counterpoint clean and the tempos fluid. The end of the cycle, "Every Living Creature," is impressive, with soloists and choristers joining in a piece that could well be an excerpted anthem to conclude a celebration of animals in any Episcopal church with the performing forces to attempt it. Griffiths and company have set a high bar. 
"An Evening Hymn" and "Lord, When the Sense of Thy Sweet Grace" also feature Lea as soloist, her tone and dynamic control impeccable. Hushed singing begins the Evensong anthem, gradually growing, with free counterpoint juxtaposed against  lush verticals. 
"London Town" is a powerful piece, with the choir opening up to clarion fortissimos in its climaxes. "Three Carols" are quite lovely and would enhance many a Christmas Eve service. "Nativitie" features homophonic polychords alternating with tight canons. As the piece progresses, the lines get longer and are buoyed by chords, ending with a well executed pianissimo cadence. The final piece on the recording is "The Hymn to the Trinity," which explores Lydian melodies and staggered cadences, a repeating homophonic passage tying things together. The latter half features brisk overlapping melodies. The Lydian returns, followed by a bright amen cadence, It is a moving close to a disc of great discoveries. Someone please publish this music and distribute it widely. 
-Christian Carey