---
John Adams to Write
Dr. Atomic for SF Opera
---
John Adams has been commissioned by the San Francisco Opera to compose a work about J. Robert Oppenheimer, the scientist largely credited with the creation of the first atomic bomb, at Los Alamos, N.M., in the 1940s.

"Doctor Atomic" is the working title of the new two-act opera, which will make its world premiere in an S.F. Opera production during the company's 2005-06 season. The commission will mark general director Pamela Rosenberg's first world premiere with S.F. Opera and will be presented as part of Rosenberg's "Animating Opera" Faust project, which was announced in January 2000.

The commission reunites the creative team of Adams, librettist Alice Goodman and stage director Peter Sellars. The three previously collaborated on Adams' "Nixon in China," which premiered at Houston Grand Opera in 1987; and "The Death of Klinghoffer," an S.F. Opera co-commission that premiered in Brussels in 1991 and received its West Coast premiere in San Francisco in 1992.

Donald Runnicles will conduct the new production, which is being co-produced by Lyric Opera of Chicago.

The chief characters have not yet been cast. Oppenheimer will be a baritone, and other characters include Edward Teller (bass-baritone), Kitty Oppenheimer (mezzo-soprano), Mici Teller (high mezzo-soprano), Elsie McMillan (high soprano) and a triple tenor role: Sen. Hickenlooper, King Juda of the Bikini Islands and Edwin McMillan.

Commenting on the new work, Adams said: "I'm interested in using in part the structure of the 1950s science fiction movie.

"These events were played out during a time when all those movies about bombs and monsters and strange genetic mutations were very popular, and they invaded the consciousness, the unconsciousness, of the country. That's why I chose the title, because it had a certain '50s, sci-fi resonance."
---
Langston Hughes Opera Recovered A long lost blues opera by Lanston Hughes and James P. Johnson performed only three times in 1940 has been reconstructed and performed. "The music is a combination of jazz, swing, blues and ragtime, all set within a classical structure. At various points it recalls the work of Gershwin, Duke Ellington, Scott Joplin and Dvorak. Some of the numbers set spectators to tapping their fingers and toes in rhythm." The New York Times 12/28/02

Dumbing Down Music On TV Make classical music "relevant"? "Hip"? "Glamorous"? The new Classic FM TV packages classical music into three-minute MTV-style videos, but far from making it attractive, it succeeds in "creating bland 'easy listening' versions that are impossible for any serious musician to listen to." London Evening Standard 12/27/02

Anyone Can Conduct, Right? Punk Rocker Leads Royal Philharmonic A British TV show called "Faking It" picked a punk rocker out of a pub and spent four weeks teaching him how to conduct a symphony orchestra - the Royal Philharmonic. "His first hurdle was learning to read music: 'I didn't do that well at school. So at first I just saw little black dots. The experts said, 'There's no right way to conduct but there's a wrong way.' I found it incredibly confusing." London Evening Standard 12/23/02

When Violins Are Played Only As "Investment Opportunities" Owners of a 1718 Stradivarius violin have loaned it to the concertmaster of the Detroit Symphony. But only for two-and-a-half weeks. Then it's back to the vault in which it lives. Why? The instrument is for sale, and it's good publicity to get it played. But the instruments are so expensive - this one valued at about $3 million - that very few musicians could ever afford to play, let alone own one. Detroit Free Press 12/29/02

Vintage Sound On Vintage Machines Melbourne's Vintage Sound Association is into old recordings. Not CD's. Nopt even LP's. "The club, which has 20 members, meets once a month at the South Camberwell Tennis Club to play their old music on their old machines. Some use cylinders, which, before records, were the original sound source. Later examples, the gramophones, often feature the big conical horns, which in the vintage era acted as speakers. Some units have two horns as an early example of 'stereo'." The Age (Melbourne) 12/27/02

Classical Gas - Stuck In The Past? Why do people constantly dump on classical music? Justin Davidson writes that "those who are most passionate about the art are also people with a strong allegiance to the past - often stronger, in fact, than their affection for the present. Connoisseurs believe in a golden age, when composers really knew how to write, performers knew how to play and music lovers knew how to listen. To members of this cult of bygones, John Adams is a puny figure hopping alongside the colossus of Beethoven, and the violinist Maxim Vengerov a flickering shade in the brilliance of Nathan Milstein. The present is degraded precisely because it can never be the past." Chicago Tribune (Newsday) 12/24/02

"Silent Night" Restored to Original Version Think you know "Silent Night? You don't know the "real" "Silent Night." "The modern version comprises only the first two and the last of six original verses." And there has been a minor musical revision. Now "the Silent Night Association, an Austrian-based appreciation society, has now released a CD containing all the words, sung in 15 languages, in time for Christmas. The music differs subtly in two bars but the change is barely noticeable." The Telegraph (UK) 12/22/02

We Dig World Music - Just One Question...What Is It? World Music is hot. Yet the genre is so broad, defining it leads to all sorts of disagreements. "Such acute diversity can be bewildering. If you've ever thought that the term 'world music' is one of convenience, you are right. It was, according to Radio 3's most sturdily-accented presenter, Andy Kershaw, coined by 'six independent record companies in a room above a pub in Islington in 1986'." The Scotsman 12/24/02

Last Week's News

Record companies, artists and publicists are invited to submit CDs to be considered for our Editor's Pick's of the month. Send to: Jerry Bowles, Editor, Sequenza 21, 340 W. 57th Street, 12B, NY, NY 10019 Also, feel free to nominate your favorite composer-- even if it's you--for Spotlight of the Week.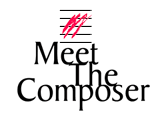 ---
Meet The Composer and the American Symphony Orchestra League have announced the fourth season of their MUSIC ALIVE Composers and Orchestras Together. Nine American composers and eight orchestras have been selected to participate in MUSIC ALIVE residencies of two to three weeks in duration, beginning in fall 2003 and extending through spring 2004.

Since the creation of MUSIC ALIVE in 1999, this far-reaching residency
program has succeeded in advancing American orchestras involvement with
living composers and fostering greater awareness and appreciation for
contemporary music. To date, MUSIC ALIVE has supported a total of 28
residencies bringing 34 composers together with 25 orchestras. The
participating orchestras have reflected a broad geographic and budget range,
from youth and regional orchestras to major symphony orchestras with
international reputations. The participating composers have ranged from established Pulitzer Prize winners to largely undiscovered emerging talents. Their music has covered an exciting and extensive stylistic terrain.

In announcing the latest round of awards, Jesse Rosen, chief program officer of The League, and Heather Hitchens, president of Meet The Composer, reflected that "We see an encouraging trend of significantly increased programming of works by living composers by American orchestras, as well as dramatically enhanced audience receptivity to these new works. Music Alive
has been an important catalyst in propelling this trend, and reaffirms our
belief that when orchestras draw upon the manifold strengths of composers and engage them as artistic collaborators, new music can thrive."

This year's MUSIC ALIVE awards continue this trend, and demonstrate an encouraging vitality among this diverse group of American orchestras and composers. The awardees include established composers like Chen Yi and Anthony Davis and exciting rising talents like Naomi Sekiya and Kenji Bunch, paired with orchestras that extend across the USA.

Meet The Composer and the American Symphony Orchestra League joined forces in 1999 for the first time to launch MUSIC ALIVE. This national residency program was created to generate ongoing support by symphony orchestras for living composers and their music. It enables American orchestras of all
sizes to have a composer-in-residence for periods of two to eight weeks to
coincide with performances of their works. Through the short but intense
immersion approach of MUSIC ALIVE, the process of building adventurous
audiences is accelerated. Composers participate not only in a wide range of
community outreach and educational activities, but they also work internally
with their host orchestras: supporting the work of the marketing and
publications departments; advocating new music among trustees and staff;
collaborating with the music director; and assisting in the performance of
their own work.


2003-2004 MUSIC ALIVE
Residencies

Albany Symphony Orchestra, NY • Dorothy Chang, b. 1970 • 3 weeks

American Composers Orchestra, NY • Alvin Singleton, b. 1940 • 2 weeks

American Composers Orchestra, NY • Anthony Davis, b. 1951 • 2 weeks

Berkeley Symphony Orchestra, CA • Naomi Sekiya, b. 1969 • 3 weeks

Evansville Philharmonic Orchestra, IN • David Ott, b. 1947 • 3 weeks

Meridian Symphony Orchestra, MS • Samuel Jones, b. 1935 • 3 weeks

Mobile Symphony, AL • Kenji Bunch, b. 1973 • 2 weeks

Seattle Symphony Orchestra, WA • Chen Yi, b. 1953 • 2 weeks

Vermont Symphony Orchestra, VT • David Ludwig, b. 1972 • 2 weeks
---
Classical Grammy Winners
---
Previous Interviews/Profiles
Simon Rattle,
Michael Gordon,
Benjamin Lees,
Scott Lindroth,
David Felder,
Mark-Anthony Turnage,
Erkki-Sven Tüür,
John Luther Adams,
Brett Dea
n,
Judith Lang Zaimont,
Meyer Kupferman,
Evan Chambers,
Poul Ruders,
Steven R. Gerber,
Gloria Coates
Previous Articles/
Busoni The Visionary
The Composer of the Moment: Mark-Anthony Turnage
Electronic Music
Voices: Henze at 75
Henze Meets Emenim
On Finding Kurtag
Charles Ruggles: When Men Were Men
Ballet Mécanique
The Adams Chronicles
---