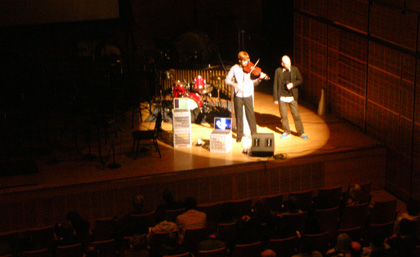 For all the allusions to chaos and complexity in the American Composers Orchestra's Orchestra Underground concert at Zankel on Friday night, the evening was a surpisingly mellow–dare I say it, even melodic–affair.  If new music is going to be this much fun to listen to there is a real danger that people are going to start coming to concerts.  
This is not to say the program was not adventuresome, just that it contained some unexpected crowd pleasers.  The guy sitting next to me, a visiting pianist/composer from St. Louis named Ken Palmer who came strictly for the Ives opener (Ken had written his dissertation at Yale on the Concord Sonata), even allowed that he would like to hear a couple of the pieces again and ventured that this weird Corey Dargel dude could be some kind of "breakthrough something or other" hit.
The evening began with orchestrated versions of Charles Ives' Four Ragtime Dance, Nos. 2 and 4, originally composed for piano.  The thievery from Scott Joplin and Hubie Blake would be offensive if it were not so disarmingly obvious and re-mixed with church songs and marching band ditties with such consummate wit.  By the time we got to "Bringing in the Sheaves" (or "bringing in the sheep," as we sang just to be naughty when I was a kid), everyone in Zankel Hall had a grin on their face.
The chaos part of the evening was supplied by Brad Ludman's Fuzzy Logic, four short movements of dazzling electronia augmented by Lauren Bradnofsky on amplified cello and various orchestral instruments, as well as a dandy video by Boom Design Group.  I liked the way each of the movements began on a confident, assertive trajectory, became more convuluted and accelerated until they split apart, and then dissolved with a kind of a whimper.  Not sure what it means except maybe it doesn't matter where you begin you're going to wind up lost anyway so you can stop anywhere.  Silvestrov does that, too, although his music starts out tentative before it totally wimps out.  
Michael Gandolfi's two-movment piece As Above was also a video collaboration (with Ean White), with the first short movement called "Touch" based on natural images and the second called "Electric" based on more urban images.  Touch was more chaos, a kind of jerky musicial cubism, based on the science of fractals, but Electric drew from vanacular musical languages, including rock, blues and some super-infectious "flying down to Rio" Latin rhythms.  It had a beat and you could dance to it.
The major complexity element of the evening was supplied by Michael Gatonska's After the Wings of Migratory Birds, a brilliantly rendered tone poem based on the composer's re-imagination of the sounds made by swallows gathering in migratory flocks–the way they sound when they move at the same time, the way they all flap their wings in unison, the way they suddenly fall perfectly still at the same time.  The orchestration was dense and often breathtaking, with some stunning moments of pure beauty in the strings.  I don't think it is an exaggeration to say that this is a La Mer for the age of complexity.
Susie Ibarra did a piece on a drum set which was short and not too loud, qualities I appreciate in a drum solo.  The evening ended with Evan Ziporyn's Big Grenadilla, a concerto for bass clarinet, which he performed admirably himself with impressive breath control.  Ziporyn's music is so competent, so assured, so well-constructed that I really, really hope to like it someday.  I'm sure the fact that it leaves me cold is my failing, not his.
One of the several fun points of the evening was the beginning of the second half when a recording of Charles Ives hammering away at a piano and singing some hardy patriotic World War I ditty was played for the amusement of those assembled.  The recording was a little blurry but I could have sworn Ives said "That sucked" at the end.  It couldn't have been that, although the sentiment was certainly accurate.
And, of course, the hit of the evening–the peoples' choice–was our own boulevardier Corey Dargel, who brought down the house with a tres amusant song called All the Notes and Rhythms I've Ever Loved about composer boyfriends who, knowing that he can't orchestrate, steal his stuff and use it in their own pieces which is a kind of "sadistic, back-handed compliment."  It was the usual Corey brilliant mix of satire and truth. 
My new friend Ken in the next seat over is right;  Corey is destined to become some kind of "breakthrough something or other" hit.   Anybody need an intellectual Peter Allen?