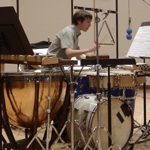 It's hard to imagine a percussionist that you would want to perform your music more than Alex Lipowski. Alex has a passion for the new, the challenging and the unusual and I find him to be one of the most inspirational musicians I've ever met. He spent much of our time together explaining how important it is to take risks and to find new and innovative sounds — good advice. You can see Alex and the Talea Ensemble on April 28 at the Players Theatre, 115 Macdougal Street, NYC.
Looking ahead, there will be three episodes in May and I'll be devoting the month to violists. Check back on May 3 and see what Beth Weisser of the iO Quartet has to say.
Not sure where to find the podcast?
– Subscribe in iTunes here
– Subscribe with your RSS reader here
– Find it on InstantEncore here
P.S., If you were not able to make it to the bake sale then you missed out on a very special event. Even if you don't care for all the music it's hard to deny the sense of community from having so many different groups all in the same room – we are all in this together! Tip of the hat to Newspeak and Ensemble de Sade for making it happen.