Kicking off in just a matter of hours, this year's Ojai Music Festival has a schedule sure to make a number of East-Coasties feel they picked the wrong ocean to live by.
This year features a multi-part symposium, starting at 3:30pm this (10 June) afternoon with "The 21st Century Musician". Ara Guzelimian will lead a panel of diverse and creative musicians in exploring questions such as "Where is the music industry heading?" "What are the changing roles of musicians?" "What are the opportunities?" "What are the challenges?"… Panelists will include violinist and 2009 Ojai artist Carla Kihlstedt, LA Chamber Orchestra concertmistress and prominent LA musician Margaret Batjer, plus members of the Ensemble Modern. Then at 8pm's main concert, members of Ensemble Modern, George Benjamin conducting,  joined by Hilary Summers (mezzo soprano) and Hermann Kretzschmer (piano) to take on works by Saed Haddad, Steve Potter, Elliott Carter and Arnold Schoenberg.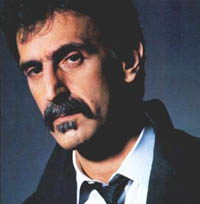 Friday (11 June) picks up at 11am with two more symposia: the first a conversation with George Benjamin, followed by this year's centerpiece: discussions and concerts on Frank Zappa, the man and his music. Ara Guzelimian will be joined by Frank's widow Gail Zappa, as well as Ian Underwood, Steve Vai, Todd Yvega and Dietmar Wiesner. All that leads to the 8pm all-Zappa concert (with of course a couple Varèse pieces parked in the middle): Music from Greggery Peccary & Other Persuasions and Works from The Yellow Shark — 14 works in all, performed by the Ensemble Modern, Brad Lubman conducting.
But wait! You really need to wake up early on Saturday (12 June), to head back at 11am and hear pianist Eric Huebner play Olivier Messiaen's Vingt Regards sur l'Enfant Jésus in its entirety. Then you can relax again until the evening concert, a double bill featuring George Benjamin's Into the Little Hill and Igor Stravinsky's L'Histoire du Soldat Suite.  Once again George Benjamin will be at the helm of the Ensemble Modern,  and Hilary Summers will be joined by Anu Komsi, soprano.
Sunday morning (13 June) takes a slightly different turn at 11am, as the group Wildcat Viols present Henry Purcell's Fantazias for three and four viols, followed by Aashish Khan (sarod), Javad Ali Butah (tabla) and John Stephens (tanpura) offering North Indian classical morning ragas. The big finale at 8pm brings most of our major players back on stage for what sounds like a stunning concert: Pierre Boulez's Memoriale, Benjamin's Viola, Viola, Oliver Knussen's Songs for Sue, Benjamin's At First Light, Gyorgy Ligeti's Chamber Concerto, and Olivier Messiaen's Oiseaux Exotiques.
The L.A. Weekly interviewed George Benjamin about the festival, and you can read all about it here.