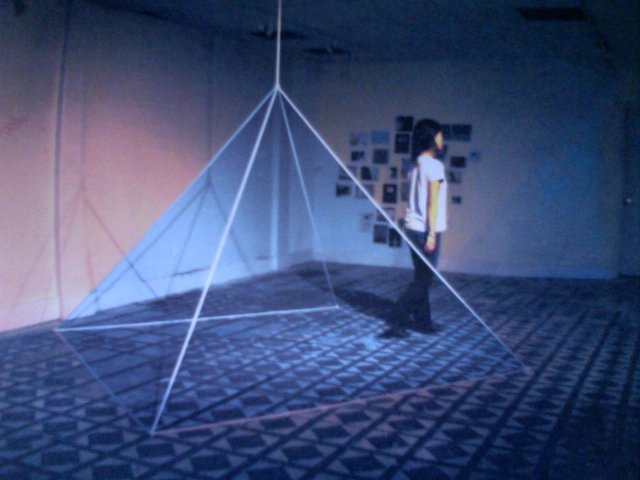 Pyramid and Michelle Yom at Labotanica (Houston, TX)
This Friday, October 1st at 7pm, Michelle Yom will present her sound performance installation Back To Imagined Spaces at Houston's alternative arts and music venue Labotanica located at 2316 Elgin Street. This is a part of Labotanica's ongoing Hear/Her/Ear series spotlighting women in experimental music.
I got a chance to hear Michelle last month in a solo vocal set at Avant-Garden where she recorded and looped her singing in real time to additively build a series of haunting chorales. Michelle is perhaps best known as a flautist with a strong classical technique and the skills and imagination of a great improviser. Her flute and drums duo Doggebi features Michelle with drummer Spike The Percussionist – a musician I name checked in my Houston Mixtape #3: The Epicenter Of Noise – freely and (almost) breathlessly improvising music that is somehow stark yet filled with a minutiae of details.
Back To Imagined Spaces imagines the human body as a collection of cells that sing and are heard in a "self-imposed timeless space" contained within the pyramid Michelle has constructed inside Labotanica. Regarding the music she will perform, Michelle writes: "The first set is a series of staccato vocalizations with syllables from the mantra, Asato Ma Sad Gamaya, processed through seven delays. The second set will be a live performance of tonal pieces titled Heart, Ears, Kidney, and Stomach, also using vocal sounds. The pieces are intended to capture a version of imaginary but prudent sounds, much like taking a microscope and focusing the lens into singing, living cells."
Also on Friday's program are performances by artist, vocalist and electronic composer Melanie Jamison and Labotanica's tireless curator, visual and sound artist Ayanna Jolivet McCloud.
There is a $5 cover charge for the show. All proceeds go to the musicians. Michelle Yom's installation will be up October 1st through October 9th, 2010.