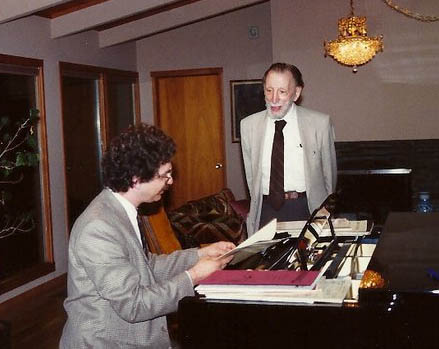 Getting ready to enjoy all those new, happy/shiny Xmas presents, I'm sure… Well, here's another that won't cost you a dime:
S21's WPRB-favorite-son, announcer Marvin Rosen, is getting a jump on the upcoming Alan Hovhaness centennial with a 24-hour marathon broadcast of Hovhaness's music (that's Marvin above, in 1992, with Hovhaness at the composer's home). "Mountains and Rivers Without End" begins Sunday, Dec. 26th at 7pm, and will feature more Hovhaness than you can shake a stick at (I know more than a few composers who might well be furiously shaking that stick, but I myself am pretty partial to this American original). Two guests during the marathon will be clarinetist and conductor Lawrence Sobol (December 26, evening), and pianist Sahan Arzruni (December 27, early afternoon) both of whom have recorded the composer's music. In the New York/New Jersey area you can tune to WPRB at 103.3 FM, while the rest of can stream it all live online.
Marvin is about as well-positioned as anyone to lead you through Hovhaness's vast output; his doctoral dissertation was on Hovhaness's music; he was a friend of the composer for many years and spent two weeks in Seattle working with him on his piano music in preparation for the first of two recordings on the Koch International Classics label. Marvin also wrote the liner notes for other Hovhaness recordings on the Koch International Classics label as well. And Marvin has one of the most extensive rare collections of Hovhaness's music both on CD and LP, so there are bound to be many treats heard. So turn out to tune in, and give Marvin some virtual caffeine support through the long night and day!