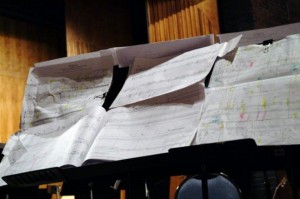 In a recent piece for Slate , musicologist Jan Swafford took readers on a little tour of contemporary music that has yielded a fair share of controversy. Mind you, that Slate is publishing a piece on contemporary concert music (or, as Swafford puts it, "contemporary 'classical' music, or whatever you want to call it") for a general readership is a very good thing. But I wonder if we couldn't do better than Mr. Swafford's myopic, narrow-minded and patronizing article.
For the record—and right off the bat—let me state that I agree with Mr. Swafford's ultimate message that "(t)he archetypal avant-garde sensibility was captured in the dictum 'Make it good or make it bad, but make it new.' I suggest that it's time to take that attitude out behind the barn and shoot it. (Emphasis mine.) Standing in the middle of the sometimes interesting chaos and anarchy that is the scene in all the arts, I suggest in its place: Make it old or make it new, but for chrissake (sic) make it good."
Let's, by all means, stop worrying about categories and just care about the quality of the work presented. Categories will sort themselves out. This is something for future musicologists to do, not present ones. But Mr. Swafford spends the bulk of his article before this point doing precisely the hair splitting he is decrying (or have I missed the point? Is he really decrying the fact that none of the music he samples—save perhaps his own – is any good?).
Fine, you might say; he's splitting hairs. Isn't that his prerogative as a musicologist? Sure, I would say; if only he'd bothered doing more than just cursory research for examples that prove his point.
For example: in his definition of "academic brutalism" he cites an excerpt from Jefferson Friedman's Eight Songs, a "real colonoscopy of a piece" that consists of transcriptions of songs by "the noise band Crom-Tech" which Friedman made for the Yesaroun' Duo in 2004. On the basis of this piece alone, Mr. Swafford catalogs Friedman as an "academic brutalist." While Friedman doesn't appear to be associated with a university at the present time (shouldn't an "academic" anything be involved primarily in academia?), a quick glance at Mr. Friedman's music page on his website quickly reveals that he is far from an academic anything and not merely a "brutalist." Sure, the particular example of Eight Songs Mr. Swafford cites is pretty brutal, but, from what I can gleam in a quick excursion into Crom-Tech's work via YouTube, it's a pretty faithful evocation of the original source material. Given that "aesthetic brutalists" (by way of Xenakis) "want to hurt you" one might be surprised, when one samples, say, Friedman's 78 or his haunting (and rightly revered) String Quartet no. 2. Mr. Friedman, if anything, would fit in what Kyle Gann would call a totalist style (a problematic label as well, to be sure, but one which I increasingly find useful for music that has roots traceable to minimalism but also welcoming higher degrees of rhythmic and harmonic dissonance as well as influences from rock, pop as well as other "classical" genres), but mostly one is struck by its shear pleasantness. This is incredibly rewarding music to listen to that is far from hurtful and straying far from the pandering banality that can trap all but the most skilled composers of what Swafford calls the "new niceness" (seriously, what about the term Neo-Romanticism fails to apply here?).
I won't even get into Swafford's description of a "lecture by a young academic brutalist" whom he refused to name, but who has identified himself to his friends on Facebook (I'll try to extend some respect to Mr. Swafford by continuing to keep our "young academic brutalist" anonymous in this forum, though I really hope he comes out with a more formal reply to the Slate article than a brief discussion on Facebook).
I'm writing for an audience of connoisseurs here, so it's a little redundant of me to say that "contemporary 'classical' music, or whatever you want to call it" is a LOT of things far beyond the limited and limiting list of malformed categories Mr. Swafford has devised. And, to be fair to Mr. Swafford, I don't think he's suggesting that his list is exhaustive or representative of even a majority of the styles of concert music today. But it is disingenuous, patronizing and ridiculous to frame your explanation of the "new noises" in a tone that barely hides your contempt for this music. If this is advocacy, please, stop doing us any favors!