[Ed. Note: Please welcome composer (and long-time S21 supporter) Dennis Bathory-Kitsz, and sit back as he spins a tale for the ages (and yet all quite true!), of how he managed to conceive, write, and finally produce his very own opera in the (semi) wilds of Vermont.]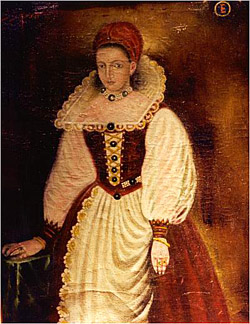 In the past week I've received emails from other composers, many of whom had doubted that my opera Erzsébet would ever be mounted. After two decades of promises, nearly two years of faltering fundraising, three directors, and a flood that pushed us out of our home, opening night seemed distant and dim. How did it happen for me? Could they finally get to mount their operas?
The opera's genesis is long & convoluted. When I was a child in the 1950's, my adoptive father Zoltan Bathory had mentioned an evil family ancestor. In 1983, I was given a copy of Dracula Was a Woman, Raymond McNally's biography of Elizabeth Bathory. She was a vampiric, serial killing, blood-bathing countess with male and female lovers who died walled up in her torture chamber! The Tigress of Cséjthe! Hungary's National Monster! What could be better for an operatic tale? In 1987 Erzsébet was scribbled onto my compositional to-do list.
Coincidentally, I'd heard that poet and NPR commentator Andrei Codrescu was working on a biography of Erzsébet based on new research. I got in touch; Codrescu was interested in writing the libretto.
But soon my life was in turmoil, with my failed computer company and failed personal life and broken compositional dreams and a falling out with Codrescu, whose biography ended up as an attempt at a Tom Robbins-esque novel. Beyond that, Vermont was not a friendly place for new music in the 1980's, even though my pseudo-csárdás piano sketch for the opera overture had been commissioned and performed. My new partner Stevie (now my wife), her daughter and I left for Europe in 1991. A rare opportunity brought us into then Czechoslovakia at Cachtice, home of Erzsébet's most notorious castle.
I sketched some scenarios for the opera, considering chamber and grand-opera versions. I'd written an opera before — Plasm over ocean, with libretto by David Gunn, my cohort on Kalvos & Damian's New Music Bazaar — but this new one would be less avant-garde and more actual storytelling and drama.
On returning to Vermont, my boxes of Erzsébet research—books, articles, novels, stories, photosgraphs, videos, postcards, trinkets—became the impetus to create an online home for the opera project. That led to a connection with a Czech sculptor living in America, Pavel Kraus. We had similar artistic sensibility and soon worked together on Sex and Death: Offerings in Burlington, Vermont, and later at Prague's Mánes Museum, newly restored after the dreary Communist years. Pavel would be the opera's visual designer, and was the earliest team member who stayed with the project.
In 1999, Lisa Jablow, singer, conductor, and aficionado of new music, became interested in the Báthory story and wanted to sing the lead. She suggested a monodrama written specifically for her, and that became the manageable version of the opera—small enough to afford, intimate enough to create a powerful atmosphere.
The Báthory website became a hub for stories and speculation about Erzsébet, now an online cult figure, and was linked everywhere Elizabeth's story was mentioned. Traffic was high and email poured in. In 2001 the Travel Channel found the site, sending me to Slovakia for a cable special called "World's Bloodiest Dungeons." A musical turning point came in 2004 when the Discovery Channel sent a team to Vermont in 2004 to record interviews. With their encouragement, I wrote what would become the opera's final scene for their series "Deadly Women." Lisa Jablow sang it with a small ensemble of my musician friends. Discovery also sent Stevie and me back to Cachtice, where the town council agreed to allow the opera to be produced at the castle itself.
Where to mount the premiere, though? I could have worked on getting it done in a place with genuine commitment to new music—Amsterdam or Ghent, places that have rolled out the welcome mat for me before—but this project was conceived here and I was determined to present it first at home. By now media requests were coming in—from Weekly World News, the Globe, Requiem, Bloodcult, Horror Punks, Slovak SME television—even though there was actually no opera yet, just one scene and one piano dance. Still, it was looking good. Allowing Erzsébet to do double duty, I formalized the entire project into my PhD dissertation in 2006. Cradle of Filth got in touch about a joint performance. Czech director Juraj Jakubisko released his massive film Bathory, reconsidering the entire Erzsébet story as a conspiracy against the Hungarian Countess. The vampire craze now made Báthory a hot topic; in Montréal, a composer with no knowledge of Erzsébet was commissioned to create an opera about her. Suddenly I had to get down to work or lose the project.
Easier said, etc. Though Erzsébet was covered in some of the new music media, there was no traction whatsoever with the opera community in the U.S. And unfortunately for the opera's progress, I ran right into my own insane projects: In 2007, We Are All Mozart, 100 compositions in 52 weeks, all on commission, and a month-long residency at binaural media in Portugal; and in the first months of 2008, writing the book Country Stores of Vermont. Media continued to do Báthory stories, however, and I appeared on the wildly popular "Martina Cole's Ladykillers" in the U.K.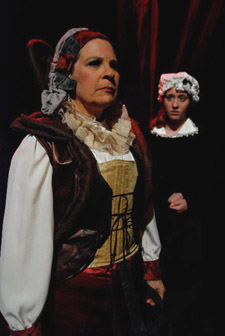 Erzsébet finally became a focus—though, Codrescu being gone, without a librettist. What to do? Write it myself. I was already a published author with several books and hundreds of articles in print. On the other hand, I was overwhelmed with information about her, making it a challenge to get the twisting story—and especially the complex psychology—of Erzsébet into operatic form for a single character. I shrank the original grand-opera plot, leaving the key elements, treating her as a human character instead of a Gothic vampire.
The poetic libretto was finished in early 2009, and it was time for fundraising. With a list of 1,700 correspondents from the Báthory website—from goth teenagers through professional opera singers—I sent out a "now-it's-time" appeal. The appeal was thoroughly ignored. Though I'd been online since the pre-Web dark ages of 1981, it was not until that moment that I realized how deeply "internet" and "free" were now married. Everyone was waiting for the opera, sure—but few of these folks were willing to help fund its production.
I was stunned and depressed. I needed an easy and enticing way to gather funds. I had to be a marketer now! I designed t-shirts and published the libretto in a slick-looking little book. And in 2010 I turned to the then-new Kickstarter. It was fairly diverse at the beginning, before it became cool and professional in its appeals. Sadly, by the time it hit the 90-day deadline on June 15, I had failed, reaching only two-thirds of my goal. I was back to an unfunded opera.
Oh… and in the midst of this fundraising there was still no actual opera. The score had to be written. I composed it while my home's leaking roof was being replaced in hot and humid weather. The heat and the pounding above my head and detritus raining down on me drove the music forward in a kind of relentlessness, and also seemed to push it toward a conservatism of structure and tonality.
Writing the music meant I wasn't paying attention to the production. The opera nearly derailed again when my first director forgot to reserve the three venues for Halloween weekend in 2011. Now there was no place to perform the opera! A second director got ill and withdrew; the original lighting designer also got very sick. There was no costumer, no crew. A second Kickstarter appeal—now facing competition from young artists with much hipper projects—was failing even more miserably than the first one. I scrapped it a few weeks in. It was also becoming impossible to find a cimbalom, the Hungarian hammerdulcimer that formed a pivotal part of the orchestration. Players were either committed or unwilling to perform for a Vermont pittance. It was almost as if the Blood Countess was trying to kill off her opera.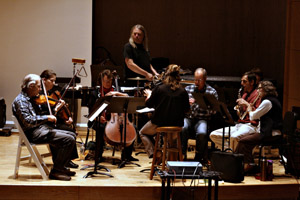 The Vermont Contemporary Music Ensemble was behind it, though. Originally I'd planned to hire them outright, but director Steven Klimowski's enthusiasm brought the opera into their regular season. Together with 2011 becoming the Year of the Vermont Composer, at least the attitude—though not yet the funding—was looking up. We had new venues. We had found costumer Meg Hammond, who was working on what would become a phenomenal layered outfit. I contacted every pledger on the old Kickstarter list, created a Facebook and Twitter campaign, offered the t-shirts, libretti, scores and various books as rewards, and worked at generating interest and enthusiasm. With the help of folks like new Erzsébet biographer Kim Craft who contributed copies of Infamous Lady, it began to work; I'd recovered the old Kickstarter amount by the early months of 2011.
Why not just write a grant? I'd wanted this to be a listener-funded opera, not one more grant-hog production. There's still enough of that old capitalist in me to believe that people will pay for what they value—even if it's a niche product like a nonpop opera about a dead countess. I was both right and wrong. Indeed almost the entire $25,000 production was paid for by contributions, a bequest from our own Consortium of Vermont Composers, and ticket and merchandise sales. But what humbled me during the fundraising is how composer colleagues supported it. Of the 143 sponsors, 59 were composers are 42 other artists. A remarkable and humbling experience.
Incoming money meant commitment to the project. But the poster wasn't done. The photographer, a Bard student, had to return to school before the costume was finished, and I was left to do it. The program book was developing but shifting as personnel changed. Vermont media became interested in the project. Radio ads were sketched out. But there was no director yet.
There was still time, right? So I thought. Alas, trouble wasn't over for Erzsébet. On August 29, less than two months before opening night, Vermont was hit by its greatest natural disaster, a huge flood from tropical storm Irene. We moved the ponies to higher ground, grabbed two cats, two laptops, eight backup drives, two books (including the original John Cage Notations), a framed photo, the big box of film negatives, and a kit of clothes … and abandoned our home for the next 17 days. The home stood, but its infrastructure was ruined, the woodshop and darkroom lost, and the gardens scrubbed away. FEMA came up with $92 in recovery money for us. It was a depressing time.
So the opera was surely doomed, right? No! Like a dog on a bone, I kept at it while shoveling muck and picking through ruined tools. With me working via laptop from my mother-in-law's apartment, soon we had a professional director, Ann Harvey. She brought with her lighting designer Mark O'Maley (acclaimed in Philadelphia performances and installations), as well as her sense of organization and certainty—despite her own family farm having been damaged by the flood. Production meetings followed; the opera was going to be a reality. Conductor Anne Decker had the score down, and Lisa Jablow had it memorized. Bolder Sounds came up with a brilliant cimbalom sample set for our Kurzweil/Dell/Aria setup, and a keyboardist was brought in. Rehearsals were underway. Posters were going up. The program book was being printed. Tickets were printed and sales began online. Ads were recorded for broadcast. News articles and radio interviews popped up. Dress rehearsal!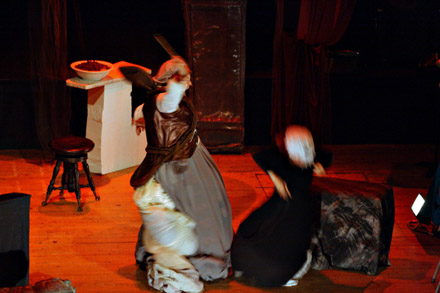 What could go wrong now? Snow. The forecast for Saturday's show in Plainfield, Vermont, was for five to ten inches of white, with more downcountry where many guests were coming from. Some couldn't make it, while others were stranded for two days in Vermont with the southbound Amtrak canceled. Friday's location at the Hyde Park Opera House was so obscure that some people were unable to find it. And then came Sunday, the near-sellout performance in Burlington, Vermont's largest city. The opera was finally over after a 24-year odyssey, and—thrilled, relieved and exhausted—I finally crossed the oldest item off my to-do list.
The reviews are in, personal and in print. We're a one-reviewer state, and Jim Lowe wrote, "a powerful one-woman opera … traditional, effective and beautiful score … a poetic work of art."
There are lots of next steps. A debt of $1,700 remains, which might require dipping into the VCME's grant funds—wrecking my capitalist plans. We're meeting to work out the next performances, especially the Slovakia trek. There are still four cameras of video to edit into a DVD from three performances and a dress rehearsal. A graphic novel of the opera is in the works from Bob Hobbs. And there's a whole virtual-opera-as-computer-game in development.
So how about those composers wanting to mount their own operas? Go for it. Build a reliable team way earlier than I did, and keep on them. Look over their shoulders. Find interested people to fund it—the major money came to me from folks who knew me and had interests I didn't know about. Create a budget, then double it. Better yet, get a commission that includes performance funding. Create merchandise. Tote up all the details and create a timeline. Write for specific musicians, not a generic ensemble (for me there were only five rehearsals). Make sure your score and parts are near perfect and consult with your players; percussionist Brian Johnson performed brilliantly but had to choreograph his drums, and clarinettist Steven Klimowski had to work especially hard when moving from B-flat bass clarinet to E-flat clarinet.
More than anything, stay at it like the dog on the bone. It's your opera and your responsibility—and you'll be thrilled when those first notes sound before an expectant audience.