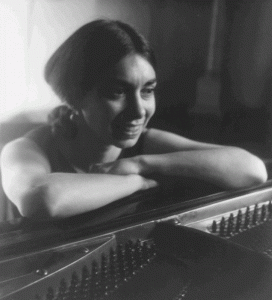 Dina Koston was a unique figure in the Washington music scene.  A composer and pianist, she was the Iron Lady behind the Theater Chamber Players, a pioneering ensemble that tackled an eclectic blend of old and new chamber music in DC from 1968 to 2004–well before the Chamber Music Society of Lincoln Center came along.   Her friend and collaborator, pianist Leon Fleisher described her as "complicated, compulsive, wacky and wacked out," (sounds  like my kind of woman).  The Library of Congress is staging two events this week to honor her life and legacy.  On Wednesday night  Joy Zinoman directs a production of Samuel Beckett's ephemeral short play Ohio Impromptu as a prelude to Koston's last composition, Distant Intervals, and other new works from the Cygnus Ensemble. On Thursday night,  Fleisher, Koston's longtime artistic partner and friend, performs and conducts an evening of Ligeti, Koston, and Brahms, featuring the Liebeslieder Waltzes.
"Dina Koston had the most acute musical ear of any musician I have ever known."
Leon Fleisher, pianist, conductor and co-founder of Theater Chamber Players with Dina Koston
"Many of us on the staff at the Library of Congress knew Dina Koston in many contexts for a number of years. We admired her as a pianist and were inspired by her thoughtful programming and her integrity in her work for the Theater Chamber Players, whose concerts made a hugely important contribution to Washington music lovers. We knew her as a fine composer who was commissioned by the Library's McKim Fund, and also as a serious researcher we often saw in our Performing Arts Reading Room. She was both a performer on our Coolidge Auditorium stage–and a superbly knowledgeable concertgoer here, for several decades. We are immensely grateful to Dina not only for her unexpected and extremely generous bequest, but for her confidence in the Library. We will work hard to earn it in the future programs and projects made possible by her gift to us."
Anne McLean, Senior Producer for Concerts and Special Projects, Library of Congress Music Division
"While Dina could be difficult to work with, the end results in our performances were always worth it. I still use her insights in my own teachings of the songs of Wolf and Webern, to name a very few. Her programming of the new and the old remain unmatched in chamber music programs of today."
Phyllis Bryn-Julson, soprano
"Dina Koston was a model for all of us. She seemed to embrace effortlessly a quality that is essential for authentic composing: she believed completely in, was on intimate terms with, her own muse."
Frank Brickle, composer
"Working with Dina Koston was a true learning experience.  Dina was demanding of herself as well as those around her, expecting us to rise up to our very best.  Her knowledge of music and the connection between composers and works was astounding. As a result, her concerts were at a different level in the programming and performance.  She had a definite idea of what she wanted to hear, how a particular work should sound.  She loved new music, and she was dedicated to Bach.  But just to hear Dina play her warm-up, to Chopin, was breathtaking."  
Sherry Goodman, former Manager of Theater Chamber Players & publicist to Dina Koston
"I played 10 seasons with the Theater Chamber Players, and then after TCP's final concert, I continued to perform Dina's music–solo, and with Cygnus. I am also pleased to have brokered the NYNME commissioning of Dina's Quintet With Claves. I am greatly enriched through my exposure to Dina's extraordinary musical sensibility. She did not hesitate to say everything that was on her mind in rehearsals, and I learned a great deal.
Dina was exposed to music that she would never have heard if not for her work with Cygnus. She was smitten by Dylan Lardelli's oboe and guitar duo. She rediscovered Wuorinen through the Sonata for Guitar and Piano, which she began programming in Washington, bringing me and Joan Forsyth to Washington and Baltimore to perform that Sonata. I am grateful for her willingness to forgive Cygnus for our interest in certain latter-day musical movements. There were certain things that she simply could not abide.
Dina's music was conceived entirely in her head. She could hear it better than a computer. No one had better training than Dina, who studied with Boulanger, Berio, attended the Darmstadt festival, and studied piano with Leon Fleisher.
Dina had a Chemex coffee maker. (I grew up with one of those.) On her coffee table she had a facsimile of Ezra Pound's comments penned into an early version of The Wasteland. She loved Beckett, and wrote her last work for the Cygnus group + 3, entitled *Distant Intervals*, which is a musical reflection of Beckett's Ohio Impromptu. These were points of connection for us. Moreover, we both devoted most of our lives to running ensembles–curating. We both put our composing second.
For the moment musical modernism is being portrayed by name brand critics as an outmoded relic of the cold war. I am ok with the characterization, and I am not concerned because such characterizations are always transitory. In 18th C. Opera, the witch sang in a quasi-baroque style, employing the power of the *quality of being out of fashion* to paint a character musically. (Remember the violin playing in Mel Brooks' *Young Frankenstein*.) Mozart and Mendelssohn would rediscover Bach; and the Baroque eventually becomes bathed in nostalgia (slow movement of Brahms, op. 88!). I have come to embrace and celebrate the music that has seized the center, for the moment. Dina, on the other hand, was not in a position to embrace things like minimalism. Dina could be difficult–a modernist witch! Some find her music difficult. Why not? It is about 85 years out of fashion! She would not care. While Varese can come to mind as an aural predecessor, I love the moments of musical recession, following her scary, Varese-like tuttis, the intimate, quiet moments of insight that happen in the shadows of those brutal blocks of sound–I find in such moments her authentic and personal voice, while the concrete walls of sound seem to be a necessary frame for those personal moments.
I defend the ethos of artistic authenticity and high ambition that characterized cold war aesthetic values. I add, moreover, that despite government support for the RCA synthesizer and the Darmstadt festival (points that are coming to light at the moment, causing quite a stir) artistic values are always *psychologically overdetermined*.
Dina's music is ambitious, authentic, yet in no way doctrinaire. She wrote what she heard, and it is very difficult to say what governs the development of her compositions. She was truly an improvisor."
William Anderson, founder of Cygnus Ensemble