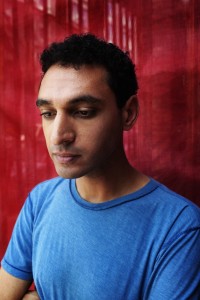 Young composer Mohammed Fairouz is not fooling around. Recently hailed by BBC World News as "one of the most talented composers of his generation," his music melds Middle-Eastern modes and Western structures. A concert on Thursday evening will center around Fairouz's compositional output. It is being presented by the Issue Project Room at Our Lady of Lebanon Cathedral and will feature pianists Kathleen Supové, Blair McMillen, and Taka Kigawa, mezzo-soprano Blythe Gaissert, soprano Elizabeth Farnum, the Cygnus Ensemble, and the Borromeo String Quartet in their only New York appearance this season.
This concert will include the New York premiere of Fairouz's The Named Angels, a new 28-minute work in four movements. The Borromeo String Quartet will be performing this premiere. About this piece, Fairouz says, "The Named Angels refers to those angels that are named and recognized in the Islamic, Christian and Jewish traditions: Michael, Israfel, Gabriel and Azrael. Each of the four movements represents a character portrait of a specific Angel."
The concert is presented by Issue Project Room at Our Lady of Lebanon Cathedral at 113 Remsen Street in Downtown Brooklyn, just a few blocks from IPR. Tickets are $30, $25 for members and students, available at Issue Project Room's website.