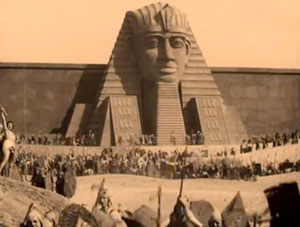 We're approaching the heart of the Brooklyn Academy of Music's 30th annual Next Wave Festival, and one of it's more unique offerings is right around the corner. This Thursday through Saturday, composer Joe C. Phillips, Jr. will lead his ensemble, Numinous, in the premiere performances of his newly composed score for Ernst Lubitsch's long-lost silent film, The Loves of Pharaoh.
I think the project presents a fascinating challenge for a composer – how do you respect the history of an artifact like The Loves of Pharaoh, while still expressing your 21st-century artistic perspective? I won't speculate on how Mr. Phillips addressed this scenario because I don't have to.
This weekend I tracked down Numinous' fearless leader and asked him about his mindset while scoring Lubitsch's historic film:
Since the film was released in 1922, obviously there has been much development in musical language and technique, and it felt right to reflect that in the new score. Not in a self-conscious, "look at how modern and cool I am" way but rather as a natural extension of my own musical thinking and expression. Like all composers, my musical language is a product of sieving influences and thoughts into one unique voice and in [Pharaoh], I believe you'll hear this. There are echoes of my past work but also new, formerly latent, ideas come to the fore and more fully explored in this score. And this idea to explore newer territory in music, to bring the film into modern times so to speak, was one of the reason Joseph Melillo was looking for a new score for the screening.
Mr. Phillips is very excited for this week's performances, and feels very grateful for his association with BAM, who he describes as being, "incredibly supportive throughout the development of the project." Straddling the Next Wave Festival's film and music programs, I have the feeling The Loves of Pharaoh will be a major stand out even against the ridiculously vibrant mixture of genres and disciplines on the slate at BAM this Fall.
Tickets and more information about the upcoming performances of The Loves of Pharaoh are available here. If you're in Brooklyn from Oct. 18-20, head on over to the Next Wave Festival and hear what Joe C. Phillips, Jr. and Numinous have drummed up to accompany this 90-year-old silent movie.
Enjoy!