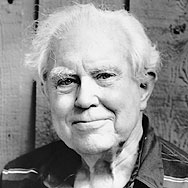 By now, I imagine most everyone in Sequenza21's audience has learned that Elliott Carter passed away yesterday at the age of 103. Basically every news outlet covering music has already run a retrospective on Carter (except for Sequenza21, ironically). I don't exactly intend to add to the din of the New York Times', Alex Ross', or NPR's or whomever-your-music-writer-of-choice's reflections on Carter, but, as a community of composers and thoughtful listeners, whose tastes either align with Carter's work or the music that was influenced by or reacted against him, we can honor his fresh memory by sharing our experiences with his music and/or person.
I'll start:
Being the youngest of Sequenza21's contributing editors, I have considered Carter a legendary individual – more a figure of history than flesh and blood – for a long time. But, discovering the news of Carter's passing last night, I realized that I've had many personal and poignant interactions with Carter's music that make him much more important to me and my experience than I had previously thought.
I saw Carter's music performed four times, which isn't all that impressive; yet, the performances are among the most vivid concert memories I have. The most recent was at a recital of Houston-based Fischer Duo in February of this year, where they played Carter's Cell Sonata from 1948. The Duo's cellist, Norman Fischer, explained excellently how the work represents the crystallization of Carter's decisively complex and idiosyncratic musical vocabulary, and I remember thinking how convincingly the piece demonstrated the beauty of Carter's compositional sensibility.
I had the same reaction to the second Carter concert I attended. This was a performance in Houston by the Pacifica Quartet in 2009 where they did the first and last Carter Quartets. To be honest, I don't remember much about String Quartet no. 1, but I will never forget how beautiful I thought String Quartet no. 5 was. A couple of years passed before I listened to that piece again and I remember being surprised at how the striking eloquence of the work's slow sections emerged at no cost to the intensity of the more energetic material in the piece. In other words, it was clear that Carter had not softened at all in his advanced age, something many people have asserted in their recollections of him and his music.
The last two concerts I attended with Carter's music on the program are memorable because of the people I knew personally who were involved in the event. The first I will discuss was a 2009 performance of Carter's second quartet by a group led by my good friend from Rice University and a new member of ETHEL, Tema Watstein. Her quartet's performance was valiant and effective, though the overwhelming challenge of the work was certainly palpable in the recital hall. I remember talking to her as they prepared the piece, possibly helping her tape photocopies of the score to big pieces of cardboard so she could play off the score, and being taken aback by her and her quartet-mates' dedication to the piece. This belief in the music was a gripping presence during their ultimate performance, and, as a composer, I will always applaud Carter for being able to inspire such dedication in those who perform his music while forcing them to confront so demanding a terrain of musical ideas.
My final Carter memory is the oldest. When I was in High School I attended a winter concert by the New York Philharmonic with my Dad. We chose the performance because of its headlining piece – Berlioz's Symphonie Fantastique – and had no idea we would be amazed by a piece called Dialogues by some composer named Elliott Carter. This was one of the first non-traditional, non-tonal pieces I ever encountered as a young composer, and I'll never forget the amazing colors and the piano soloist's (whose name I regrettably have forgotten) unflappably enthusiastic navigation of his part. Even my Dad, just a plain citizen taking his musician son to a concert, was taken in by Carter's music, and we both remarked our joyful surprise at stumbling on such a wild and entertaining work.
Our happiness with the performance only grew, however, because, after the players received a couple rounds of applause, Elliott Carter made an unannounced trip onto the stage to congratulation the pianist and other musicians. Alice Tully Hall erupted with excitement. This was 2003 or 2004 and we were thrilled to see Carter out on stage in person because who knew how many other concerts he would attend.Eight years passed before Carter's pen was finally put to rest yesterday, ending a life I will redundantly pronounce as remarkable.
Please share your Carter encounters below because his longevity allowed him to touch so many people – composers and listeners and music lovers alike. I am humbled to have been in the same room as him once in my life, and I am sure many of you had more impressive interactions with him.
Now, his legacy will persist through his music alone. But, I think many people will agree (many have already stated as much) that Carter's place as an eminent American Composer was cemented long before he left this world.