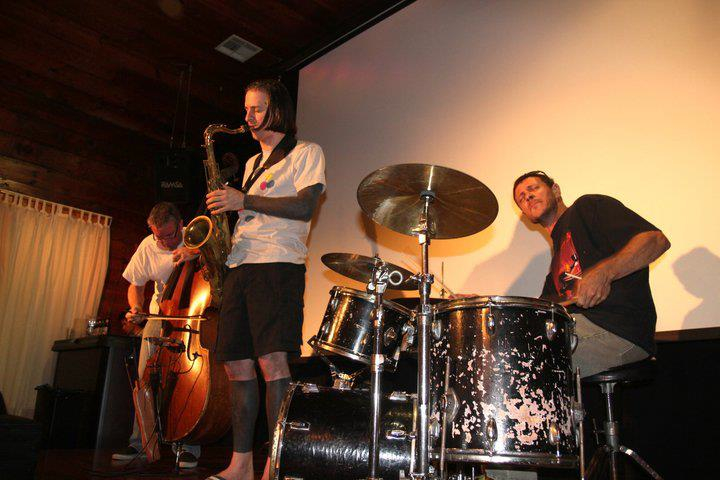 (Houston, TX) The music of the Houston ensemble The Core Trio, featuring Richard Cholakian on drums, Thomas Helton on upright bass, and Seth Paynter on saxophones, is an utterly convincing amalgamation of jazz, free improvisation, heavy metal, electronic sounds, and music from across the Asian continent. Their repertoire includes compositions by Helton and Paynter, as well as arrangements of songs by Ozzy Osbourne and Ronnie James Dio. They often invite guest musicians to join them in performance, including trumpet players Kris Tiner and Tim Hagans, myself on laptop, and pianist Robert Boston. This Friday, Boston, saxophonists Warren Sneed and Martin Langford, and former Houston Symphony clarinetist Richard Nunemaker will perform with The Core Trio at their CD release party at Houston's the long-standing jazz venue Cezanne's.
The Core Trio's new self-titled CD is welcome document of the high level of musicianship and inventive interplay that defines their sound. The album consists of two extended and completely improvised performances, skillfully captured by engineer Ryan Edwards. Boston, a former Houston musician now based in New York City, joins the trio on the new CD.
On both pieces, the classically-trained Boston casts the music into a further relief. His presence opens up the ensemble sound creating the space each player needs to be heard and to play with conviction.
"When I freely improvise with players on this level, something special happens," says Boston. "No one feels any pressure to play in any particular style. Everyone is listening and responding to what is happening in the moment. When it's good, the thoughts don't get in the way, but there is a logic present that follows its own momentum."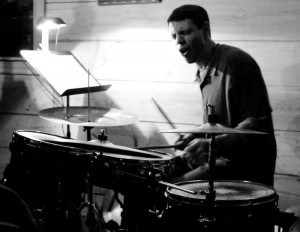 "It's very similar to a speaking conversation with someone," says Cholakian of his experience playing with The Core Trio. "If they (Boston, Helton, Paynter) choose a topic, I will converse with them on that topic. If they don't, I will converse with them on a topic I choose, the bottom line being, what is my point and will it be heard?"
Cholakian is one of the most creative and dynamic drummers I've ever heard. He's always listening, contrasting or complimenting the contributions of his band mates, and often steering the music into unexpected and unpredictable territory. Eleven or so minutes into the new CD's second track, where the trio plus Boston explore a textural, musique concrète-like approach to ensemble playing, Cholakian brings the music to a crescendo with an almost primal-sounding drum solo that stops suddenly and startlingly at one point for six seconds of dead silence before returning to its bruising ritual.
Paynter possesses a truly original and honest voice on his instruments, which includes soprano and tenor saxophone, EWI, and lots of gongs. The technique and versatility that makes a great jazz and improvising musician is all there but somehow, his playing never strays into what Helton calls "the trappings of licks or patterns."
"By learning to play with a defined structure, one can then learn how to venture away to new ones," says Paynter when describing playing a tune verses freely improvising. "Everything has structure no matter how abstract."
"As soon as I play a sound, that is the foundation for what comes next regardless if I'm playing a tune or not. Its basic function is structural. I can vary it slightly by subtly changing a rhythm or drastically with a timbre or emotional change. And those are just a couple examples of the variables one can employ."
Helton concurs that being able to play in a traditional manner will allow a musician to be more musical in their free playing. But "tradition" doesn't necessarily have to mean "jazz."
"I get something different out of all the different styles I play," says Helton, who also plays in the Houston metal band Echo Temple. "Whether it is jazz, classical, metal, country, funk, or whatever, there is some payoff personally, spiritually or musically."
"With The Core Trio," says Helton, "I get the most satisfaction, since there is a lot of passion, thought, aggression, finesse, communication. It is sort of the sum of all the things I love in music."
The Core Trio with special guest Robert Boston perform Friday, February 8, 9 p.m. at Cezanne's, 4100 Montrose Blvd. $10 cover.
The Core Trio's self-titled CD is available for purchase Febraury 8 from Thomas Helton's website, CD Baby, and iTunes.