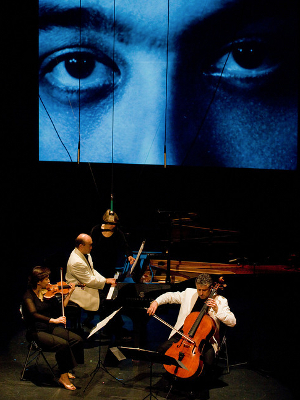 (Houston, TX) Next week here in Houston, contemporary music rears its terrifying head in the form of Canada's Gryphon Trio on two very different concerts presented by the Houston Friends of Chamber Music. On Sunday, February 10, the Trio and special guest soprano Patricia O'Callaghan present and evening of contemporary cabaret music in support of their recent CD collaboration Broken Hearts and Madmen, which includes stunning arrangements of songs by Laurie Anderson, Leonard Cohen, Nick Drake, Astor Piazzolla, and Elvis Costello. On Tuesday, February 12, the Trio performs a program of piano trio music at Rice University, including contemporary works by Christos Hatzis and Valentin Silvestrov, accompanied by projected visuals by artist Stephen Hutchings.
From its inception the Trio, Annalee Patipatanakoon (violin), Roman Borys (cello), and Jamie Parker (piano), has been committed to playing and programming concerts that equally combine classical and contemporary repertoire.
"Although the very first piece we played together was Beethoven's Opus 70, No. 1, the 'ghost' trio," says Borys, "it wasn't long after that that we gave our first world premier. There was never any sort of aversion to contemporary music. That kind of resistance to contemporary music is such a thing of the past. We knew many composers as friends and were very keen to work with them and have them write pieces for us."
The trio's name was chosen to signal their interest in all of the arts, not just classical music.
"We wanted to be careful to choose a name that allowed for artistic diversification," says Borys. "We enjoyed the fact that this creature, the gryphon, was the guardian of treasures and a combination of cosmic energies."
Hutchings, who previously created a series of paintings for the Trio's performances of Olivier Messiaen's Quartet for the End of Time, is one of several artists who collaborate with the trio to create their symbiotic presentations of visuals and sound.
"He has an incredible sense of what's out there in the contemporary music world and is very curious," says Borys of Hutchings. "His practice as a visual artist is very much tied to and inspired by music. He almost always listens to contemporary music when he's painting."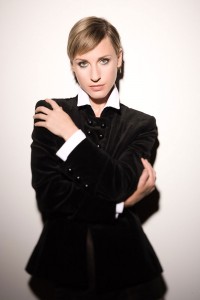 "People are so led by what they see," Borys continues. "Visuals are such a powerful thing in general. When we create these pieces with visuals, we're very conscious of that. We're trying to create a visual environment that stimulates the person having the experience in such a way that it leads to their hearing the piece in a more intense way."
O'Callaghan, who has performed with the Trio on several projects, occupies a unique place in the world of contemporary song performance. She initially began her career thinking she would sing opera.
Says O'Callaghan, "I did my degree, I got a grant, and went to study in Austria and began auditioning for opera houses. And I thought that that was what I was going to do, live in Europe and be an opera singer. But I really felt like I didn't fit into that world. I really felt like an outsider, and even a little bit hemmed in by it."
O'Callaghan then began a transition out of classical and operatic singing into a style better suited for the repertoire that was truly resonating with her, including songs by Kurt Weill, songs made famous by the great Edith Piaf, and the aforementioned Cohen, who she pays tribute to on her album MATADOR: The Songs of Leonard Cohen.
"It's a completely different way of singing," says O'Callaghan of her particular brand of contemporary cabaret. "Since I sang in rock bands before my classical days, I guess I could sort of reverse. But that kind of (classical) training just doesn't disappear. It really gets in to your body."
"A lot of the experimentation with singing happened for me in the recording studio," she continues. "I would hear something, and then play it back and go, 'No, I've gotta do something more laid back, more subtle.' It's been a really long learning process, trying to figure out how to sing the repertoire in a way that is natural. It's about finding your own voice."
Both Borys, who also directs Canada's long-running Ottawa Chamberfest, and O'Callaghan agree that in the world of post-music conservatory performance, in concert halls and clubs across the world, the walls between classical performance and other idioms are coming down.
"It's not an easy thing to do, to bridge genres," says O'Callaghan. "Every genre has its strengths and weaknesses in terms of training as a musician. But I just find you can learn so much if you do bridge genres, if you do work with musicians from different disciplines. But not everyone can do it, and not everyone can do it well."
"I would still say that we are on the cutting edge," O'Callaghan concludes. "But I do feel like there is a trend to doing this more and more in the world today."
Houston Friends of Chamber Music present The Gryphon Trio, Sunday, February 10, 7:30 p.m. at the Main Street Theater, Chelsea Market, 4617 Blvd. with special guest Patricia O'Callaghan, performing songs by Nick Drake, Leonard Cohen, Elvis Costello and others, and February 12, 7:30 p.m. at Stude Concert Hall, Shepherd School of Music at Rice University, performing chamber music of Valentin Silvestrov, Christos Hatzis, Antonín Dvořák, and Joseph Haydn.