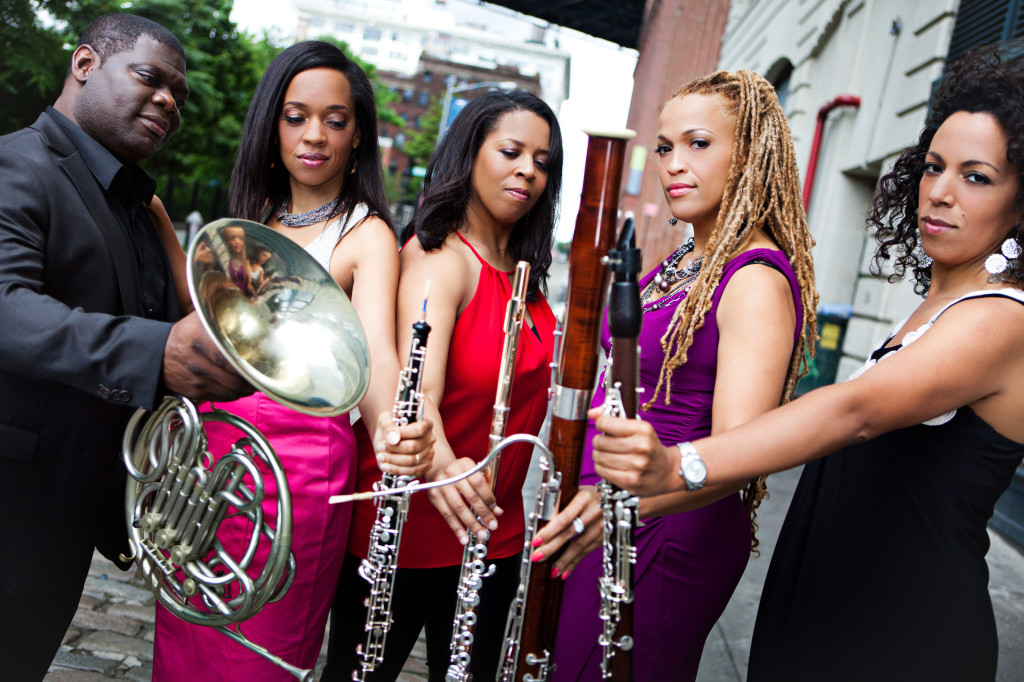 Imani Winds: Jeff Scott, Toyin Spellman-Diaz, Valerie Coleman, Monica Ellis, and Mariam Adam. (Photo by Matthew Murphy)
(Houston, TX) Since the group's inception in 1997, the Imani Winds have continued to expand the relatively small-sized repertoire for wind quintet by commissioning several works by such forward-thinking composers as Alvin Singleton, Roberto Sierra, Stefon Harris, Daniel Perez, Mohammed Fairouz, and Houston's own Jason Moran. Moran's four-movement work Cane, Moran's first composition for wind quintet, appears on the Imani Winds' 2010 album Terra Incognita, along with pieces by two other jazz masters, Paquito D'Rivera and Wayne Shorter. (The Imani Winds appear on Shorter's critically acclaimed 2013 live quartet album Without A Net in a scorching performance of his 23-minute through-composed work Pegasus.) Imani Winds members Valerie Coleman (flute) and Jeff Scott (horn) also compose and arrange for the quintet. In concert, the Imani Winds present traditional classical fare alongside new works that explore African, Latin American, and the Middle Eastern musical idioms and performance techniques.
On Tuesday, October 15, 2013, the Imani Winds make their Houston Friends Of Chamber Music debut at Rice University's Shepherd School of Music, performing arrangements of classic works by Ravel and Mendelssohn, Jonathan Russell's powerful wind quintet arrangement of Stravinsky's The Rite Of Spring, and Scott's arrangement of Palestinian-American oud and violin virtuoso Simon Shaheen's composition Dance Mediterranea, a piece that requires the quintet to play and improvise with Arabic scales or maqamat.
I spoke with Jeff Scott about the challenges of arranging Shaheen's piece for the quintet as well as what it means to be a chamber wind ensemble in the 21st century.
Chris Becker: What are some challenges you faced in arranging Simon Shaheen's music for the Imani Winds?
Jeff Scott: I listened to Shaheen's piece over and over and over again so I could learn what I could do in the different section to offset it. We are an ensemble with five completely different sounding instruments that can create many different colors. So I listened to each section and thought, "Who could play the bass here? Who would sound great playing the solo line here? Who could really do something percussive on their instrument there to make it sound like an authentic version of the song?"
CB: There's improvisation in your arrangement? Is that correct?
JS: Absolutely.
CB: Can you talk a little bit about the improvisation in the piece? Are you and your fellow winds improvising with scales? Are you improvising over some kind of harmony? Or is it even freer than that?
JS: It's definitely structured. In that part of the world, the scale is called a maqam. This piece deals with three different maqamat. So for the solo sections, I only wrote out a rhythmic figure for whoever is playing the bass and the scale itself for whoever is playing the solo. The stuff in the middle is fleshed out completely and gives the top and bottom players guidelines they can follow.
In preparation for this piece, we had workshop rehearsals for learning the different maqamat and how to play inflect on our respective instruments the quarter tones and semitones that exist in those scales, so we wouldn't just be playing a diatonic scale with two half steps and then calling that a maqam. That's not it at all. The challenge was getting that g half flat just so! (laughs)
What separates people who play with those different scales and people who play Western music and diatonic scales, is that our ears are adjusted. We know when someone is playing a flat seventh, you know? But to be able to play it as part of a scale and know whether or not you're just flat enough? (laughs) That's a different thing! We played these scales in workshops for Shaheen almost like we were auditioning for him. We'd play, and he would say, "No, no, no…" and then play the scale with us and show us exactly where they fit. It's a thing you just constantly have to work on because it's not a part of our pedagogue. It's not part of our training.
Before playing this piece, we'll have our set of rehearsals the week before, and we'll go through the shed of practicing those scales and testing one another.
CB: Is improvisation a part of your background? Or is it something new that you and the other members of the Imani Winds have explored since coming together as an ensemble?
JS: I'd say for the most part it's new. Improvising wasn't a part of our formal training. We all went to either the Manhattan School of Music or Juilliard. And it just wasn't asked of you, it just wasn't. Now, post-school? Yeah. You realize that in the 21st century commercial world, if you're going to survive, regardless of what your training is, you have to be flexible enough to improvise. It was definitely harder for us coming into it, but more schools are requiring it these days. I think that's really wonderful. The language of music from other countries is now filtering its way into the Western chronicles and as a musician, you have to be able to speak the different dialects. We have embraced it and really went out there and grabbed every possible challenge we could.
CB: What you say about conservatories in the U.S., that more programs are including improvisation and music from around the globe, is something I'm hearing about more and more in my interviews with younger musicians.
JS: It used to be shunned. When I was at the Manhattan School of Music, back in the 80s, I wrote this piece for horn and percussion that I wanted to play on one of my recitals. I remember playing the piece for my teacher and him not wanting me to do it because most of my part wasn't written down and he couldn't work with me on it. It wasn't because the it sounded "bad" or "good," he just didn't know how to work with me on it as an improvised piece of music. And that said a whole lot about the institution and my training in general! (laughs) It speaks volumes!
CB: Tell me about the Imani Winds' collaboration with saxophonist and composer Wayne Shorter.
JS: We were asked to come and perform with him at the Hollywood Bowl on his 80th birthday along with Esperanza Spaulding, Herbie Hancock, Dave Douglas and all of these incredible musicians. We performed a piece that Shorter composed and arranged called Pegasus. It's a symphony! The piece is written for his and wind quintet. It's a symphony! It's a mammoth, epic journey with improvisation from everyone involved, a through-composed piece with many different moods.
The whole thing started when the La Jolla Music Society in California commissioned Shorter to compose a piece for us, which he titled Terra Incognita. It was just for wind quintet, and it was the first piece he'd composed that didn't involve him as a performer. He'd never written something for someone else that he didn't intend to perform.
So he wrote this wind quintet and it was way out (laughs) with just as much room to improvise as you could possibly want. We didn't know what the heck to do with it. So we learned everything note by note, and then played it for him. And he smiled and said, "That's great. But promise me you'll never play it like that again. I want you play it different every time. I want you to start from the end. I want you to leave out some parts. You can start in the middle. Just use the piece as a point of departure."
CB: That's so great.
JS: It says a whole lot about him. But it also says a whole lot about where I think classical music in general is going when it comes to chamber music and accepting improvisation, jazz and all of the world's music, and having musicians who are flexible enough and open enough to at least experiment. It's the only way we're going to get the patrons of chamber music societies to have that openness and expectation when it comes to who they decide to put on their series. I mean, if we don't start doing it, they're going to continually only want the Haydn cycles. (laughs)
So we have to not only accept it, we have to become nimble at it. You have to be able to deliver a good product so the patrons say, "You know what? I want more of that!"
And besides, as a wind quintet, we don't have the Haydn cycles! (laughs) They just don't exist. We occasionally play the old stalwarts of the wind quintet, but that stuff runs out in about two weeks. You've got to play new stuff and push the envelope a bit, and improvisation is just a normal step along the way for expanding the repertoire for the wind quintet.
Houston Friends of Chamber Music present the Imani Winds, Tuesday, October 15, 7:30 p.m. at Stude Concert Hall, Shepherd School of Music, Rice University, performing works by Valerie Coleman, Mendelssohn, Ravel, Simon Shaheen, and Stravinsky's The Rite Of Spring arranged by Jonathan Russell.