On October 11, the Oneonta Concert Association of central New York presented an unforgettable concert by Musicians from Marlboro. For half a century, Vermont's Marlboro Music School and festival have spawned top-flight, ad-hoc ensembles pairing rising stars in classical music with established names in the field. The fact that the name of Kim Kashkashian, one of the world's finest violists and a tireless champion of contemporary music, was mentioned nowhere in the touring group's modest marketing package indicated the level of Marlboro's commitment to apprenticeship. Indeed, despite her unmistakable tone and timbre, Kashkashian contributed humbly to an atmosphere of total and mutual respect.
The program was itself a work of art. Before bows contacted strings, Kashkashian described György Kurtág's Officium breve as "very gestural and dramatic music." That it was, for its sparse notecraft nevertheless required of the four string players an uninhibited comportment by which the sounds might freely unravel. The moods of Kurtág's compendium, written in memory of Hungarian composer Endre Szervánszky (1911-1977), are as varied as their source materials. With characteristically intertextual grace, he references the canon from Webern's final completed opus (the second Kantate of 1941-43) and works by Szervánszky, the latter not least of all by way of self-quotations from the ever-expanding Játékok (specifically, the bipartite "Hommage à Szervánszky" thereof). The opening harmonics, courtesy of cellist Karen Ouzounian, established a haunting undercurrent that would flow throughout. To this were added the floating lines of violinists David McCarroll and Nikki Chooi before being conjoined by Kashkashian's peerless tonal qualities. Despite the brevity of its 15 sections, most lasting under a minute, what the piece lacked in duration it made up for in Kurtág's wealth of invention. Shifting contrasts of altitude, distance, and texture throughout made this sometimes-challenging music feel as organic as rain. Harmonies were elastic, pulled as they sometimes were from a single note in tutti or alit upon from above. The occasional outburst came across not as an interruption but as a catharsis of self-discovery. The ending left us with a drawer of knives, each of varying sharpness and resilience but all bearing the stamp of meticulous smithery.
To this, Szervánszky's Trio for Flute, Violin and Viola made for a natural follow-up. Enlivened by the virtuosity of flutist Marina Piccinini, alongside violist Wenting Kang and Chooi again on violin, its flowering field carried scents of Bartók, Dvořák, and Smetana. Impressive was Szervánszky's constant shifting of register, as was the trio's ability to evoke it. The first two movements, lush and pastoral, were feathered by the veiled Adagio, which gave way to the final Vivace with dreamlike reluctance. Throughout, moods morphed from exuberant to tearful and back again, Piccinini navigating the strings' crosscurrents with a seafarer's proficiency. The dance was always waiting—not in the wings but with them, ready to fly at a moment's notice.
The Sonata for Flute, Viola and Harp of Claude Debussy took yet another logical step into 20th-century repertoire. Piccinini, Kashkashian, and harpist Sivan Magen—newly fashioned as Tre Voci—charted the centerpiece of their 2014 ECM New Series release with élan. Debussy's popular trio, tailored specifically to the idiosyncrasies of its instruments, is divided into three movements with seemingly arbitrary titles. A Pastorale introduces the fluid impressionism one typically associates with the Frenchman. And yet, as this piece's bold strokes make clear, Debussy was anything but an impressionistic composer. Boldness was especially apparent in the Interlude, the enchanting harping of which only served to emphasize the clarity of its partners. With a strong backbone and even stronger sense of destination, the sportive Finale further proved that Debussy isn't all sparkles and rainbows. Key to this performance was each musician's take on the equal role given to her or him. Piccinini was like the writer's pen and Magen the weaver's dance, while Kashkashian took on a visual artist's intuition, her bow as descriptive as a painter's brush. In a word: exquisite.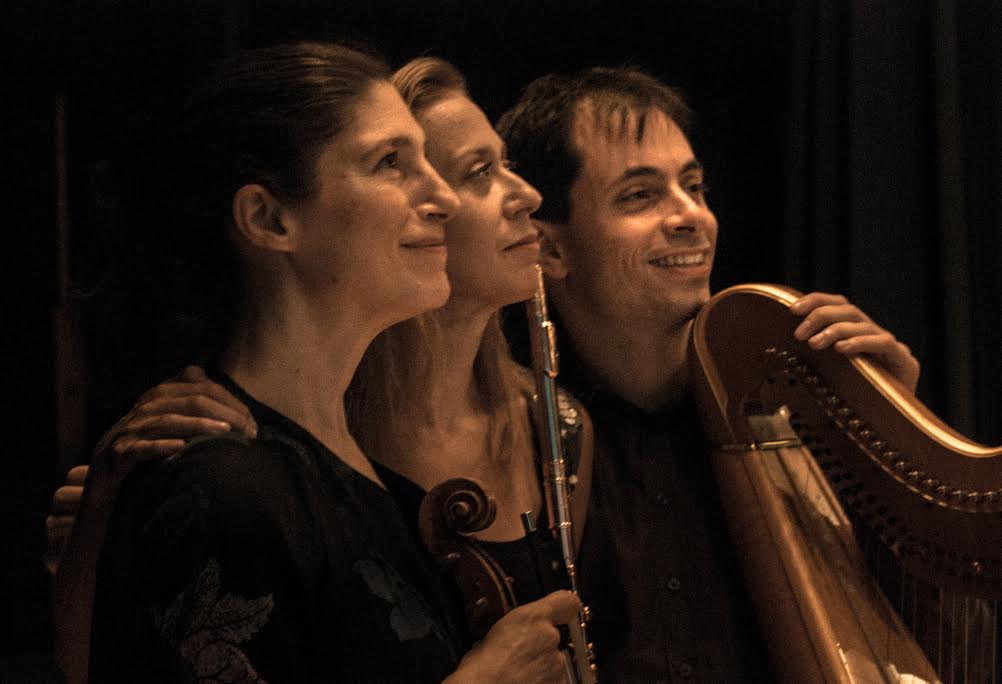 [Photo source: (le) poisson rouge]
Intermission prepared us for the finale of Beethoven's String Quintet in C Major. Its four-movement traversal of atmospheres showcased the string players at their most integrated. From the massive, seesawing Allegro to the show-stopping Presto (its tight tremolos providing full yet distant support for the violin's acrobatic exposition), the musicians handled every twist and turn with ease and a unity typically seen only in far more established ensembles. Between these juggernauts, however, were the piece's highlights. A romantic yet earthy Adagio, its tendrils wavering in freshwater current, paired beautifully with the Scherzo's delicate anchorage. It was a fitting summation of the dramas that preceded it, spoken in a language at once canonical and freeing.
Also canonical and freeing was the pre-concert performance by Jonathan Fenwick, a high school junior from nearby Ithaca, who presented the Adagio and Fugue of Bach's Sonata No. 1 for Solo Violin. In addition to polishing the concert's educational sheen, Fenwick's performance was further proof of the inspiration absorbed by coming generations of classical purveyors. His sensitive pacing, artful trills, and warmth of execution proved that all roads not only lead back to Bach, but also proceed from him.