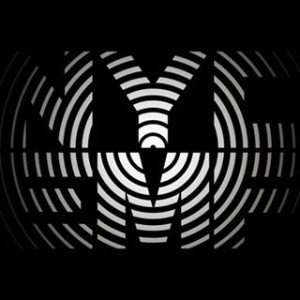 Most New Yorkers are walking about, minding their own business, completely oblivious to the international sonic earthquake vibrating through their midst all week: The New York City Electroacoustic Music Festival (NYCEMF). The first wave of the festival (seven concerts) took place as part of the New York Philharmonic's Biennial at National Sawdust in Brooklyn last week. Yet the lion's share of the festival is happening right now: 28 more concerts during June 13-19, at Abrons Arts Center on Grand St., for a total of 35 concerts. Yes you read that correctly: 35 concerts of electroacoustic music, including some 350 works, by almost as many composers from all around the world! Indeed a mammoth undertaking organized, produced, and presented miraculously by Hubert Howe, Travis Garrison, David Reeder, Howie Kenty, and a highly dedicated energetic staff.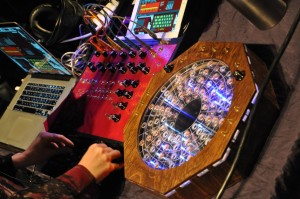 The variety on offer is astonishing. There are pieces for live instruments or voice and electronics (live processing or premade sounds); pieces for synthesized sound, sampled sounds, and both together. Some works feature video. Other works feature graphics generated through live video feeds of the performer, or graphics generated through movement. Concerts are heard alternately in two small traditional auditoriums and a cozy cocoon-like space with 16-channel surround sound, seating in the round, amongst stratospheric ceilings. Sound art and visual art installations are mounted in the hallways and foyers. The concerts are at 12:30, 2, 4, and 8pm; workshops and paper presentations on such topics as "Oral History as Form in Electroacoustic Music", "Orient Occident: An Alternative Analysis," and "Wireless Sensing" occur in the mornings, at NYU.
Among the international cast of composers and performing artists heard in the festival are Tania León, Ken Ueno, Alice Shields, Clarence Barlow, Elizabeth Hoffman, Simon Emmerson, Alvin Lucier, Shelly Hirsch, Annie Gosfield, Phil Niblock, Alan Licht, Judith Shatin, Michelle Jaffe, Maja Cerar, Marianne Gythfeldt, and Arthur Kampela. Most of them are on hand and the casual atmosphere is conducive to conversation with and among participating artists.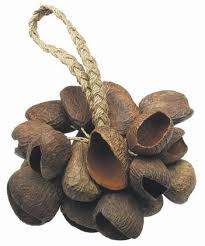 One of the most interesting works I heard was Precuneus; Sonic Space no.8—Iteration No.4 (2016) by Michael Musick. This is a work for live performer and "sonic ecosystem." And yes, it sounds as great as that sounds. During the performance, Mr. Musick gently wafted throughout the stage, as if in a trance, while playing sometimes a recorder and sometimes a Togo seed rattle and other percussion instruments. Meanwhile Mr. Musick's software reacted in the most delightfully musical way. Its "digital agents" listen to the live sounds and spontaneously extract features from them and then generate new sounds sculpted by these features. These sounds percolated and jiggled all around the hall in a delicate lavander tornado for the ears.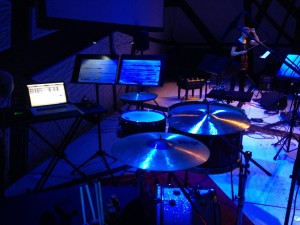 Zhaoyu Zhang's Night Snow brought my ears close up and inside mysterious objects and intriguingly close to strange materials in action—as though my ears were intimately touching the source of the sounds, quiet sounds of brushing, crushing, caressing, burning, scraping, and feathering. Deeper sounds were felt more than heard, creating an altogether visceral experience, evoking what the ancient Chinese poet Juyi Bai's calls the four senses: tactile (cold), visual (bright), feeling (to know), and auditory (to hear)
On the same concert, Larry Gaab's Weird Orbits Need Explaining seemed to use the lyrical gestures and sweeps of melody to steer the trajectories of other sonic material. An eerie yet friendly vocality emerged. So much I wish I could go back to hear again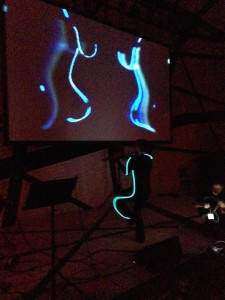 The highlight of the late afternoon concert was Xiao Fu's Longing, a ravishing audio-visual kinetic spectacle that lasted nearly a quarter of an hour, involving two performers supported by a crew of four who manipulated hand-held projectors and sound. It is based on a song of the Huang He Ge from the Chinese Han Dynasty (202 BC-220 AD). Beautifully colored hand-painted animation of Chinese calligraphy was projected on a video screen with computeized sound before two women emerged in flowing costumes, gracefully dancing and singing (both). One of them later played the flute against the sonic digital backdrop while a new, and highly original, ornate style of colorful animation permeated the visual field, zooming and granulating. Strikingly colored calligraphic imagery punctured the progression toward a taut climactic episode in which the second performer dramatically played an accelerating drum pattern against flickering virtuosic lines of the flute.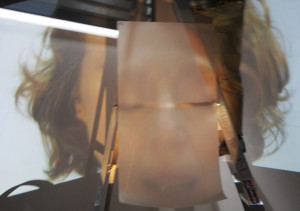 The overflowing diversity of creativity witnessed in this festival is simply inspiring. What I described above is only a snippet of what happened on the first day. After today there are still five days left. So most of the highlights are yet to come. It's well worth the trip to this somewhat neglected corner of Manhattan, between Chinatown and the Williamsburg Bridge.
While in the neighborhood, check out the gourmet ice cream shop Ice and Vice on East Broadway, or Cafe Petisco, also on East Broadway, Cafe Katja on Orchard, or Ost Café on Grand, one block east of Abrons.)
The New York City Electroacoustic Music Festival (NYCEMF), June 13-19, Abrons Arts Center, 466 Grand Street (at Pitt Street, near the F/M train Essex st. station) Each show $15 (evening shows $20); day pass $40; festival Pass at $160.
http://www.abronsartscenter.org/on-stage/shows/new-york-city-electroacoustic-music-festival-2/
http://www.facebook.com/NewYorkCityElectroacousticMusicFestival/
https://www.facebook.com/events/586542431515565/