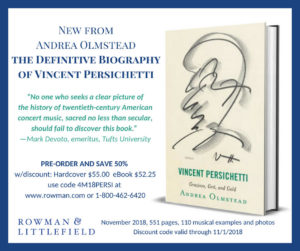 We're very excited about Andrea Olmstead's The Definitive Biography of Vincent Persichetti which is about to be published.   So excited, in fact, that if you pre-order it before November, you'll save 50% off.   Here's a factoid for those of you who don't know much about arguably the most influential music teacher of the 20th century:  His 40-year teaching career at Juilliard included students Philip Glass, Steve Reich, Jacob Druckman, Peter Schickele (P. D. Q. Bach), Einojuhani Rautavaara, and many other prominent composers.
To pre-order, go to Rowman.com and enter  discount code RLFANDF30, or call (800) 462-6420 ext. 3024 and mention the discount code.
Questions or complaints to Larry Bell.