Best of 2018: Composer Portrait CDs
2018 saw the release of a bevy of excellent recordings of music by contemporary composers. These were the portrait CDs that most frequently captivated my ear and captured my CD player.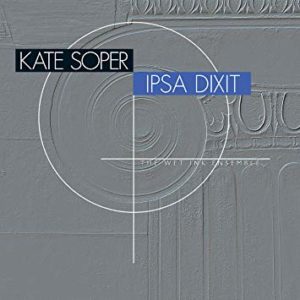 Ipsa Dixit
Kate Soper
Wet Ink Ensemble (Erin Lesser, flute; Ian Antonio, percussion; Josh Modney, violin)
New World Records
Composer and vocalist Kate Soper spent from 2010-'16 creating the multi-movement theatre piece Ipsa Dixit. Working in close collaboration with Wet Ink Ensemble, she has crafted a composition in which theatricality encompasses multiple texts – ranging from Aristotle to Lydia Davis – and the ensemble plays "roles" as well as formidable musical parts.
Recently presented in an acclaimed staging at Miller Theatre, Ipsa Dixit is perhaps best experienced live. However, the audio recording captures Soper and Wet Ink in a dynamic, versatile  performance. Whether speaking, singing, or, even in places, screaming, Soper is an expressive, indeed captivating, vocalist.
Emblema
Osvaldo Coluccino
Ex Novo Ensemble
Kairos
Italian composer Osvaldo Coluccino created a series of Emblema pieces for a commission by the Gran Teatro Fenice in Venice. Slowly unfurling, sustained pitches, deft employment of overtones and harmonics, and varied textures populate the works. On Coluccino's Kairos portrait CD, the Ex Novo Ensemble performs them with attentive delicacy. One can hear echos of great composers such as Feldman, Scelsi, and Nono in these elliptical emblems, but it is the ghost of Webern that looms largest.
Quartets
Laura Schwendinger
JACK Quartet
Albany Records
JACK Quartet released a number of fine recordings in 2018, but the one to which I keep returning is their Albany CD of Laura Schwendinger's string quartets. These feature richly hued harmonies, seasoned with dissonance, and are superbly paced throughout. Schwendinger's music is some of the most eloquent work in a post-Schoenbergian aesthetic currently being composed. JACK's  performances of them are a detailed and engaging listen. Jamie van Eyck joins them for Sudden Light, a stirring vocal work.
distant song
Reiko Füting
AuditiVokal Dresden, Art D'Echo, loadbang, Byrne:Kozar Duo, Oerknal, and Damask
New Focus
A faculty member at Manhattan School of Music, Reiko Füting's distance song features performers who are MSM alumni as well as European ensembles. An amalgam of various styles and materials notwithstanding, Füting displays a strong hand and clear-eyed perspective throughout.
After an introduction of thunderous drum thwacks, AuditiVokal Dresden and Art D'Echo perform "als ein licht"/extensio and "in allem Fremden" – wie der Tag – wie das Licht with marvelous close-tuned harmonies and suspense-filled pacing. Gradually the percussion is reintroduced at varying intervals to provide a foil for the singers.
loadbang and the Byrne:Kozar Duo, the aforementioned MSM contingent, perform Mo(nu)ment and Eternal Return (Passacaglia), two pieces featuring microtones and extended techniques alongside Füting's penchant for off-kilter repetition. The Dutch ensemble Oerknal performs Weg, Lied der Schwänd, in which both spectralism and quotation (of a madrigal by Arcadelt) are explored: yet two more facets of the composer's palette.  Versinkend, versingnend, verklingend adds the vocal group Damask to Oerknal for a piece that combines still more quotations, ranging from Debussy's piano music to a Fifteenth century German folksong.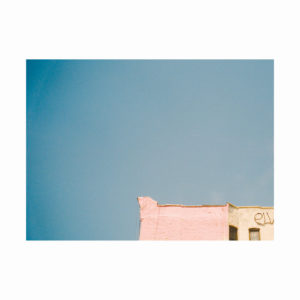 Stadium
Eli Keszler
Shelter Press
Composer/percussionist Eli Keszler's Stadium is 2018's best CD on the sound art, rather than notated, spectrum of composed music.  It deftly weaves percussion and electronics together in an atmospheric collection of pieces that lilt and swing in equal measure. While there is plenty of electronica out there using percussion in innovative ways, Stadium incorporates its various sound sources with a composerly sense of organization, where timbre, beat, and, in some places, pitch, are mapped with a rigorous formal sensibility.
Aequa
Anna Thorvaldsdottir
International Contemporary Ensemble, Steven Schick, conductor
Sono Luminus
This CD is ICE's second portrait recording of Icelandic composer Anna Thorvaldsdottir's music, and her third portrait CD overall. Yet Aequa truly stands apart from the others. Each piece has a sense of flow, sometimes akin to churning water or rippling wind, and in others to oozing lava. Amid these fluid forms are also found visceral pools of unrest. In his performance of Thorvaldsdottir's Scape, pianist Cory Smythe affords the listener a generous taste of reverberation and overtones, marked by trebly plucking inside the piano. The interplay of high and low creates ear-catching wide intervals in Illumine. This texture is later followed by corruscating strings. Another standout is the ensemble work Aequilibria, where undulating lines are pitted against static, sustained harmonic series and harp arpeggiations. It has extraordinarily beautiful low woodwind solos. Both of these pieces are conducted, with characteristic verve and accuracy, by Steven Schick.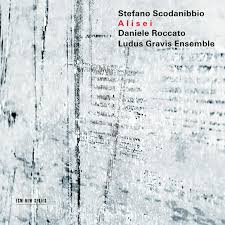 Alisei
Stefano Scodanibbio
Daniele Roccato, Giacomo Piermatti, double bass; Ludus Gravis bass ensemble, Tonino Battista, conductor
ECM Records
The too-soon-departed Stefano Scodanibbio (1956-2012) was an extraordinary bass player and improviser. He was also a formidable composer, as the works for solo bass, duet, and bass ensemble documented here abundantly attest. Two virtuosic solo pieces, featuring an abundant number of harmonics and other special techniques, are impressively and energetically performed by Daniele Roccato. Roccato is joined by Giacomo Piermatti on Da una certa nebbia, a duo that is both an homage to and invocation of Morton Feldman.
The centerpiece of the CD is Ottetto (2012) for bass ensemble, one of the last works Scodanibbio completed before succumbing to motor neuron disease. It is sobering that, due to this debilitating illness, he could no longer play the bass at the time of the work's gestation. Fortunately, Roccato enlisted a veritable who's who of European bassists to populate the ensemble Ludus Gravis and, after Scodanibbio's death,  carry the work forward. Ottetto's recording is a stunning display of the many ways in which this low-end ensemble can be a versatile one, from sepulchral passages to high-lying harmonics, with seemingly every mode of playing in between. The piece showcases the intimate familiarity with his instrument that Scodanibbio developed over a lifetime of practice and playing: an incredible musical valediction.
Rube Goldberg Variations
Dmitri Tymoczko
Flexible Music, Atlantic Brass Quintet, and Amernet String Quartet
Bridge
Fools and Angels
Dmitri Tymoczko
New Focus
In 2018, Princeton professor Dmitri Tymoczko released not one, but two portrait CDs. The first, Rube Goldberg Variations, features three postmodern chamber pieces performed by estimable ensembles: Flexible Music, Atlantic Brass Quintet with pianist John Blacklow, and the Amernet String Quartet with pianist Matthew Bengston. On I Cannot Follow, broken consort Flexible Music performs the plethora of provided off-kilter postminimal ostinatos with elan. The group lives up to their name when inhabiting the piece's supple dynamic swells. The title composition is also informed by postminimalism, but is more jazzy in terms of its chord voicings. Tymoczko cleverly tropes Igor in "Stravinsky's Fountain," and supplies Nancarrow-esque piano canons in "Homage," over which sustained detuned brass asserts a grounded rebuttal. S Sensation Something ends the album in a triadic landscape distressed with pitch bends and persistent, biting seconds.
Fools and Angels is a different musical statement altogether, featuring vocals, electronics, and, often, an art rock aesthetic. Indeed, there is a Zappa-esque zaniness afoot, in which the composer juxtaposes repurposed madrigals, faux bebop slinkiness, and even risque monologues, amid persistent changes of meter, bellicose soloing, and sci-fi synthetic soundscapes. A who's who of youthful contemporary classical performers — Mellissa Hughes, Caroline Shaw, Martha Cluver, Gabriel Crouch, Jason Treuting, and Pascal LeBoeuf, to name some — supply earnest and accurate performances of Tymoczko's kaleidoscopic construction.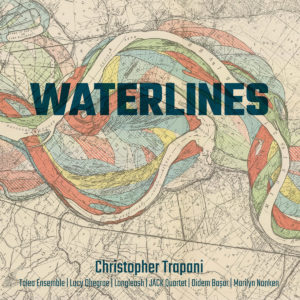 Waterlines
Christopher Trapani
Lucy Dhegrae, soprano; Marilyn Nonken, piano; Christopher Trapani, hexaphonic guitar; Didem Başar, qanûn, Longleash; JACK Quartet; Talea Ensemble, conducted by James Baker
New Focus
Rising flood waters in New Orleans as the theme. Alternate tunings, guitar vs. zither. The incomparable Longleash and JACK being given plenty of extended techniques to dig their teeth (and fingers) into. Lucy Dhegrae singing spectralism-inflected blues songs as only she can. Trapani has a thousand and one good ideas and has enlisted a fantastic slate of performers to realize them. This CD may be one of the few positives to come out of meditating on the catastrophe that was Hurricane Katrina.