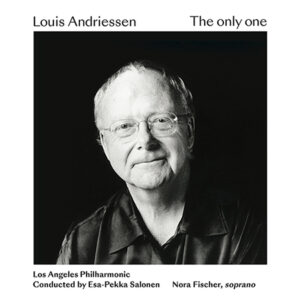 Louis Andriessen
The Only One
Nora Fischer, soprano
Los Angeles Philharmonic, Esa-Pekka Salonen, conductor
Nonesuch Records
Louis Andriessen is in poor health. The eighty-one year old composer finished his last work, May, in 2019. It received a belated premiere (sans audience due to the pandemic) in December 2020 by Orchestra of the Eighteenth Century and Cappella Amsterdam, conducted by Daniel Reuss (the linked broadcast of the piece starts forty-eight minutes in).
The Los Angeles Philharmonic, conducted by Esa-Pekka Salonen, has released another of Andriessen's final works, The Only One (2018), on a Nonesuch recording. It is a set of five orchestral songs, with an introduction and two interludes, for soprano soloist Nora Fischer. The texts are by Flemish poet Delphine Lecompte, who translated the ones used into English.
Fischer is a classically trained vocalist who is also adept in popular and cabaret styles. Her singing is abundantly expressive, ranging from Kurt Weill style recitation through honeyed lyricism to raspy screams. This is particularly well-suited both to the texts, which encompass a range of emotions, from rage to resignation, and to the abundantly varied resources Andriessen brings to bear. In The Only One, his inspiration remains undimmed; it is a finely wrought score. Much of it explores pathways through minimalism equally inspired by Stravinsky that have become his trademark. Andriessen is also well known for resisting composing for the classical orchestra for aesthetic reasons. Here he adds electric guitar and bass guitar and calls for a reduced string cohort, making the scoring like that used for a film orchestra. Harp and piano (doubling celesta) also play important roles. Esa-Pekka Salonen presents the correct approach to this hybrid instrumentation, foregrounding edgy attacks and adopting energetic tempos that banish any recourse to sentimentality.
"Early Bird" begins with birdsong, which morphs into a melody akin to cuckoo clock birds. Unlike Messiaen, the bird doesn't indicate spiritual uplift, the song ends with the narrator abased by a humiliating situation. Memento mori are to be found frequently in both words and music, even a tongue in cheek rendition of the Dies Irae chant. Right alongside these are defiant retorts and much dance music. "Twist and Shame" is a (near) dodecaphonic dance. The bird call from "Early Bird" returns harmonically embellished in the final song, "Grown Up," to signify a grotesque heron, part of a grim cast of characters that join in a waltz macabre. Afterwards, the piece closes simply with the words, "The grown-up that betrayed my inner child," followed by eight quiet dissonant chords: the curtain falling irretrievably. As valedictions go, "The Only One" is an eloquent summary of a composer's life and work.
-Christian Carey