Best of 2021: Varèse, Ligeti, Lutosławski, Baldini on Centaur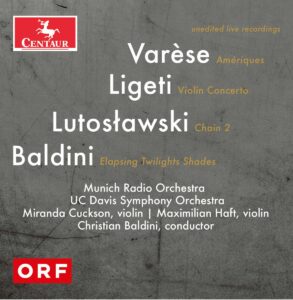 Varèse, Ligeti, Lutosławski, Baldini
Munich Radio Orchestra; UC Davis Symphony Orchestra
Miranda Cuckson, violin; Maximilian Haft, violin
Christian Baldini, conductor
Centaur Records CD/DL
Conductor and composer Christian Baldini is making a name for himself on the West Coast, where he directs the UC Davis Orchestra and is a frequent guest conductor of the San Francisco Symphony, as well as abroad with a number of orchestras and opera companies. This Centaur CD features live performances of three pivotal European modernist works, as well as a piece by Baldini that negotiates similar territory. 
In Elapsing Twilight Shades, Baldini considers several complexes of gestures and harmonies, allowing them to slowly morph, to his mind much like the changing light at the end of the day. Elapsing Twilight Shades is an excellent curtain raiser for the program to follow. The piece alludes to the percussion writing of Varèse as well as angularity evocative of Lutosławski. Baldini is a true double threat conductor-composer. 
Currently pursuing doctoral studies at University of Leiden, violinist Maximilian Haft also has a California connection; he studied at the San Francisco Conservatory's pre-college division. Chain II, completed in 1985 by Witold Lutosławski, is a prominent example of the exploration of limited aleatory in a large symphonic work. Each of the three movements is split into two demeanors, with passages that are meant to be played freely and others that adhere strictly to the beat. Haft renders the freer passages zestfully and his playing elsewhere demonstrates razor sharp focus. UC Davis Symphony Orchestra makes a strong impression in their collaboration with Baldini, playing with intensity and control in this considerably challenging work. Their playing is similarly distinguished in Ameriques by Edgard Varèse, a monolithic example from a composer who played a pivotal role in modernizing the orchestra. 
Győrgy Ligeti's Violin Concerto, completed in 1993, was one of his most significant late works. In it, he explored his interests in microtonal tunings, folk dance rhythms, older forms such as Medieval hockets and Renaissance passacaglias, and unorthodox instrumentation (the winds double ocarinas) and playing techniques. The language moves between tonal (often modal) reference points and post-tonal construction. This may sound like quite an amalgam to navigate, but it is achieved with abundant success. Violinist Miranda Cuckson is a superlative interpreter of contemporary concert music, and she delivers a memorable rendition of concerto, with tremendous sensitivity to tuning and balance, authoritative command of challenging solos, and a dramatic portrayal of its narrative arc. Once again, Baldini proves an excellent partner, eliciting a tightly detailed performance from the UC Davis Symphony while giving Cuckson interpretive space as well. The performance of the cadenza displayed some of the violinist's creativity. Cuckson started with four lines of the original version, composed with input from the concerto's dedicatee Saschko Gawriloff, then continued with cadenza material she wrote herself. 
A cohesive and valuable program with fine performances of every work, this CD is one of our Best of 2021. Moreover, it puts UC Davis Symphony and Baldini on the map as performers of contemporary concert music to watch closely. 
-Christian Carey