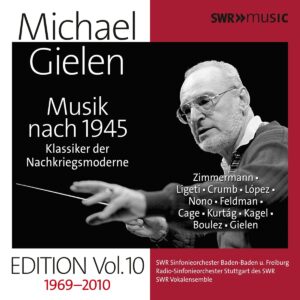 Michael Gielen Edition Volume 10: Music After 1945
SWR Sinfonieorchester, Michael Gielen conductor
SWR 6xCD boxed set
The tenth and final boxed set in SWR's Michael Gielen Edition spotlights his considerable contributions to post-1945 concert music. Seven hours of live recordings of music by European avant-garde figures Pierre Boulez, Luigi Nono, György Ligeti, György Kurtág, Jorge E. López, Maurizio Kagel, and Bernd Alois Zimmerman and Americans Morton Feldman, John Cage, and George Crumb. Gielen's own compositions are featured as well. Gielen (1927-2019) may not have been prolific, but proves to be a fine composer, one whose works should be considered for programming more regularly. Vier Gedichte von Stefan George (2010) ("Four Poems of Stefan George") finds the SWR Vokalensemble joining a chamber segment of the SWR Sinfonieorchester in a performance that displays the virtuosity of both groups to excellent advantage. Pflicht und Neigung (1988) ("Duty and Inclination") is imaginatively scored for a sinfonietta sans strings, with muscular percussion writing, crystalline wind chords, and eruptive brass lines. 
As the previous nine boxed sets of the Gielen Edition attest, he was a conductor who excelled in many different eras and styles of music-making. Still, Gielen's championing of contemporary music is legendary, as are some of the performances included here. Bernd Alois Zimmermann's Requiem für einen junge Dichter (1969) ("Requiem for a Young Poet") has a particularly dark history that lends to the already harrowing nature of the work. Both the narrator, a pivotal performer in the piece, and Zimmermann himself committed suicide shortly after the Requiem's premiere by SWR and Gielen. It has been widely debunked that Mozart was "writing his own Requiem," but can one say that of Zimmermann's riveting piece? Gielen reportedly wasn't so sure. Ligeti's Requiem (1965) is another selection that is a standout, with radiant singing of its tight clusters and affecting emotive delivery. Instead of the dizzying polyglot assemblage of myriad texts in the decidedly secular and even nihilistic Zimmermann piece, Ligeti uses portions of the Catholic Requiem liturgy as part of his postmodern setting. George Crumb's Star Child (1977) is another textual amalgam, with references to Gnostic concepts of Advent and Apocalypse. As so frequently in Crumb's work, his attention to declamation is only matched by imaginative and exquisitely detailed scoring. 
Having recently finished Nono's collected writings, it was particularly wonderful to hear these fine recordings of his music. In the book, Nono mentions working out complex canons with Bruno Maderna as a focal point of his training, which he deploys here in Variazioni canoniche. His signature orchestral work, No hay caminos hay que caminar (1987) ("Walker, there is no path yet you must Walk"), and A Carlo Scarpa (1984), dedicated to the famous twentieth century architect, also represent Gielen's staunch support of and insights into Nono's work. 
Kurtág's Stele (1994) is the piece that elevated his compositional career, and it remains one of his most durable works; SWR provides a rendition that could be the benchmark for a long time to come. Ein Brief (1986) ("A Letter") by Mauricio Kagel is a piece for mezzo-soprano and orchestra that features angular vocalise and Schoenbergian harmony; it reads like an enigmatic sequel to Erwartung. 
The artistic breadth and consistently superior musicality of this set are extraordinary. Given their archival nature, listeners may be surprised at the fidelity of the recordings. Details are clear, and dynamic range is tremendous; the disc containing the pieces by Lopez even includes a warning to be careful of the dynamic extremes of the piece when choosing a volume level. The selections by this composer are all premiere recordings. Born in Cuba and an emigree to the United States, Lopez has for some years been a citizen of Austria, flying under the radar of much of the American musical establishment. His formidable scoring and the aforementioned extremes navigated by his music may also play a role. These prove to be right in Gielen and SWR's wheelhouse; they make a case for Dome Peak (1993) and Breath-Hammer-Lightning (1991) as  compelling works that deal with a gargantuan spatial aesthetic.
Two of Pierre Boulez's most important orchestra pieces are included here, Rituel in Memoriam Bruno Maderna (1975) and movements from the seemingly ever enlarging Notations (recorded in 1990, with an additional portion added in 2003). Rituel incorporates expressive gestures and formal bearing; it was truly a turning point piece for Boulez. Notations was a touchstone work emblematic of the composer's willingness to build up and revise fragments of material throughout his lifetime. It is masterfully scored and tailor made for a detail-oriented Gielen. Once again, SWR displays extraordinary fluency in densely complex music.  
The late Feldman piece Coptic Light (1985) clocks in at nearly a half hour, which is short by the composer's standards. It is still one of his most impressive essays, requiring 106 musicians to create a kaleidoscope of colors, staggered entrances, and off-kilter near repetitions. The Gielen set closes with another New York School piece, the totemic Concerto for Piano and Orchestra (1958), an audacious open form piece in which the conductor is literally a time-keeper, using his hands to indicate positions on the clock to move through the piece's sections. The soloist's part, written on single sheets, can be assembled in any order. Despite all of the chance procedures at work here, the SWR and Gielen understand the performance practice surrounding Cage's output well, making clear that they are as equally at home in American experimental music as they are the European avant-garde. Highly recommended. 
-Christian Carey