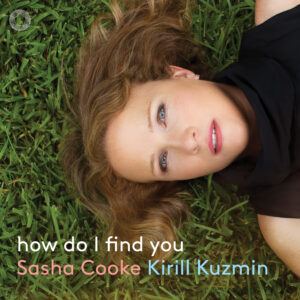 how do I find you?
Sasha Cooke, mezzo-soprano, Kirill Kuzmin, piano
Pentatone CD
Mezzo-soprano Sasha Cooke and collaborative pianist Kirill Kuzmin supply an entry in the "pandemic recording" subgenre, how do I find you?, named after the title piece by Caroline Shaw. Cooke performs a great deal of contemporary repertoire, creating roles in operas and premiering art songs by composers including William Bolcom, Nico Muhly (Marnie at the English National Opera), and Joby Talbot. Apart from a selection by Muhly, all of the songs on the release are with new collaborators, composers in the under-fifty age bracket. Written in 2020, the songs are inspired by topics from that fraught year of pestilence, protests, and political rancor. 
The first two songs on the album, Shaw's and Kamala Sankaram's,  are particularly well written and moving. Here, as elsewhere, Cooke sings with great beauty, deploying a richly hued voice with impressive diction and expressivity. Shaw focuses on the ability of natural beauty to provide succor, those distanced walks so many treasured as a respite from lockdown. Sandaram's "Listen" is a moving and harmonically rich musical tribute to George Floyd, with an eloquent poem written by Mark Campbell, one that could be classical music's equivalent of "Strange Fruit." Elsewhere, Missy Mazzoli's "Self-Portrait with Disheveled Hair," with words by opera librettist Royce Vavrek, is an aria in its own right, inspired by Rembrandt's painting and bifurcated into a soaring recitative and post-minimal main section. One could easily imagine her writing a role for Cooke; has Mazzoli's Met debut been cast yet?
Nico Muhly knows Cooke's voice well, and deploys it in the touching and delicate "Intimate Things." Hilary Purrington counts on Cooke's legato control and brings a mix of added note chords and chiming interjections to "That Night's" fetching accompaniment, creating a piece that resembles a musical theater scene, albeit with no belting required. Gabriel Kahane writes both music and lyrics for "The Hazelnut Tree," a touching song about fear of global warming and the gloom of the daily news being soothed by a beautiful scene in the backyard. Timo Andres provides some of the highest notes on the recording for Cooke to sing to a jaunty accompaniment. Her control and Kuzmin's incisive playing are both impressive.
"After the Fires," referencing the California wildfires, by Lembit Beecher, uses expressive vocal devices, such as melisma, to create a keening and harrowing ode to senseless destruction. The plight of immigrant detainees is encountered in Huang Ruo's "The Work of Angels," a setting of a 1978 poem about the imprisonment of Chinese emigres under the 1882 Exclusion Act. At nearly eight minutes, it is a powerful depiction of squalid conditions and suicide, decrying past and present US immigration policies. 
Andrew Marshall acknowledges the challenges of remote learning with a charming cabaret song, "(A Bad Case of) Kids." Rene Orth's "Dear Colleagues" also affords Cooke the opportunity to tear into an angst-filled scene. Chris Cerrone's "Everything will Be Okay" is an understated setting depicting anxiety, in this case lost then found cash in a hotel. 
It is hard to know how long audiences will want to hear pandemic year music. Perhaps, rather sooner than one expects, it will become something left behind, as are (in some cases regrettably) many of the pieces dedicated to 9/11. Cooke and Kuzmin are to be commended for presenting every song in a strong performance with equally fervent commitment, creating a musical time capsule that is an evocative summary of the challenges facing many during painful pandemic days. If there is an album depicting 2020 to which I wish to return, this is it. 
-Christian Carey