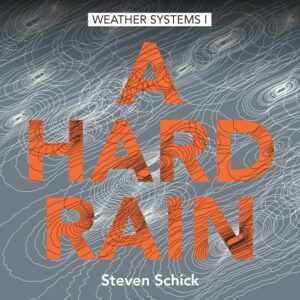 Steven Schick
A Hard Rain
Islandia Music Records
Steven Schick is an extraordinary musician, best known as a percussionist but also a formidable conductor. After decades of performing all of the important solo works of the percussion repertoire, Schick is creating a series of recordings, titled Weather Systems, documenting interpretations built on lifelong study. The first, A Hard Rain, includes works by the experimental and serial wings of American music, European modernists, and a tour-de-force rendition of Kurt Schwitters' Ursonata (1932). 
The double disc recording begins with 27'10.554" for a percussionist (1956), a nearly half hour long piece by John Cage. As with so much of Cage's music, the use of silences between aphoristic gestures is often present. The instrumental complement includes a number of regular percussion implements plus several unconventional noise-makers: radios, whistles, pre-recorded sound, wooden and metallic materials. The pre-recorded sound plays a pivotal role. Schick's realization of the piece is an eighty-four multitrack mix. Schick calls it "a rainforest of sounds."  The impression it makes is of a diverse, diffuse sound environment that moves between noise, nature, and more codifiable rhythmic structures.
Zyklus (1959), by Karlheinz Stockhausen, is an exciting, highly choreographed, graphic score, with the trick that, like the deployment of its instruments, it is circular in construction. The performer is allowed to enter the circle at any point and work through the piece from there. King of Denmark (1964) is far more intuitive, keeping the slow, soft, spare aesthetic of Feldman but transferring it to percussion.
Two American serialists are represented. Charles Wuorinen's Janissary Music (1966) is an early example of the composer using serialized rhythmic structures. The pitch language also uses 12-tone techniques, the result a fastidiously designed piece that is  muscular in its angularity. Schick went to University of Iowa, where William Hibbard taught, and thus his recording of Parsons' Place (1968) is a return to one of the first solo percussion pieces he learned. Like Feldman and Cage, Hibbard allows space between entries with a generally soft dynamic. However, they are knotty and self-similar, the pitched percussion chromatic in pitch spectrum. The accretion of gongs, cymbals, and a drummed pulse provides a slow build to an interior cadence. Once again, the texture thins, with long rests interspersing brief eruptions, shimmering gongs joining pitched percussion. Gently articulated melodies interspersed with drumming creates a hybridized last section that becomes progressively more assertive, then drifts off in a shimmer of cymbals.  Schick's use of dynamic contrasts and nimble gestures make a strong impression. A compelling work that should be better known. 
Intérieur I (1966) by Helmut Lachenmann takes the post-War modernism found in Zyklus and expands its instrumental and expressive reach. Glissandos on timpani and xylophone, brightly articulated melody on vibraphone, and disjunct arpeggiations on marimba are offset by long-sounding gongs and punchy non-pitched drum interjections. The whole creates a labyrinthine complex of alternating gestures and textures. 
Kurt Schwitters' Ursonata (1922-32) is one of the most important sound poems of the twentieth century. As the title suggests, the shape of the piece is sonata form, but the vocal sounds required are as far from traditional as can be imagined. Electronics composer Shahrokh Yadegari joins Schick for a virtuosic performance of the piece that includes echoes, layerings, and treatments of the voice. Schick provides a dramatic rendition of the Ursonata, rendering its tongue-twisters, repetitions, and non-sequiturs with flair and fluidity. I heard Schick perform the piece at the Park Avenue Armory, and while a stereo recording can't capture the encompassing power of Ursonata live, it captures detail and an impressive amount of heft. A Hard Rain is one of 2022's "must-hear" recordings. One waits with keen anticipation for its follow-ups.   
-Christian Carey