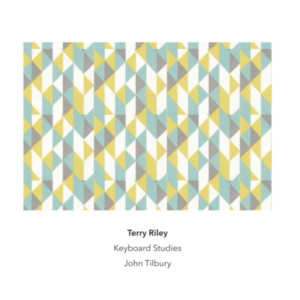 Terry Riley
Keyboard Studies
John Tilbury, piano, harpsichord, celeste, and electric organ
Another Timbre
In addition to their impressive catalog of music of the moment, the past recordings that are uncovered and released by Another Timbre are frequently astonishing. This is certainly true of a recording of the great new music keyboardist John Tilbury playing three pieces by Terry Riley from 1965: Keyboard Study No. 1, Keyboard Study No. 2, and Dorian Reeds.  Written just after In C, these pieces are foundational as well, presenting the methods with which Riley would assemble solo work from patternings. Like In C, they do not have full scores, and their durations may vary. Dorian Reeds was originally written for saxophone with tape delay and is adapted here for electric organ. Tilbury is well known for his performance of New York School composers, Morton Feldman in particular, as well as his work as a free improviser. This is the first recording of him engaging with 1960s American minimalism.
The tapes from which this CD was made are from the late 1970s or early 1980s in Hamburg, with other details forgotten. They have weathered well, and provide an important link to that time period, in which American minimalism had begun to have a significant number of British and European interpreters. The 1980s would see minimalism capture English composers' interest as well, with figures like Michael Nyman and Steve Martland creating distinctive repetition-based music.
Tilbury's performance of Keyboard Study No. 1, played on the piano, clocks in at eighteen minutes. Like In C, a repeated pitch is a constant throughout. The piece features unraveling and returning patterns not dissimilar to Steve Reich's phase pieces, with tasty secundal dissonances set against fourths and fifths and generally avoiding thirds. Gradually, it moves through all sorts of modal inflections and polyrhythms.
Keyboard Study No. 2 has the most elaborate instrumentation: piano, electric organ, harpsichord, and celeste. Over a half hour long, it is also the most expansive. Once again, scales and rhythms morph against a constantly repeating note. Here, the instrumentation brings out different parts of the patterning, the varied attack and sustain of the instruments allowing notes to become prominent or recede in the texture.
Dorian Reeds works well for organ, with intervallic oscillations and corruscating melodic gestures punctuated by repeated pitches. The organ registrations provide varied timbres for the piece's motives, with more and more lines accumulating as the piece develops. Tilbury plays Dorian Reeds with tremendous dexterity. Here, as elsewhere, he delineates the counterpoint with deft touch. The original saxophone version is compelling, but this version is equally so. Recommended.
-Christian Carey