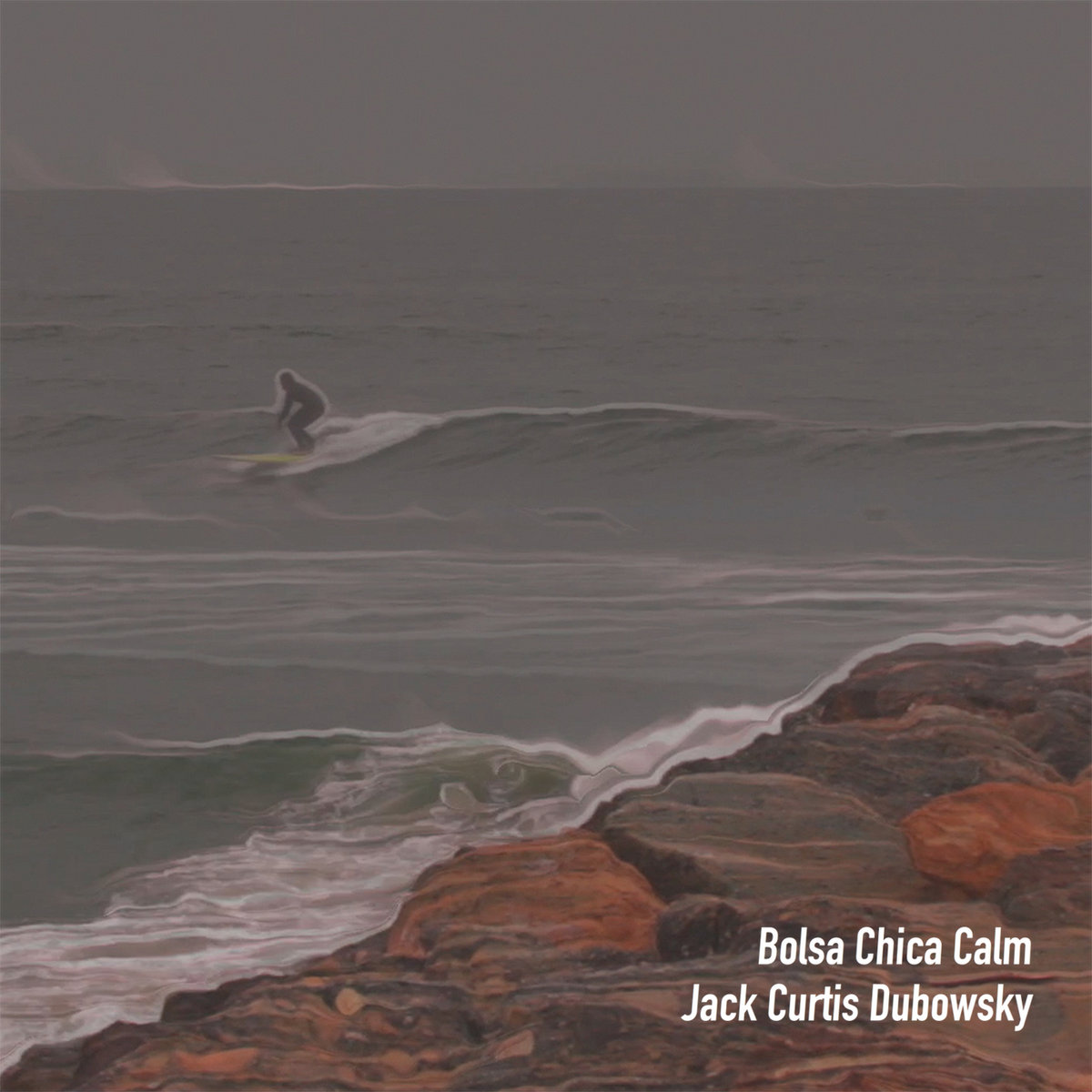 Jack Curtis Dubowsky has been a familiar presence in Los Angeles contemporary music for many years. He may be best known for his original scores for vintage silent films, as well as for performing them live while projecting the movies in various outdoor venues around town. Dubowsky has also scored feature films, orchestral and chamber works, as well as choral music including the acclaimed Harvey Milk: A Cantata. He is a member of the Academy of Television Arts and Sciences and the author of three books.

Bolsa Chica Calm is Dubowsky's latest electro-acoustic album, and he writes that this music "…references ambient, environmental, and experimental music, from vaporwave to Wendy Carlos' Sonic Seasonings." The album comprises two 30-minute pieces – Bolsa Chica Surf and Bosa Chica Rain – both inspired by the composer's avid passion for surfing and the Orange County coast.

Bolsa Chica Surf opens the album and appropriately begins with the calming regularity of waves lapping on the beach. Synthesized instruments soon enter in their turn, with gentle harmonies and simple melodies. The new phrases are independent and repeat so that each entrance adds a new layer of sound to the growing texture. Some high-pitched electronics whirl in the air, and might be sea birds calling across a beach. The soft, pulsing undercurrent of the surf forms a foundation on which the instruments are heard, and this produces a pleasing California sensibility. The repeating phrases of the music complement the patterns in the surf – seemingly the same but each having individual differences. This synchronization of the musical with the natural engages the listener in the same way as standing on a beach watching the waves roll in – all similar in form but separately distinctive.

As the piece continues, a harp is heard repeating a simple ascending phrase, accompanied by lower register electronics and the surf sounds. Three-note bell tones are soon heard dominating at the top of the texture. The tempo has increased slightly and there is a more purposeful feeling as the acoustic instrument sounds enter, each with its own repeating phrase. This pattern produces a feeling of quiet meditation on the beach, even as the piece is one long crescendo, building as instruments join in with new sounds.

At about the halfway mark everything fades to a moment of silence, then a new piano phrase is heard with the harp. There is a steady repeating phrase in each voice with only elementary harmony in the simple piano chords. A cello begins with rich deep tones in slow, stately passages. A flute enters on top, arcing above and there is a more conventional feel to this section with familiar instrumentation and fewer electronics. At 24:33 a distinctive electronic voice enters with sustained tones, changing the mood a bit. Towards the finish the percussion enters, and the feeling becomes one of expectation. A broad tutti chord is a final flourish, and then only the surf sounds continue for a few moments more.

Bolsa Chica Surf is a minimal, but pleasant rending of a quiet day on a California beach. The patterns of the waves and the music imitate one another and merge in the ear to form a continuum of music and nature. This is not dramatic or technically flashy, but is rather a peaceful echo of nature that leaves room in the mind of the listener for quiet meditation.

Bolsa Chica Rain is similarly structured, but evokes an entirely different range of emotions. The sound of a steady rain softly drumming on a metal roof is accompanied by some marvelously liquid percussive sounds. Violins and a cello join in with a mournful melody that perfectly captures the disappointment one feels at having to change outdoor plans because of the weather. At about 3:00, what sounds like a dulcimer enters with repeating phrases that float above sustained tones from synthesized horns. A wood block adds a strong beat as the rain has now receded into the background. Repeating bell-like phrases are heard at the top of the texture and a series of descending notes by the keyboard add to the layers of sound. By 7:00 these sounds have faded and after a momentary pause, the keyboard issues a run of solitary chords that create a slightly more somber mood – like when you feel trapped indoors by the rain. Electronic tones now offer a slightly brighter feel and new layers appear in simple, but uplifting passages. The strings enter again, now providing real optimism as if you have found something interesting to do indoors. As Bolsa Chica Rain continues on, it imparts that sense of liberation you might feel upon realizing that being stuck inside all day because of the rain isn't so terrible after all.

The architecture of both pieces in Bolsa Chica Calm is similar; they are built up with layers of changing and independent phrases as various instrumental groups enter and fade out. This makes for accessible and engaging music without being boring or repetitive. The patterns in the music mirror the patterns of nature, and this imparts a welcoming sense of serenity. Bolsa Chica Calm is just that, and much needed in our often frenetic lives.
Bolsa Chica Calm is available for download here.