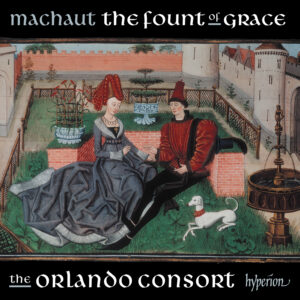 Orlando Consort
Machaut: The Fount of Grace
Hyperion Records
Matthew Venner, countertenor; Mark Dobell and Angus Smith, tenors; Donald Greig, baritone
Guilliame de Machaut (1300-1377) was a supremely talented poet and composer. He was an innovator, creating the first polyphonic Mass and developing polyphony in chansons as well. After Machaut, there is little evidence of composers in the Medieval era who set their own words to music. Works devoted to courtly love make up the majority of his output. Fount of Grace adds several topics to that of love poems: devotional and historial components loom larger than on other recordings of Machaut by Orlando Consort. 
After thirty-five years, Orlando Consort gave their last performance on June 7, 2023. The Fount of Grace is the tenth of eleven recordings of Orlando's survey of Machaut. The title references a name for the Virgin Mary, to whom some of the programmed works offer devotions, explicitly or in a veiled fashion.
Le lay de la fonteinne is the most overtly religious, petitioning the Blessed Virgin for love and grace. Like traditional lays, the rhythm scheme and melodic framework are complex, with different rhythms and melodies in each couplet, apart from the first and last, which provide a refrain to begin and end the piece. Odd-numbered lines are monophonic, while even-numbered lines are performed as three voice unison canons; a reference to the trinity that, late in the piece, is supported by an evocation of its formula. The singing of the canons is quite beautiful, with the overlapped lines delivered with clear diction and vivacious rhythms. At over twenty-four minutes in duration, it is by far the program's longest work and, thematically, its centerpiece.
Machaut also references occurrences of his day, a particularly fraught time in France, beleaguered with plague, pestilence, and the Hundred Year's War, which at the time of these compositions was going quite badly for the French. The motet Tu qui gregem/plange regni/Apprehende arma is an example. It references taking up arms against the foe at a point during the Hundred Years War when the nobles of France were in desperate straits, with some taken hostage by the English forces. Likewise, Christe qui lux/Veni creator spiritus/Tribulatio proxima est implores Christ to be with those in danger. The counterpoint, which includes canonic and free passages, is finely knit, with upper voices Matthew Venner and Mark Dobell leading off the proceedings with an ardent duo that, soon enough, is accompanied by the other voices in fascinating overlapping relations. The ballade Donne Signeurs, urges noblemen to be good to their subjects. A sustained tune sung by tenor Angus Smith, an upper register melody performed by Venner, and harmonies incorporated by the other vocalists, with a sonorous bass line by Donald Greig, create a fascinating, vibrating texture. 
Courtly love is not neglected on the program. Two versions of the Rondeau Tant doucement me sens emprisonnez are included, one for two voices and the other four. The theme of being imprisoned by love is a venerable one among chansons, and this text expresses it well. The duet's two voices move at different rates, with a fetching melismatic top voice. The quartet is even more varied in rhythmic activity. With Tant doucement … Machaut creates a tour-de-force times two in the chanson genre.
The Orlando Consort still sound in fine voice and will be sorely missed. At least we have one more Machaut recording to which to look forward. 
-Christian Carey