---
Who's Afraid of
Julia Wolfe
---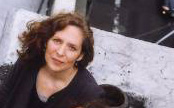 One of New York's finest and most visible composers, Bang on a Can co-founder Julia Wolfe is front-and-center this week and next. On Thursday, February 6, ETHEL kicks off its three-part survey of her string quartets (and John Zorn's) at Columbia's Miller Theater and on February 11 Cantaloupe will release a recording of the three quartets featuring ETHEL, Lark Quartet and the Cassatt String Quartet.

Through their relentless high energy and ferocious passion, Wolfe's quartets have become popular repertoire for many of the younger quartets who specialize in contemporary music. Her music conveys an intensity and intimacy, a virtuosity and
joy of sound that turns the string quartet into a high voltage vehicle of expression. "Dig Deep" is a hard-charging force of nature; "Four Marys" was inspired by Wolfe's love for playing the Appalachian dulcimer, and "Early That Summer" is perhaps the best known of all of Wolfe's work. As composer Evan Ziporyn writes, "There are no power chords in the breathtakingly virtuosic string quartet Early That Summer, but the vibrancy of rock and roll sears through every moment."

Wolfe body of work defies classification, drawing on range of influences as disparate as late Beethoven and Led Zeppelin. Her musical explorations are unified by a focus on sound as a beautiful and powerful abstraction imbued with meaning. Born in Philadelphia in 1958, Wolfe studied with Martin Bresnick at Yale, receiving her MM, and later did doctoral work at Princeton.

She is a Fulbright recipient who has also won awards and commissions from The Kronos Quartet, the Koussevitzky Foundation, the Library of Congress, Meet The Composer, and the American Academy and Institute of Arts and Letters, among others.

Her music has been performed by a prestigious list of players, including the San Francisco Symphony, Bang on a Can All-Stars, American Composers Orchestra, Piano Circus, the Cassatt
Quartet, and Le Nouvel Ensemble Moderne. Crossing over into the worlds of theater and dance, her works have been choreographed by Eliot Feld, Doug Varone, and the Dusseldorf Ballet; she also composed music for Anna Deveare-Smith's most recent play House Arrest.

ETHEL performs the complete Julia Wolfe String Quartets in a 3-concert series
at New York's Miller Theatre, as part of the series "The Complete String
Quartets of Julia Wolfe and John Zorn." "Dig Deep" will be performed on
February 6, "Four Marys" on March 13, and "Early That Summer" on April 24.
These works will be paired with world premieres from six other maverick New
York City composers.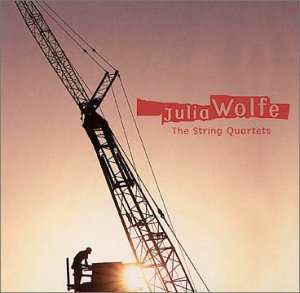 The String Quartets
Composer: Julia Wolfe
Ensemble: Ethel, Cassatt String Quartet, et al.
Cantaloupe - #21011
New Music - Reluctance To Take Risks In the next six months in London there are only eight premieres by British composers. "That's eight out of roughly 500 works being performed by the country's symphony orchestras until the end of the season (not including repeat performances on tour). A minuscule proportion - about 1.6% of performed works, if you want to be pedantic about it. Why is new work so thinly represented? Largely, it is because orchestras are reluctant to take risks. Programming new work is expensive. You have to pay the composer..." The Guardian (UK) 01/30/03

Piling On At The ENO "Music impresario Raymond Gubbay has attacked plans to axe jobs in the chorus and orchestra at the English National Opera. Mr Gubbay - one of the leading names in his field - described as 'absurd' and 'ridiculous' the ENO's proposals to reduce the number of 60 choristers and 83 orchestra members. His outburst followed chairman Martin Smith's admission the ENO had been saved from going into receivership by a £4.2m grant from the Arts Council of England." BBC 01/29/03

Today Vs. Yesterday - Are Symphony Orchestras Better? Are today's symphony orchestras better or worse than the orchestras of yesterday? The technical level of the players is better, but is the way they play together superior? The Boston Globe asked five prominent conductors to make comparisons. Boston Globe 02/02/03

Oundjian - A Star Is Born? None of this waiting for years between appointing a new music director and the time he starts conducting your orchestra. The Toronto Symphony announced Peter Oundjian as its music director only last month. This week he gave his first concert. Were people excited? You bet. "Torontonians who, for the most part, have acted with severe ennui to the recent decline in fortunes of the Toronto Symphony" showed up in droves. "Roy Thomson Hall, which has often been half-empty for some of the greatest performers in classical music, was filled to overflowing for the free concert. The place was stuffed to the rafters, with lineups outside the hall and hundreds of people turned away. Hundreds turned away. When's the last time that happened for a TSO concert? Answer: never." The Globe & Mail (Canada) 02/01/03

Reinventing The Viola (And Isn't It About Time?) An instrument that resembles a Dalí-inspired melted viola is causing such excitement that there is a two-year waiting-list. Although the body is spruce and maple, the traditional ebony fingerboard is replaced by Formica to give it a lighter weight. Its eccentric shape also reduces the strain of arm and wrist stretching. The instrument, whose $12,000 (£7,300) cost is comparable to that of a normal viola, was made in America, at the Oregon workshop of David Rivinus. 'The only thing sacrificed is visual symmetry. Does the shape change do anything to the sound? No'." The Times (UK) 01/31/03

The New Castrati? There are, of course, no more castrati, male singers castrated in their youth so as to preserve their high, immature voices. And while no one would ever suggest a return to the barbaric practice, music historians have long lamented the loss of the unique sound such performers produced. In the last century, the parts originally written for castrati have been largely sung by countertenors, men singing in highly developed falsetto. But many of the most difficult Baroque castrato operas have been all but abandoned for lack of skilled enough performers in the countertenor range. Until now. Chicago Tribune 01/30/03

San Francisco Opera Slashes Operations Beginning in 2005, the company will cut its season from 88 performances of 11 or 12 productions to about 65 performances a year spread over nine productions. "The goal is to shrink the annual operating budget from around $60 million to $45 million. The Opera had a deficit of $7.6 million for the 2001-02 season and is predicting a $9.2 million shortfall this year. "This city is just not able financially to support a jumbo jet." San Francisco Chronicle 01/28/03

Last Week's News

Caught in the Act
eighth blackbird Plays
Minimum Security Collective
By Deborah Kravetz
Someone had the good sense to move this performance into the small Prince Theater instead of the cavernous Zellerbach it was scheduled for,and by golly, it was almost completely filled for this program of sixteen short movements from four commissioned pieces by the Minimum Security Composers Collective: Dennis DeSantis, Roshanne Etezady, Adam Silverman and Ken Ueno, to put them in their alphabetic order. The commission elicited movements that could be performed in any order, and eighth blackbird pulled them together into two seamless movements based on what the music suggested to them as relevant transitions.
Does this make it more difficult to get to know a composer, or is it a challenge to merely tell one from another? I don't know what this format does to the music itself, and it takes the ear a while, but eventually, one can discern the similarities among the excerpts.
Most evidently, I found myself relaxing into the lyric romanticism of In Another Man's Skin by Adam Silverman, especially the waltz-y (schmaltzy) Cover Tune . Silverman takes advantage of the ensemble's instrumentation for violin, cello, flute, clarinet and marimba, using dance-like tempi, rippling runs and shimmering effects from the marimba to create flowing melodic lines.
I also enjoyed the Wait and See portion of Damaged Goods by Roshanne Etezady, the slow, hollow solos for cello and clarinet, and a flute/clarinet duet motif. Other portions of this piece were less distinctive, although tending to short melancholic repetitions. About Time was a quiet wind and string quartet, with rising piccolo phrases, and the Eleventh Hour closing featured a fast, percussive unison.
Dennis deSantis' Powerless was nothing like, marked by intense single-note repetitions, percussive unison and short phrases. Rapid staccato passages kept it from being too deadly dull.
Main Movement from Pharmakon by Ken Ueno introduced itself with crashing piano chords that segued into busyness and twitter, as the musicians were finally allowed to be seated, only to stand in turn as they attacked sections of repeated notes followed by soft, floating, almost indistinct chaos that retreated into slow, boring repetition. Another movement was played on tape as the musicians looked on quizzically, and the final section performed consisted of a hushed no-particular-pitch note with marimba.
Overall, this program could indeed have been all one piece, except for the welcome distraction of the radically different Silverman compositions. Without the Silverman, the Collective presents one dense, tough set of stuff heard all together. Perhaps, arranged into single pieces, their movements may provide the variation in texture necessary to break the monotony of intense sound. It would be difficult to listen to that way without the visual component, and in this case, eighth blackbird itself provided it, in its movement back and forward, around in circles, pairing and re-pairing with each other as the music evolved to duet phrases.
eighth blackbird
Diverge
Annenberg Center
Philadelphia
January 24, 2003
(Reposted from Penn Sounds 1/28/03)
---
Classical Grammy Winners
---
Previous Interviews/Profiles
Simon Rattle,
Michael Gordon,
Benjamin Lees,
Scott Lindroth,
David Felder,
Mark-Anthony Turnage,
Erkki-Sven Tüür,
John Luther Adams,
Brett Dea
n,
Judith Lang Zaimont,
Meyer Kupferman,
Evan Chambers,
Poul Ruders,
Steven R. Gerber,
Gloria Coates
Previous Articles/
Busoni The Visionary
The Composer of the Moment: Mark-Anthony Turnage
Electronic Music
Voices: Henze at 75
Henze Meets Emenim
On Finding Kurtag
Charles Ruggles: When Men Were Men
Ballet Mécanique
The Adams Chronicles
---
Record companies, artists and publicists are invited to submit CDs to be considered for our Editor's Pick's of the month. Send to: Jerry Bowles, Editor, Sequenza 21, 340 W. 57th Street, 12B, NY, NY 10019 Also, feel free to nominate your favorite composer-- even if it's you--for Spotlight of the Week.