---
Einojuhani Rautavaara
Joins Boosey & Hawkes
---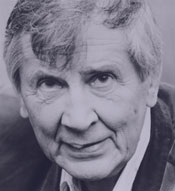 Finnish composer Einojuhani Rautavaara has signed a long-term exclusive publishing contract with Boosey & Hawkes Music Publishers. Rautavaara's new agreement builds on the close relationship Boosey & Hawkes has developed with the composer in recent years through representing his Warner/Chappell, now Fennica Gehrman, works in key international territories. .

Rautavaara's future compositions include an orchestral work for Mikko Franck and the Orchestre National de Belgique, a String Symphony for the Juilliard School of Music, and a Cello Concerto for Truls Mörk and the Minnesota Orchestra.

Long regarded as a major figure in 20th century Nordic music, Rautavaara reached a wide public and a new level of international acclaim in the 1990s thanks to best-selling recordings on the Ondine label of Angel of Light and Angels and Visitations and to worldwide performances of his most admired works such as Cantus arcticus, the Violin Concerto and his choral masterpiece Vigilia. Rautavaara's music enjoys the advocacy of many of the leading conductors and soloists of our time, including Wolfgang Sawallisch, Osmo Vänskä, Mikko Franck, Marin Alsop, Leonard Slatkin, Leif Segerstam, Elmar Oliveira, Olli Mustonen, Richard Stoltzman and Vladimir Ashkenazy

Richard Stoltzman joins Leonard Slatkin and the BBC Symphony Orchestra on 13 May 2003 to present the UK premiere of the new Clarinet Concerto at the Barbican. Finnish National Opera mounts the world premiere of Rautavaara's new opera, Rasputin, in Helsinki on 19 September 2003 featuring Matti Salminen as Rasputin and Jorma Hynninen as Nicholas II and conducted by Mikko Franck.

Boosey & Hawkes is widely regarded as having the world's top catalogue in 20th century classical music, including the master works of Stravinsky, Britten, Bartók, Copland, Prokofieff, Rachmaninoff, Strauss and many others. Boosey & Hawkes's select group of contemporary composers, which Einojuhani Rautavaara now joins, is one of the most prestigious in the world of classical music publishing. Composers who have signed with Boosey & Hawkes over the past two decades include John Adams, Steve Reich, James MacMillan, Louis Andriessen, Elliott Carter, Christopher Rouse, Harrison Birtwistle, Magnus Lindberg, Olga Neuwirth, Brett Dean, Unsuk Chin and Mark-Anthony Turnage.

Rautavaara was born in Helsinki in 1928 and studied with Merikanto at the Helsinki Academy (1948-52), with Persichetti at the Juilliard School in New York (1955-56), and with Sessions and Copland at Tanglewood (1955). He first came to international attention in 1955 when the neo-classical A Requiem in Our Time for brass and percussion won the Thor Johnson Composer's Competition in Cincinnati. He studied serialism and soon integrated twelve note techniques, without displacing his essential Romanticism. For instance, Symphony No.3 (1961) may employ serial procedures, yet it is also a tribute to the symphonies of Bruckner, complete with Wagner tubas, while in Symphony No.4 "Arabescata" (1962) Rautavaara created the first totally serial Finnish work.

In the late 1960s Rautavaara distanced himself from serialism and his mystical character came more to the fore in music of rich colour and sweeping melody profile, at once accessible and evocative. His operas have often explored issues of creativity and madness, such as Vincent (1986-87), Aleksis Kivi (1995-96) and Rasputin (2001-03), and his symphonies and concerti have increasingly been commissioned by orchestras outside his native Finland, including most recently Symphony No.8 'The Journey' (1999) for the Philadelphia Orchestra, a Harp Concerto (1999-2000) for the Minnesota Orchestra and a Clarinet Concerto (2001-02) for Richard Stoltzman and the National Symphony in Washington.
How About A Seat Sale? UK business leaders came to talk to orchestra managers this week about ways to market and sell tickets. One idea, popular in the airline business, is "yield management", where "tickets become more expensive as departure dates approach. Concert-goers who book their tickets well in advance might pay £10 for the best seat while those who turn up at the box office on the day could pay up to £30." The Guardian (UK) 02/10/03

Orchestra Expenses too High? Here's A Plan - Dump Your Musicians (Now What?) The Colorado Springs Orchestra, which hasn't performed since December because of a million-dollar debt (and a filing for bankruptcy in January) petitioned a court to void its musicians' contracts, arguing that "the contract put an untenable financial burden on the organization." A judge voided it Thursday, and so now what happens? Maybe not much - without a contract the orchestra has no musicians. Without musicians, it'd difficult to play concerts. The orchestra's future is getting cloudier... Denver Post 02/14/03

Opera - MIA On PBS? Opera is disappearing from American television. "The prospect is not a pretty one for full-length opera on PBS. Shadowed by ever-diminishing ratings, opera telecasts are being chased even from the not-for-profit airwaves. This coming season, the most familiar, and once constant, 'content providers' - the Metropolitan and New York City Operas, respectively - find their programming plans in disarray. After twenty-five years of televising three to four operas a year, the Met has only one scheduled for 2002-2003." Opera News 02/03

Digital Music Gets A Bar Code It's so basic, you wonder why no one thought of it earlier. The recording industry has unveiled a system it says will make it easier for artists and record companies to be compensated for digital music purchased online. The system is called GRid (Global Release Identifier,) and it works much like a UPC code attached to each song, allowing the seller to track songs sold. All sides seem to be guardedly optimistic about the system, although privacy advocates worry that the GRid could be used to pursue consumers who buy a tagged song and then allow it to be traded on a song-swapping site. Wired 02/12/03

Tale Of Two Opera Companies - With English National Opera The Loser While London's Royal Opera House seems to have steadied itself, The English National Opera is going in the other direction. Norman Lebrecht reports that dismay greeted ENO's choice of a new director last week. "The most dispiriting aspect of his appointment is its wilful myopia. Nothing about him inspires faith that Sean Doran will do better than any of the bathroom warblers who are lining up to try for an ENO role in Channel Four's gimmicky Operatunity contest. The idiocy of promoting an untested candidate from a provincial Australian ensemble was amply demonstrated by the fate of Ross Stretton at the ROH." La Scena Musicale 02/11/03

Famous Clarinet Factory Destroyed In Fire One of the world's best clarinet factories went up in flames this week. "The dawn blaze at the Leblanc factory in La Couture Boussey, in the Normandy region of France, incinerated 1,400 clarinets, along with the entire stock of spare clarinet fingering keys. The French factory, which has 37 employees, was founded under the name Ets. D. Noblet in 1750 when the flourishing of instrumental music at the court of King Louis XV created a demand for musical instruments." Edmonton Sun (AP) 02/13/03

Last Week's News

Caught in the Act
New York Virtuosi Group
Marks Black History Month
by Duane Harper Grant

The New York Virtuosi Chamber Symphony's concert celebrating Black History Month at the New York Historical Society on February 2 began on a solemn note with a minute of silence for the space shuttle Columbia's seven astronauts who had perished the day before. The feeling of loss in the hall was palpable.
Presented in conjunction with the current New York Historical Society exhibition, "Reading Uncle Tom¹s Image: The Legacy of Harriet Beecher Stowe¹s Novel Reconsidered," the concert took place in a beautiful mid-sized, acoustically warm and balanced hall in the NYHS.
The musical offerings featured and celebrated compositions by seven African American composers and was annotated and narrated by composer Kermit Moore. The concert started with an ensemble mid-tempo version of Scott Joplin's The Entertainer continued with Howard Swanson's Night Music, Come Sunday by Duke Ellington from his Sacred Concerts--Come Sunday, Dorothy Rudd Moore's Transcension, Ron Carter's Opus for Trumpet and Strings, an excerpt from Gordon Parks' Star for Noon and Kermit Moore's own Music for Horn, Percussion and Strings.
The ensemble conducted by Kenneth Klein turned in a warm, engaging and enthusiastically received performance of the music. Though it certainly wasn't planned as a requiem concert, most of the composition fit the mood of the day--reflective, somber and even spiritual. The concert was a success for the composers and ensemble alike with my favorites being Rudd Moore's haunting and plaintive Transcension and the texturally rich--especially with the velvet toned solo trumpet of Aaron Flagg--Opus for Trumpet and Strings by Ron Carter. Gordon Parks was in attendance and was celebrated with a very special introduction by Moore, whose "concert narration" throughout added nicely to the presentation
The New York Virtuosi Chamber Symphony is celebrating its 20th anniversary season as one of New York's finest classical music organizations.
Founded in 1982 by its Music Director Kenneth Klein, this 35-piece ensemble, composed of some of New York's finest players, has performed at all the major halls in New York City, throughout the U.S. and Germany and been praised by both critics and audiences for its innovative programming.
CALL FOR WORKS
---
NWEAMO 2003: The Exploding Interactive Inevitable
October 3-5, 2003: Portland, Oregon (B-Complex) October 10-12, 2003:
(San Diego State University)
The Northwest Electro-Acoustic Music Organization (NWEAMO) is currently seeking audience-interactive electro-acoustic works to include in its fifth annual international festival, NWEAMO 2003: The Exploding Interactive Inevitable. The three-day festival will be held in Portland and San Diego on October 3rd to 5th and 10th to 12th, respectively.
These works must rely on some form of audience participation to complete their execution. The form of interaction may be physical, intellectual, sensory, and/or other type, and it may be achieved through technological, entirely human, or other means. Works may be representative of all styles and aesthetics, from the classical avant-garde and microsound to the fringes of experimental pop.
NWEAMO also welcomes submissions of electro-acoustic works that do not involve audience interaction. A live performance element must be featured, however. Submissions may include:
Turntable works (vinyl or CD)
Works involving the use of digital audio rendering environments such as SuperCollider, CSound and Max/MSP
Works for solo instrument (acoustic or electric) and electronics
Experimental dance music
Live all-electronic performances (DJ/VJ, laptop)
Live performer with prerecorded material
Music involving the creative use of electronic amplification
Video with integrated music
Music involving theatrical or dance performance
Installations with audio elements
Multimedia works with audio element
As in past years, between seven and nine performances will be presented on each of the festival's two nights. We would like to end at least one night with experimental dance music. For more details, go to NWEAMO.
Classical Grammy Winners
---
Previous Interviews/Profiles
Simon Rattle,
Michael Gordon,
Benjamin Lees,
Scott Lindroth,
David Felder,
Mark-Anthony Turnage,
Erkki-Sven Tüür,
John Luther Adams,
Brett Dea
n,
Judith Lang Zaimont,
Meyer Kupferman,
Evan Chambers,
Poul Ruders,
Steven R. Gerber,
Gloria Coates
Previous Articles/
Busoni The Visionary
The Composer of the Moment: Mark-Anthony Turnage
Electronic Music
Voices: Henze at 75
Henze Meets Emenim
On Finding Kurtag
Charles Ruggles: When Men Were Men
Ballet Mécanique
The Adams Chronicles
---
Record companies, artists and publicists are invited to submit CDs to be considered for our Editor's Pick's of the month. Send to: Jerry Bowles, Editor, Sequenza 21, 340 W. 57th Street, 12B, NY, NY 10019 Also, feel free to nominate your favorite composer-- even if it's you--for Spotlight of the Week.