---
Mark-Anthony Turnage Signs With Boosey & Hawkes
Our old amigo Mark-Anthony Turnage, one of the most admired and widely-performed composers of his generation, has signed a long-term exclusive publishing agreement with Boosey & Hawkes Music Publishers. The new contract, which runs from 1 January 2003, covers all future Turnage compositions from Crying Out Loud, a new work for Ensemble Modern to be premiered in Taipei in April 2003. Turnage's existing output, including new works being premiered in January, remains published by Schott, and both publishers will be collaborating closely in the overall promotion of Turnage's music.

Turnage's future projects reflect his international stature, including commissions for the New York Philharmonic, London Philharmonic, Berlin Radio Choir and Berlin Philharmonic, the Hallé and clarinetist Michael Collins, Nash Ensemble, Ensemble Modern and flautist Dietmar Wiesner, and the Chicago Symphony Orchestra's contemporary music ensemble.

The BBC Symphony Orchestra appointed Mark-Anthony Turnage as its first Associate Composer in 2000, and this fruitful partnership is celebrated in a weekend festival of Turnage's music at the Barbican Centre on 17-19 January 2003. Chandos has recently released a disc of works by Turnage, performed by the BBC Symphony Orchestra under Slatkin, featuring Fractured Lines, Another Set To, Silent Cities and Four Horned Fandango (Chandos 10018).

Born in 1960, Mark-Anthony Turnage studied at the Royal College of Music in London with Oliver Knussen and John Lambert, and at Tanglewood with Gunther Schuller. With the prize-winning Night Dances written at age 21, and the opera Greek commissioned by Hans Werner Henze for the Munich Biennale, Turnage emerged in the 1980s as a leading young British composer, daring to forge his own path between modernism and tradition, skilfully blending together classical and jazz styles. His four-year period as Composer in Association with the City of Birmingham Symphony Orchestra and Simon Rattle, creating works such as Three Screaming Popes and Momentum, developed his orchestral mastery and liberated his expressive freedom.

Turnage's international reputation was secured in the 1990s with the saxophone concerto Your Rockaby and Blood on the Floor, collaborations with jazz musicians John Scofield, Peter Erskine and saxophonist Martin Robertson. His opera The Silver Tassie was premiered to great acclaim at English National Opera in 2000 and revived this year, and recent works have been composed for leading performing artists including Christian Lindberg, Evelyn Glennie and Yuri Bashmet.

The BBC will stage momentum, the Music of Mark-Anthony Turnage at Barbican on January 17-19, 2003. The Turnage Weekend schedule includes Greek, premières of the full orchestral triptych for the BBC SO, Etudes and Elegies, a work for the BBC Symphony Chorus, The Game is Over, Slide Stride, a piano quintet commissioned by the Nash Ensemble and a revised version of Fractured Lines, with percussionists Evelyn Glennie and Peter Erskine.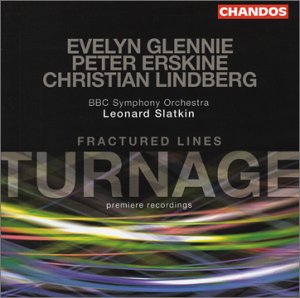 Fractured Lines, etc.
Composer: Mark-Anthony Turnage
Conductor: Leonard Slatkin
Performer: Evelyn Glennie, Christian Lindberg
Ensemble: BBC Symphony Orchestra
Chandos - #10018
---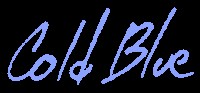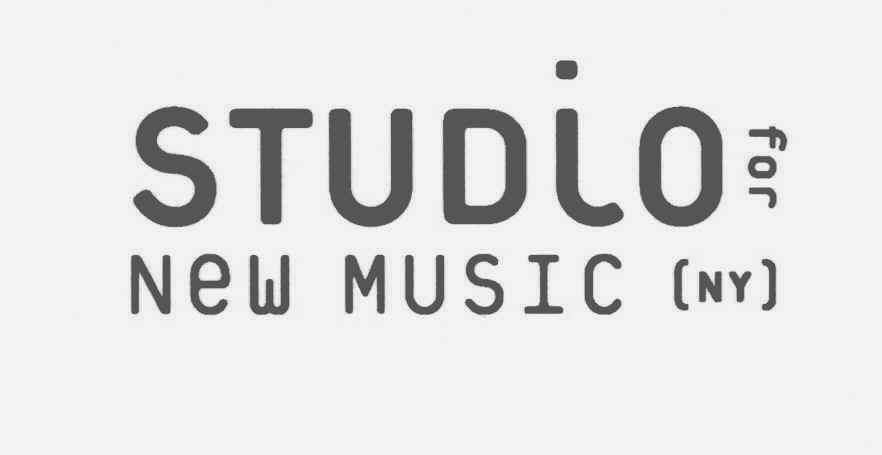 Record companies, artists and publicists are invited to submit CDs to be considered for our Editor's Pick's of the month. Send to: Jerry Bowles, Editor, Sequenza 21, 340 W. 57th Street, 12B, NY, NY 10019 Also, feel free to nominate your favorite composer-- even if it's you--for Spotlight of the Week.
How Music Changes The Brain A new study measures the physical effect of studying music on the brain. "Among expert musicians, certain areas of the cortex are up to 5% larger than in people with little or no musical training, recent research shows. In musicians who started their training in early childhood, the neural bridge that links the brain's hemispheres, called the corpus callosum, is up to 15% larger. A professional musician's auditory cortex — the part of the brain associated with hearing — contains 130% more gray matter than that of non-musicians." Los Angeles Times 12/13/02

Playing On The Brain Composers had always known that some keys and combinations of notes can manipulate an audience. But now researchers are actively studying how that manipulation works. Take the key of a piece of music, for example. "One chunk of the brain was responding when the melody was in G major or E minor and another part of the circuit was responding when it was in E major." BBC 12/13/02

The Rodney Dangerfield Of Opera Composers If there are two undeniable truths in the world of opera, they are: 1) Audiences can never get enough Puccini; and 2) Musicologists have had just about enough of him. Even as scholars began to (finally) embrace other Italian opera composers like Verdi and Donizetti a few decades back, Puccini was left behind, an afterthought in the study of "serious" opera. Now, a new study of the man and his work may finally drag the musicological community into line with the people who pack opera houses for the latest production of Tosca. The New York Times 12/15/02

What Went Wrong With 'Sophie'? Nicholas Maw's much-hyped new opera based on the Holocaust novel Sophie's Choice is one of the hottest tickets on the London scene, but critical reaction has been less than stellar. "Sophie's Choice ultimately... founders on gaping disparities between subject, score and production. It raises issues that take us into territory where music and theatre struggle to cope." The Guardian (UK) 12/14/02

It's Not One Thing, It's Everything So what exactly is wrong with Nicholas Maw's adaptation of Sophie's Choice? What isn't? "The opera's novel-like narrative plays badly onstage. None of the three main characters - the refugee Sophie, her charismatic but mentally ill Brooklyn boyfriend Nathan, and the bystanding narrator Stingo - has a strong entrance. Character expositions are antitheatrical, dispersed rather than concentrated. The first two acts don't end so much as they stop. Scene after scene lacks a context that might infuse the mundane hi-how-are-you moments in the libretto with significance." Philadelphia Inquirer 12/15/02

For Whom The Cell Tolls This week, as conductor Sakari Oramo, in his New York Philharmonic debut, was wowing a Lincoln Center crowd with Nielsen's 4th Symphony, a cell phone went off in the balcony, breaking the breathless silence that follows the second movement. Such an event is, of course, all too common these days, but Oramo's reaction was not: he refused to continue the performance until silence had been fully restored. Justin Davidson wishes more conductors were possessed of such temerity. Newsday (Long Island, NY) 12/14/02

Music Go Boom? John Adams has been commissioned by the San Francisco Opera to write an opera about the deveopment of the atom bomb. "It involves what I call American mythology. That was what drew me to the `Nixon in China' story as well. I grew up in the late 1950s and '60s, the worst part of the cold war, and these images are planted in my consciousness."
backstage 12/12/02

Radiohead Fanatic Pianist Christopher O'Riley has a passion for the guitar band Radiohead. He's been arranging about a dozen of the band's songs and performing them in his otherwise classical concerts and playing them during the intermission of "From the Top," his public radio music show. "Both classical musicians and Radiohead enthusiasts have taken note of O'Riley's obsession; his work is drawing notice from concert promoters and it's won him a following via the Internet among rock fans who normally would never set foot in a recital hall." Andante 12/11/02

Koko The Musical Gorilla Koko, the 31-year-old talking gorilla, knows 1000 words in sign language. Koko's also got musical taste, say her friends, and they've recorded a 9-song cd based on her language. "Koko's opinion was weighed in the final selection of reggae, rap, blues, rock and Celtic tunes..." Toronto Star 12/12/02

More On Baz's Boheme "Given his bad-boy reputation and hipness quotient, one might expect Baz Luhrmann's late 1950s-set "La Boheme" to, in effect, go nuts. It doesn't. Based on his 1990 Australian Opera production, it's a surprisingly straightforward, generously entertaining, ravishingly designed accomplishment. Few will find it truly moving." Chicago Tribune 12/09/02

Last Week's News


Caught in the Act
William Bolcom's Bridge Not Quite Far Enough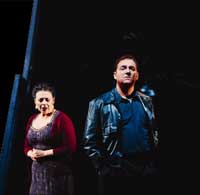 Catherine Malfitano and Kim Josephsen in A View from the Bridge.
by Jerry Bowles
Sometime late in the first act of William Bolcom's A View from the Bridge at the Metropolitan Opera house last week, a subversive thought attacked my brain like a bout of agita on the heels of a pepperoni binge. This would make a terrific play if it weren't for all the distracting singing. Sure, get James Gandolfini, the guy who plays Tony Soprano, to play Eddie, the brutish dock worker whose misguided love for his niece, leads to his doom. Come to think of it, Edie Falco would be good as Beatrice, the long-suffering wife who sees the disaster coming and can do nothing about it. Hell, get the whole Sopranos cast.
By the time, I came to my senses and remembered that A View from the Bridge was a 1955 play by a pretty good playwright named Arthur Miller, poor Bolcom had lost me completely. This is a pity because Bolcom is a decent—if old-fashioned--composer and View is certainly far superior to Andre Previn's D.O.A. version of Tennessee Williams' A Streetcar Named Desire and John Harbison's memorable-for-all-the -wrong-reasons rendering of F. Scott Fitzgerald's The Great Gatsby.
Set in Red Hook, Brooklyn in the 1950s in a neighborhood of Italian-American dockworkers, Arnold Weinstein's libretto has everything you could ask for in terms of an operatic hagis–sexual obsession, paranoia, envy, latent homosexuality, betrayal and violence.
The plot involves Eddie Carbone, a tough longshoreman, his unhappy wife, Beatrice, and their 17- year old niece, Catherine, whom they have raised since her own mother died. Eddie has the hots for Catherine and when Bea's Sicilian illegal immigrant cousins, Marco and Rodolpho, show up and the young, blonde Rodolpho and Catherine fall in love, the repressed Eddie goes bananas. He rats on the cousins to immigration and in so doing he loses the respect of the neighborhood. Once out of jail, Marco fights with Eddie, who pulls a knife; in the scuffle Eddie stabs himself and dies. The story is told in flashback by Alfieri, a lawyer from the neighborhood, with the neighbors acting as a Greek chorus.
Bolcom is especially clever at combining elements of jazz, Doo Wop and other early rock and roll, and at capturing street sounds. Sometimes the rhythms suggest more of a Hispanic latin feel than Italian but that's a quibble. There is one schmaltzy aria called "New York Lights" sung by Rodolpho that makes you wonder for a moment what Barry Manilow is up to these days. Generally, however, Bolcom's musical environment is effective although you wonder which parts are Bolcom, the musical dandy, who knows styles and how to quote them, and which part is Bolcom, the original composer. View breaks no new ground musically; the opera could have been written by Carlyle Floyd in 1950 but, then, composers whose work is too "modern" don't get the big commissions.
Bolcom composed two new arias for this production that are so crucial you wonder how the original staging could have worked with out them. Beatrice's "When am I going to be a wife again?" explains the decline of her sexual relationship with Eddie, and Eddie's "Because I made a promise," chronicles the origins of his love for Catherine.
Baritone Kim Josephson, who created Eddie at the Lyric Theater in Chicago in 1999, is fine although he (like me) has been watching the Sopranos a little too much, Catherine Malfitano, the soprano, is a superb actress and her performance as Beatrice is the soul of the production. Soprano Isabel Bayrakdarian is a suitably young and naïve Catherine and Dennis Russell Davies does his usual masterful job keeping the trains running on time.
The weakest part of the opera--and the part that makes it not as satisfying as it should be--is the recitative. While the background music is often interesting and the drama is gripping most of the time, Bolcom has chosen to have his characters "speak" in a naturalist, verismo sing-talk that makes everyone sound like everyone else and ultimately becomes boring. Why do an opera that sounds like a play with music?
View has been handsomely mounted and staged, the acting is splendid, the story is first rate and yet the parts add up to more than the whole. Makes you wonder about the critics who trashed Dead Man Walking and liked this one.

---
---
Classical Grammy Winners
---
Previous Interviews/Profiles
Simon Rattle,
Michael Gordon,
Benjamin Lees,
Scott Lindroth,
David Felder,
Mark-Anthony Turnage,
Erkki-Sven Tüür,
John Luther Adams,
Brett Dea
n,
Judith Lang Zaimont,
Meyer Kupferman,
Evan Chambers,
Poul Ruders,
Steven R. Gerber,
Gloria Coates
Previous Articles/
Busoni The Visionary
The Composer of the Moment: Mark-Anthony Turnage
Electronic Music
Voices: Henze at 75
Henze Meets Emenim
On Finding Kurtag
Charles Ruggles: When Men Were Men
Ballet Mécanique
The Adams Chronicles

---