---
Sophie's Choice Debut Focuses
Spotlight on Nicholas Maw

---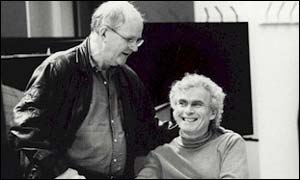 Composer Nicholas Maw shares a light moment with Simon Rattle during rehearsals for Sophie's Choice
The premiere of a new opera called Sophie's Choice at the Royal Opera House in London on Saturday night was the most eagerly awaited new production in decades and it cast the spotlight on Nicholas Maw, the much admired but less-than-famous British composer, who wrote both the music and adapted the libretto from William Styron's masterful and haunting novel about a Polish woman who cannot shake her memories of the Holocaust and life in a concentration camp.

There is plentry of star power involved in the production, however. Sir Trevor Nunn directed, Sir Simon Rattle is conducting and the beautiful Angelika Kirchschlager is singing the title role.

The opera is nothing if not ambitious--four acts lasting more than four hours with a cast of 80 and 18 separate set changes. The five performances will cost £100,000 and Convent Garden has lowered its prices to a top of £50 in an effort to attact a younger crowd. In short, Sophie's Choice represents a tremendous risk for the venerable opera house, whose finances have been shaky in recent years.

It is also a big gamble for the 67-year-old composer who has written two previous comic operas, the last one some 30 years ago. Born in Grantham, Lincolnshire, Maw studied at the Royal Academy of Music, London (1955-58) with Paul Steinitz and Lennox Berkeley; and in Paris with Nadia Boulanger and Schoenberg's pupil, Max Deutsch. His career as a teacher has included positions at Trinity College Cambridge, Exeter University and Yale University. He is currently Professor of Composition at the Peabody Conservatory in Baltimore.

Maw has received commissions from many of the major musical organisations in the United Kingdom and he has been the featured composer at the South Bank Summer Music (1973), the Kings Lynn Festival (1985), the BBC 'Nicholas Maw Day' at the South Bank (1989), the Bath Festival (1991), the Park Lane Group and the Royal Academy of Music's British Music Festival (1992), the 60th Birthday Malvern Weekend (1995), and, the Chester Festival (1999).

His extensive and varied catalogue includes much chamber music, vocal and choral music, two comic operas (the chamber opera One Man Show, 1964, and the three-act The Rising of the Moon, 1967-70), solo instrumental works, and music for children. Maw is, however, most celebrated for his orchestral music: his reputation being established when, at the age of 26, he produced Scenes and Arias (1962) for a BBC Prom, which immediately put him right at the forefront of the British musical scene. This BBC commission is now recognised as one of the most outstanding British works of its decade.

In addition to fulfilling other numerous commissions, from 1973 to 1987 Maw composed Odyssey for orchestra: the single, unbroken 96-minute span of symphonic music which has been unanimously lauded since its initial performance in 1987 at a BBC Prom in London. The EMI recording by Simon Rattle and the City of Birmingham Symphony Orchestra was nominated for a Grammy Award in 1992 and cited by Classic CD (June 2000) as the best recording out of a hundred recommended releases in the decade. Leonard Slatkin and the St Louis Orchestra gave the American premiere of Odyssey in St Louis and New York's Carnegie Hall in 1994. The more recent (1993) Violin Concerto in a recording by Joshua Bell for Sony, was nominated for the 2000 Mercury Prize.

For Maw, getting Sophie's Choice to the stage has occupied much of his thinking for more than a decade. He first proposed the tragic tale to Covent Garden in 1990 and was turned down. Six years later, following a management change, he returned and this time he got the commission.

"I wrote it not because I decided it was time to write an opera again," he told an interviewer. "It happened in the most genuine way - the subject matter literally inspired me. Nobody had to ask me or commission me to write it. I was just obsessed with it."

The obession may just have paid off. First reviews have been positive, including this praise from the Baltimore Sun's theater critic Tim Smith, who wrote in Monday's paper that Sophie's Choice is "an uncompromising, involving, disturbing, often achingly beautiful opera." --JB
.
---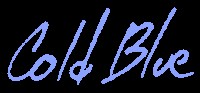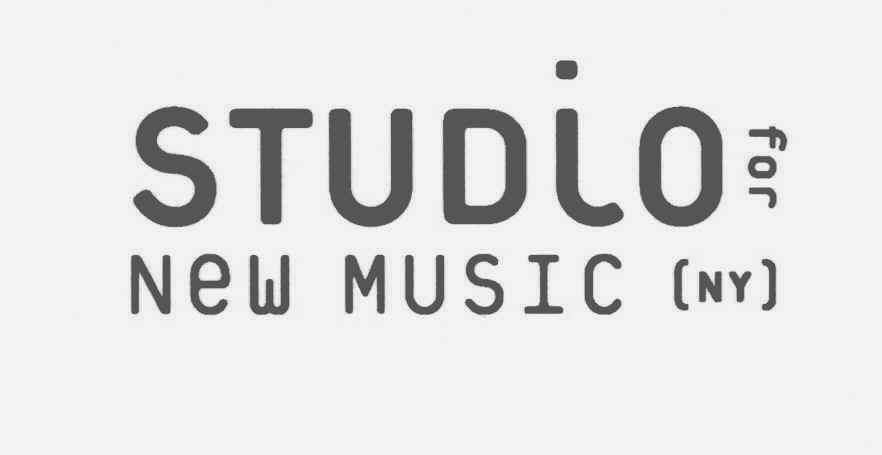 Record companies, artists and publicists are invited to submit CDs to be considered for our Editor's Pick's of the month. Send to: Jerry Bowles, Editor, Sequenza 21, 340 W. 57th Street, 12B, NY, NY 10019 Also, feel free to nominate your favorite composer-- even if it's you--for Spotlight of the Week.
Celestial Sounds (As Music) When the Voyager space probes shot past Saturn, Uranus and Neptune on their 25-year journey into deep space, machines in the probe captured the whistles and chirrups the probes encountered, and transmitted them back to earth. Now composer Terry Riley has written a piece incorporating the sounds into a piece for the Kronos String Quartet and a 60-voice choir. "The string quartet was NASA's idea, the product of an arts programme that, over the past 30 years, has commissioned work from artists including Andy Warhol and Robert Rauschenberg." The Guardian (UK) 12/06/02

How To Stand Out In A Crowd (Maybe): "I have heard estimates that there are over 10,000 living composers in the United States today, which is ironically a number larger than most audiences for the majority of new music concerts and recordings. So, how to stand out from the crowd and be noticed? A good start is to be included in a book." The question is - which book, and where does it count? NewMusicBox 12/02

Answering A Complaining Critic Last week the Chicago Tribune published a damning series of criticisms about the acoustics in Chicago's Orchestra Hall. This week, the orchestra's president responds to music critic John von Rhein's complaints. "What confused us was not so much that Mr. von Rhein reversed the opinion that he had stated at the opening of the refurbished Orchestra Hall in 1997 - that the renovation brought "marked improvement" in the area of sound - but that he reversed views that he has been expressing consistently since. Chicago Tribune 12/08/02

Orchestra Shutdowns Come To The Holyland The increased violence and tension in the Middle East may now have killed off a beloved local institution: the Jerusalem Symphony Orchestra has announced that it will shut down this weekend as a result of nonpayment of promised funds from the city and the Israel Broadcast Authority. JSO officials also accuse the IBA and municipal authorities of wanting to turn the orchestra into a political pawn. Jerusalem Post 11/5/02

Canceled, But Not For The Usual Reason The Los Angeles Opera is canceling a major production for the second time this season, but this time, its the fault of a virus, rather than the economy. "Italian composer Luciano Berio's new orchestration of Monteverdi's 'The Coronation of Poppea' -- slated for Jan. 11-19 with L.A. Opera artistic director Plácido Domingo and Frederica von Stade performing -- is off the schedule because the composer is ill and the new version of the opera has not been completed." The new Poppea was highly anticipated, and LA Opera plans to present it at some later date. Los Angeles Times 12/03/02

Do Dumbed-Down Audiences Require Dumbed-Down Opera? Opera audiences have grown, sure, but are they any smarter? No one would agree with that. So "does deepening musical illiteracy really affect the health of opera?" Matthew Gurewitsch talks with four of America's top opera managers about the problems of having to pay attention to audiences that may not know much about your art... Opera News 12/02

Finding A Way Through Music Matt Savage is 10 years old, and he plays the piano well enough that he turns heads in New Orleans, where he lives. He's playing jazz in concerts around the world. But he isn't just a prodigy, he's also autistic, and "when he was younger, had great difficulty communicating, did not like to be touched and - most incredibly for a musician - couldn't stand the sound of music or of household noises like a blender or a vacuum cleaner" Jerusalem Report 11/02

No Shortage Of Cash In Boston Chicago may be struggling, St. Louis and Toronto may have had near-death experiences, and Houston may be on the verge of an all-out labor war, but things are just dandy at the Boston Symphony Orchestra. As the BSO prepares to kick off its holiday pops season, it is pulling in the kind of ticket revenue which would be enough to fund some orchestras for a year without a single dollar donated. Never an organization to underestimate its own importance, the BSO's managing director brags, "There are (smaller) orchestras that for the entire 52-week year will have not even $10 million of sales, We do almost half of that in basically three weeks. We are the biggest orchestra operation in the world by a big margin." Boston Herald 12/06/02

Downpour In Philly The Philadelphia Orchestra was rehearsing Stravinsky's Rite of Spring with incoming music director Christoph Eschenbach yesterday in its beautiful new concert hall, when strobe lights began to flash and dust started to drift down from above. Then, the downpour began. A high-powered sprinkler system, set off by construction work elsewhere in the building, engaged, and showered the musicians, their instruments (many valued at hundreds of thousands of dollars,) and the new stage with enough water to fill the $75,000 Steinway grand that sat on the stage. The extent of the damage is not yet known, but most musicians managed to shield their instruments from severe damage. Philadelphia Inquirer 12/04/02

Last Week's News


Caught in the Act
The Quality of 'mercy'
Is Sound and Movement
by Duane Harper Grant
"mercy." The word suggests a certain sensibility; of human suffering, of human kindness, of the church, of god, of sin. It is also evocative of war, of the tired and downtrodden, of people who administer relief. It¹s an expression of knowing that what we are dealing with is sometimes beyond our capacity so we acknowledge that. We say "mercy". Invoking the word is at once an acknowledgement, a plea and a relief.
"mercy" is the result of the most complete collaboration that two world-class artists like Ann Hamilton and Meredith Monk could possibly muster. Ms. Monk was responsible for the music and Ms Hamilton for what she calls "the material environment" but the two decided to make each decision together. They each had to give up a lot of their own territory and comfort zone in order to bring about this total immersion into the piece and the result is a seamless collaborative mosaic where it is impossible to know where one's contribution begins and the other ends.
First, the design aspect is haunting and unexpected. It has been paired down to an almost stark and somber essence. The lighting by Noele Stollmack complements and intensifies the subdued quiet of the "one room cabin" where "mercy" takes place. This intimate environment plays a decided role in the feel of the whole work. It sets its tone. Then there are the tiny remote cameras that take us inside, that take us even further into a detail, into an intimacy that we almost shutter to realize. This can¹t be what it is. I see a person on the stage drawing a line on a page and while I¹m seeing this I¹m also seeing the projection on a screen at the rear of the stage of that same act at the same time of that line being drawn on this seemingly endless piece of parchment now from the perspective of the pencil point. I¹m hearing that sound so closely as to hear every grain and every bump of the paper and even the point of the pencil wearing into the page. Sound and sight are seamless and in and of the moment. One blends into the other. This is a theme that is intimately recreated in different ways in "mercy".
"mercy" is a primal piece. Although it uses technology; video/audio and lights, it develops mainly along the lines of sound--mainly, the human voice--and movement, two of the most primal things that are in the fabric of all life especially mammals, especially human. It is as much about one as the other but movement here is even a little more abstract. We are drawn first to light and sound as our basis for reality.
I don¹t know why that is. I suppose movement reacts to sound and light or sight much of but not all of the time. Sight is light. Light is a vibration and so is sound. Anyway, Mercy is intimately woven into the fabric of these two essences; vibrations of sound and light and movement. Both are an instinct and a reaction of our being. We humans are expressive on both a conscious and subconscious level and these parts of our being are entwined in a seamless dance in "mercy". What is a dream but reality waiting to happen?
The soundtrack the musical score for "mercy" is of a minimalist and underscored nature. It lends and blends richly and nicely to the meditative inquiry of the voice/voices and the movement of the piece. "mercy" also stands alone quite well as evidenced by the recently released recording on ECM¹s New Series. In performance of the piece the music is and the ensemble clear. One may, at times, even want that soundtrack to dissolve and it actually does. We sometimes want the movement of the body and the sounds to be alone in that stark and humble setting; alone in the light, an eye opening to light.

Mercy
By: Meredith Monk and Ann Hamilton
With: Theo Bleckmann, Ellen Fisher, Alexander Montano, Ching Gonzalez, Lanny Harrison, Allison Sniffin, John Holllenbeck, Bohdan Hilash

---
NETWORK FOR NEW MUSIC/PHRENIC NEW BALLET
---
In this joint production, Network for New Music , conducted by Jan Krzywicki, paired with Phrenic New Ballet to present an unusual combination of relatively new music.
Wick (2000) by Melinda Wagner is scored for flutes, clarinets, violin, cello, piano and percussion. Running piano and marimba set a ground with cello, violin, flute and clarinet adding runs above, as rushing water that swells to a torrent, then trickles to drops, grows again and retreats to a single quiet stream of sound. Separate streams solidify, intensify and almost fade away, but the percussive accompaniment returns for an altogether Modern-Jazzy moment and the opening theme is reprised more freely.
Thirteen Ways of Looking at a Blackbird , based on poems by Wallace Stevens, as written by Lukas Foss in 1978, is the basis for the name of the Eighth Blackbird chamber ensemble. Twenty four years old? You'd never know it, as this piece fit smoothly into this program. Spare soprano line sung by Martha Elliott is echoed by flute as the pianist and percussionist play on and inside the piano, eliciting stringy metallic sounds. It's difficult to imagine the Stevens poems conceived solely as text after hearing this treatment.
In Trio in Red (2001) by Aaron Jay Kernis, the composer expresses the color of sound, as well as emotion. Kernis says he is experiencing a "state of controlled rage" in Orange Circle and Yellow Line , which build up to the Red Whirl dance finale. Clarinet sets a theme, then extends it, and cello next sets a variation that leads to a new melodic line that is then matched by the clarinet, which next restates and varies the opening theme in an ever more complex spiral as a trio with piano that builds up speed to the end.
Martha Graham commissioned
Vincent Persichetti's King Lear in 1948. The nine sections represent the characters and various stages of grief. This reconstruction uses choreography by Matthew Neenan of the Phrenic New Ballet. In a situation where the availability of the visual can overtake and even obliterate the aural, this production has the dance and music well integrated, and appropriately expressive of each other.
(Reposted from Penn Sounds 11/22/02)
---
Classical Grammy Winners
---
Previous Interviews/Profiles
Simon Rattle,
Michael Gordon,
Benjamin Lees,
Scott Lindroth,
David Felder,
Mark-Anthony Turnage,
Erkki-Sven Tüür,
John Luther Adams,
Brett Dea
n,
Judith Lang Zaimont,
Meyer Kupferman,
Evan Chambers,
Poul Ruders,
Steven R. Gerber,
Gloria Coates
Previous Articles/
Busoni The Visionary
The Composer of the Moment: Mark-Anthony Turnage
Electronic Music
Voices: Henze at 75
Henze Meets Emenim
On Finding Kurtag
Charles Ruggles: When Men Were Men
Ballet Mécanique
The Adams Chronicles
---