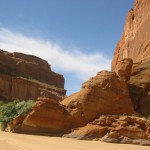 Does anyone remember the early August announcement that the American Composers Orchestra was going to begin a partnership with LVMH Moët Hennessy Louis Vuitton to "Commission and Premiere New Music by Emerging American Composers"?  Well, whether you can wrap your head around that pairing or not, the first concert is happening on Monday night (November 30th) in Zankel Hall with Erin Gee's Mouthpiece XIII: Mathilde of Loci, Part 1. Erin is the lucky recipient of the first commission through this new partnership.
There are two other world premieres on the program:
1)    Donal Fox: Peace Out for Improvised Piano and Orchestra.  Mr. Fox was the first African-American composer-in-residence with the St. Louis Symphony Orchestra and he will perform as soloist, improvising his part along with a fully composed score for the orchestra.
2)    Curt Cacioppo: When the Orchard Dances Ceased. The work includes parts for Native American folk voice and percussion instruments, both of which will be performed by the composer.
And, of course, there's more… there will also be two New York premieres:
1)    Huang Ruo's piece, Leaving Sao, is written for soprano or high male voice in folk style and chamber orchestra in memory of his grandmother. Sao in Chinese means sorrowful predicament.  I'm not totally sure, but I think he will also be the one singing this vocal part.
2)    Charles Ives: Tone Roads Nos. 1 & 3.  It looks like this will be the only piece on the program in which the composer is not also performing.  Couldn't the ACO find a way to get Charles there as well?!
You can also find lots of video and audio content about all of these works here.