Too Many Concerts and Cloning is Still Illegal!
October in New York is becoming an embarrassment of riches in the new music world. So many wonderful concerts to hear in town! But the plethora of notable events can be a source of frustration too: sometimes you wish you could be in two places at once. (I have a sneaking suspicion that Steve Smith has figured out a way to do this!) So, while we won't get to review everything, there's nothing saying we can't preview as many events as possible! What follows are some, but rest assured not all, of the excellent upcoming goings on.
–        Starting Wednesday evening (Oct. 5) running through October 8 at Roulette is one of the biggest festivals celebrating the music of Anthony Braxton yet seen in the United States.  It includes performances by the Tricentric Orchestra, the US debut of the Diamond Curtain Wall Trio – Anthony Braxton (reeds, electronics), Taylor Ho Bynum (brass), and Mary Halvorson (guitar) – and two world premieres. The first, Pine Top Arial Music, is an interdisciplinary work integrating music and dance. The second, which is the culmination of the festival, is a concert reading of Acts One and Two of Trillium E, Braxton's first opera. Those who can't make the festival, or who want ample Braxton at home as well as live, can enjoy two new recordings of his music. The first is a freebie: a Braxton sampler featuring a diverse array of pieces (including an excerpt of the opera) that's available for download via the Tricentric Foundation. The second is a recording of Trillium E in its entirety, available from Tricentric on October 11 as a download or 4 CD set.
–        On October 6, Ekmeles, everybody's favorite New York group of experimentally inclined youngster vocalists, shares a triple bill with Ireland's Ergodos and Holland's Ascoli Ensemble at Issue Project Room's new 110 Livingstone location (details here). Ekmeles will perform Kaija Saariaho's Sylvia Plath setting From the Grammar of Dreams, two short pieces by James Tenney, and two US premieres. The first, Madrigali a Dio by Johannes Schöllhorn, incorporates singing, spoken word, and even boisterous shouts in a vocal work that explores counterpoints between pitched and un-pitched vocalizations.  Peter Ablinger's Studien nach der Natur explores a plethora of sounds from the natural world as well as manmade noises: mosquitoes, quartz watches, the Autobahn, smoking, electric hums – all replicated by the human voice. Mr. Ablinger was kind enough to allow us to share a small score excerpt below.
–        Also on Thursday, October 6 (drat it to Hades!) is the premiere of the Five Borough Songbook at Galapagos. Twenty composers were asked by Five Boroughs Music Festival to each contribute a single work to this project. Participants include Daron Hagen, Tom Cipullo, Lisa Bielawa, and other heavyweights in the songwriting biz.
–        On October 8 at 7 PM at the Tenri Cultural Institute (ticket info here), the Mimesis Ensemble is doing a program of "Young Voices," featuring three youngish composers who specialize in vocal music.  It's a program that's a bit more traditional in approach than is, say, Ekmeles' wont, but it presents some noteworthy repertoire. Thomas Adès' Three Eliot Landscapes and Gabriel Kahane's current events inflected Craigslistlieder are featured alongside several works by Mohammed Fairouz.
–         On October 9 at 7:30 PM, Sequenza 21's own Armando Bayolo will make his Carnegie Hall debut (as the kids say, whoot!). Armando's Lullabies, a newly commissioned work, will be premiered at Weill Recital Hall by Trio Montage (more information here).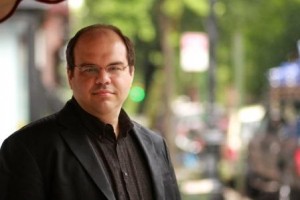 –        Just around the corner is the ACO's SONiC festival, Ekmeles' concert on 10/21 at Columbia (a humdinger of a program!), Bridge Records' Anniversary Concert at NYPL, and, yes, the Sequenza 21/MNMP Concert at the newly revivified Joe's Pub on 10/25. But those previews will have to wait for another post! In the meantime, there are pieces to compose, papers to grade, and both my wife's and my birthdays this weekend. October is the month that keeps on giving: it's good to be busy, right?