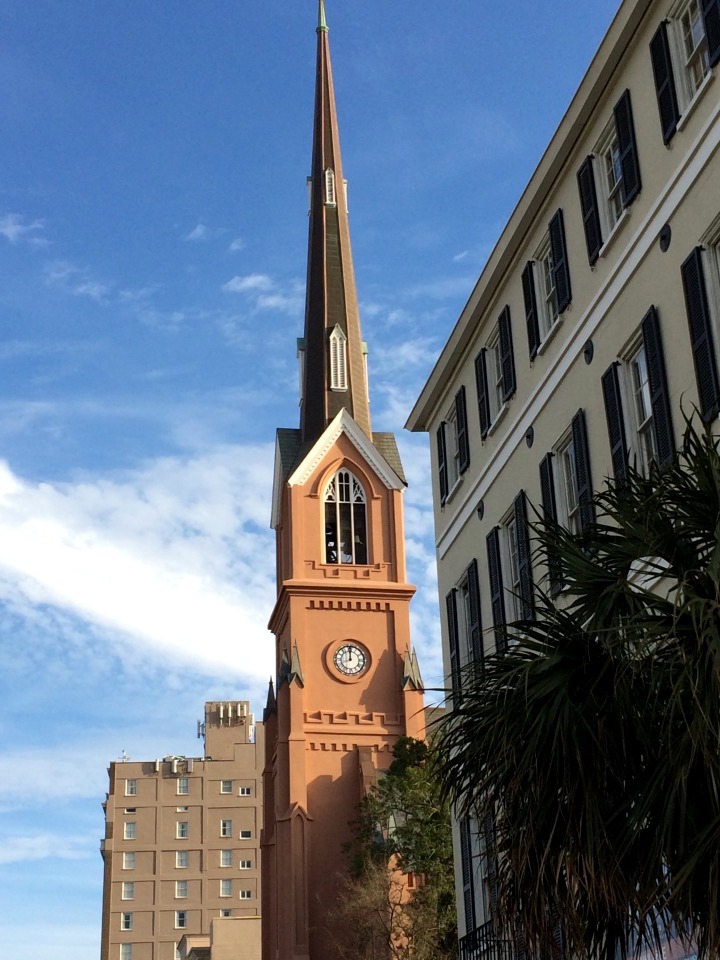 Geoff Nuttall, violinist for the St. Lawrence String Quartet and Director of Chamber Music for the SpoletoUSA Festival in Charleston SC,  just announced details of the 11 programs for the 33 concerts that will be performed at this year's Festival . The series runs from Friday, May 22 through Sunday, June 7 and is sponsored by Bank of America.  I'll be taking in a few of the performances and giving you a report.
Among the highlight of this year's series is the world premiere of Control Freak for improvising singer and instrumental septet, composed by the 2015 composer-in-residence Mark Applebaum. A colleague of  Nuttall's at Stanford University, Applebaum is known as the "mad scientist of music" because of his inventive compositional style and innovation with instruments. In addition to the premiere of his new piece, he will perform his Aphasia for hand gestures with pre-recorded sound as well as several pieces for blues piano. Applebaum performs on the first two programs; Control Freak premieres on Program III, performed by baritone Tyler Duncan, pianist Pedja Muzijevic, clarinetist Todd Palmer, oboist James Austin Smith, violinist Geoff Nuttall, violist Daniel Phillips, and cellist Christopher Costanza.
"It's going to be a varied and eclectic musical ride with Mark," Nuttall says. "He's an amazing blues and jazz pianist, which you'll experience, and you'll also get to witness an important moment in music history when we hear a new piece of art."
Programs for this season's series include well-known canonic jewels as well as new musical experiences with contemporary compositions and selections unearthed from past centuries. Among the new and newish pieces are Osvaldo Golijov's Omaramor for cello, performed by Alisa Weilerstein; Shostakovich's Two Pieces for String Octet, op. 11; and Andrew Norman's Light Screens.
The chamber music series begins on Friday, May 22 at 1:00pm with Vivaldi's Double Concerto for Violin and Oboe in B-flat Major, featuring violinist Livia Sohn and oboist James Austin Smith; Mark Applebaum's Aphasia; and Dvořák's Piano Quartet in E-flat Major.
Nuttall has great taste and his eclectic pairings of compositions  spanning more than 400 years, are always entertaining, if a tad, quirky. Program IV will include two pieces by Chinese-American composer Huang Ruo, whose opera Paradise Interrupted has its world premiere at Spoleto Festival USA this season. "Flow I and II" will feature Huang Ruo on vocals, as well as Zhou Yi on pipa (Chinese lute) and other series artists, including Tara Helen O'Connor, who will abandon her usual flute for the djembe (West African drum). Huang Ruo's compositional style often marries Chinese tradition with seemingly disparate cultures, as is also heard in Paradise Interrupted.
"It's a great luxury to be able to bring Huang Ruo from the opera to the chamber stage."  Nuttall says. "Audiences will be able to see the full portrait of a musician. This is a great example of the spirit of Spoleto—we have this vast canvas of disparate artistic offerings, and because the creative minds behind them are in the same place at the same time, new artistic connections are forged for both the musicians and the audience."
This year, lutenist Kevin Payne joins the musicians on the Dock Street stage, opening the doors to repertoire from the Renaissance, including two John Dowland songs and an Elizabethan set with  Nuttall, flutist Tara Helen O'Connor, and cellist Christopher Costanza; the lute is also featured on Baroque and contemporary works.  Payne is a member of Juilliard 415, the Buxtehude Consort, and the Peabody Consort, and was the first lutenist to be accepted to The Juilliard School, where he is pursuing a graduate diploma in historical plucked instruments.
Returning artists include baritone Tyler Duncan, pianist Pedja Muzijevic, flutist Tara Helen O'Connor, clarinetist Todd Palmer, oboist James Austin Smith, violinist Livia Sohn, cellist Alisa Weilerstein, pianist Inon Barnatan, violinist/violist Daniel Phillips, violist Hsin-Yun Huang, double bassist Anthony Manzo, and the St. Lawrence String Quartet (members of which are Mr. Nuttall, new second violinist Owen Dalby, Lesley Robertson, and Christopher Costanza). New to the series is composer Mark Applebaum, lutenist Kevin Payne, violinist Benjamin Beilman, and pianist Erika Switzer.
Led by  Nuttall, the St. Lawrence String Quartet—the Arthur and Holly Magill Quartet in Residence—celebrates its 25th anniversary during their 2014–15 season, including 20 years as part of the Bank of America Chamber Music series at Spoleto Festival USA. Making his ensemble debut from the Dock Street Theatre stage, Owen Dalby has been named as the new second violinist of the SLSQ. Dalby is a graduate of Yale University and is an acclaimed soloist and chamber musician. Currently based in New York, his relocation to Stanford University to be an artist-in-residence with his colleagues in the SLSQ will be a homecoming of sorts;  Dalby is a native of Berkeley.
This year's festival will be Nuttall's sixth season as chamber music director, a post that includes his introductions to each program from the stage. Of his ability to educate and entertain,The New York Times said: "Mr. Nuttall turns out to be chamber music's Jon Stewart… while maintaining the high musical standards of the series, he has established a new style of presentation that juxtaposes the ridiculous with the sublime, delves into serious musicology and casually uses technology. In short, he is subtly redefining what a chamber music concert can be."
Each of the 11 programs is performed three times with two performances daily at 11:00am and 1:00pm in the 463-seat Dock Street Theatre at 135 Church Street.
Full Schedule Continues After the Break
PROGRAM I: Friday, May 22 at 1:00pm; Saturday, May 23 at 11:00am and 1:00pm
Vivaldi:  Double Concerto for Violin and Oboe in B-flat Major, RV364
Livia Sohn, violin; James Austin Smith, oboe
Geoff Nuttall and Benjamin Beilman, violins; Daniel Phillips, viola;
Christopher Costanza, cello; Anthony Manzo, double bass; Pedja Muzijevic, harpsichord
Mark Applebaum:  Aphasia
Mark Applebaum
Dvořák:  Piano Quartet in E-flat Major, op. 87
Pedja Muzijevic, piano; Benjamin Beilman, violin;
Daniel Phillips, viola; Christopher Costanza, cello
PROGRAM II: Sunday, May 24 at 11:00am and 1:00pm; Monday, May 25 at 11:00am
Spohr:  "Fantasia and Variations" on a Theme by Danzi for Clarinet and Strings, op. 81
Todd Palmer, clarinet
Livia Sohn and Geoff Nuttall, violins; Benjamin Beilman, viola;
Christopher Costanza, cello; Anthony Manzo, double bass
Mark Applebaum:  Jazz Number and Pre-composition
Mark Applebaum, piano
Schumann:  Dichterliebe, op. 48
Tyler Duncan, baritone; Pedja Muzijevic, piano
PROGRAM III : Monday, May 25 at 1:00pm; Tuesday, May 26 at 11:00am and 1:00pm
J. Strauss: "Rosen aus dem Süden" Waltz                                                                           Geoff Nuttall and Livia Sohn, violins; Daniel Phillips, viola; Anthony Manzo, double bass
Mark Applebaum: Control Freak for improvising singer and instrumental septet (world premiere)
Tyler Duncan, baritone; Pedja Muzijevic, piano; Todd Palmer, clarinet;
James Austin Smith, oboe; Geoff Nuttall, violin; Daniel Phillips, viola;
Christopher Costanza, cello; Anthony Manzo, double bass
Beethoven:  String Trio in C Minor, op. 9, no. 3
Benjamin Beilman, violin; Daniel Phillips, viola; Christopher Costanza, cello
Tchaikovsky (arr. Auer):  Lensky's Aria     
Livia Sohn, violin; Pedja Muzijevic, piano
Verdi (arr. Leob): "Solenne on quest'ora" from La Forza del destino
Livia Sohn, violin; Geoff Nuttall, viola; Pedja Muzijevic, piano
PROGRAM IV: Wednesday, May 27 at 11:00am and 1:00pm; Thursday, May 28 at 11:00am
Mozart: Sonata in G Major, K. 379    
Geoff Nuttall, violin; Pedja Muzijevic, piano
Huang Ruo:  "Flow I and II"
Geoff Nuttall, violin; Christopher Costanza, cello; Huang Ruo, voice;
Tara Helen O'Connor, djembe; Shelley Monroe Huang, bassoon; Zhou Yi, pipa
Beethoven:  An die ferne Geliebte, op. 98  
Tyler Duncan, baritone; Erika Switzer, piano
Alfred Schnittke: Hymn II
Christopher Costanza, cello; Anthony Manzo, double bass
J.S. Bach:  Brandenburg Concerto no. 2 in F Major, BWV 1047
Todd Palmer, E-flat clarinet; Tara Helen O'Connor, flute; James Austin Smith, oboe; Daniel Phillips, violin; Geoff Nuttall and Livia Sohn, violins;
Benjamin Beilman, viola; Christopher Costanza, cello; Anthony Manzo, double bass; Pedja Muzijevic, harpsichord
PROGRAM V: Thursday, May 28 at 1:00pm; Friday, May 29 at 11:00am and 1:00pm
Buxtehude: Sonata for Two Violins in C Major, BuxWV 266
Owen Dalby and Geoff Nuttall, violins; Christopher Costanza, cello;
Pedja Muzijevic, harpsichord
M. Gould: Benny's Gig
Todd Palmer, clarinet; Anthony Manzo, double bass
Prokofiev: Sonata for Two Violins, op. 56  
Livia Sohn and Benjamin Beilman, violins
C.P.E. Bach:  Flute Concerto in D Minor, W22
Tara Helen O'Connor, flute
Geoff Nuttall, Owen Dalby, Benjamin Beilman, and Livia Sohn, violins;
Daniel Phillips, viola; Christopher Costanza, cello; Anthony Manzo, double bass;
Pedja Muzijevic, harpsichord
PROGRAM VI: Saturday, May 30 at 11:00am and 1:00pm; Sunday, May 31 at 11:00am
Haydn (arr. Salomon):  Symphony in no. 104, "London
Pedja Muzijevic, harpsichord; Tara Helen O'Connor, flute;
Geoff Nuttall and Owen Dalby, violins; Daniel Phillips, viola;
Christopher Costanza, cello; Anthony Manzo, double bass
Oliver Knussen:  Elegiac Arabesques, op. 26a
James Austin Smith, English horn; Todd Palmer, clarinet
Schumann:  Piano Quartet in E-flat Major, op. 47  
Pedja Muzijevic, piano; Benjamin Beilman, violin;
Daniel Phillips, viola; Alisa Weilerstein, cello
PROGRAM VII: Sunday, May 31 at 1:00pm; Monday, June 1 at 11:00am and 1:00pm                        
Haydn:  String Quartet in G Minor, op. 20 no. 3
St. Lawrence String Quartet
Dowland:  "In Darkness Let me Dwell" and "Come Again, Sweet Love Doth Now Invite"
Tyler Duncan, baritone; Kevin Payne, lute
Klughardt:  5 Schilflieder for Oboe, Viola, and Piano, op. 28
I. "Langsam, träumerisch"
II. "Leidenschaftlich erregt"
III. "Zart, in ruhiger Bewegung"
James Austin Smith, oboe; Daniel Phillips, viola; Pedja Muzijevic, piano
Osvaldo Golijov: Omaramor for Solo Cello
Alisa Weilerstein, cello
PROGRAM VIII: Tuesday, June 2 at 11:00am and 1:00pm; Wednesday, June 3 at 11:00am                       
Stamitz:  Clarinet Quartet in E-flat Major, op. 8 no.4  
Todd Palmer, clarinet; Livia Sohn, violin; Hsin-Yun Huang, viola; Alisa Weilerstein, cello
Barber:  Dover Beach      
Tyler Duncan, baritone; St. Lawrence String Quartet
Guillaume Connesson: Nocturnal Toccata for Flute and Cello 
Tara Helen O'Connor, flute; Alisa Weilerstein, cello
Mozart:  Viola Quintet in G Minor, K. 516
St. Lawrence String Quartet, Hsin-Yun Huang, viola;
PROGRAM IX: Wednesday, June 3 at 1:00pm; Thursday, June 4 at 11:00am and 1:00pm
Tartini: Violin Sonata in G Minor, "Devil's Trill"
Daniel Phillips, violin; Kevin Payne, lute; Christopher Costanza, cello
Iva Bittová:  "Hoboj" and "A Strange Young Lady"
James Austin Smith, oboe; Hsin-Yun Huang, viola
Chopin:  Cello Sonata in G Minor, op. 65
Alisa Weilerstein, cello; Inon Barnatan, piano
PROGRAM X: Friday, June 5 at 11:00am and 1:00pm; Saturday, June 6 at 11:00am
Composers TBD:  Elizabethan Set
Geoff Nuttall, violin; Tara Helen O'Connor, flute;
Kevin Payne, lute; Christopher Costanza, cello
Fauré: La bonne chanson, op. 61
Tyler Duncan, baritone; Erika Switzer, piano; St. Lawrence String Quartet
J.S. Bach:  Keyboard Concerto in F Minor, BWV 1056
Inon Barnatan, piano; St. Lawrence String Quartet;
Daniel Phillips and Livia Sohn, violins; Hsin-Yun Huang, viola;
Alisa Weilerstein, cello; TBD, double bass
Shostakovich: Two Pieces for String Octet, op. 11
St. Lawrence String Quartet; Daniel Phillips and Livia Sohn, violins;
Hsin-Yun Huang, viola; Alisa Weilerstein, cello
PROGRAM XI: Saturday, June 6 at 1:00pm; Sunday, June 7 at 11:00am and 1:00pm
Andrew Norman: Light Screens
Tara Helen O'Connor, flute; Livia Sohn, violin;
Lesley Robertson, viola; Christopher Costanza, cello
Telemann: "Ihr, die ihr in der Sunden?" from Es sind schon die letzten Zeiten, TWV 1:529
Tyler Duncan, baritone; and James Austin Smith, oboe; St. Lawrence String Quartet;  Livia Sohn and Daniel Phillips, violins; Hsin-Yun Huang, viola;
TBD, double bass; Kevin Payne, lute
J.S. Bach: "Gebt Mir Meinen Jesum Wieder" from St. Matthew Passion, BWV 244
Tyler Duncan, baritone; Daniel Phillips, violin; St. Lawrence String Quartet;
Livia Sohn, violin; Hsin-Yun Huang, viola; TBD, double bass; Kevin Payne, lute
György Kurtág: "Hommage à Robert Schumann" for Clarinet, Viola, and Piano, op. 15
Todd Palmer, clarinet; Hsin-Yun Huang, viola; Inon Barnatan, piano
Schumann: Piano Quintet in E-flat Major, op. 44
Inon Barnatan, piano; St. Lawrence String Quartet