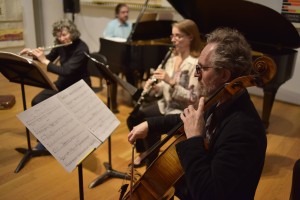 The centenary of the legendary composer Milton Babbitt (1916-2011) is ocassion to celebrate. After Augustus Arnone's three recitals earlier this season playing Babbitt's complete solo piano works, now his group Collide-O-Scope Music is treating us to another rarely performed gem: Babbitt's Arie da Capo (1974). It's the major mixed ensemble chamber work from Babbitt's middle period, and named in dedication to its original performers, the Da Capo Chamber Players, whose flutist Patricia Spencer is also now a member of Collide-O-Scope and is part of the ensemble performing Arie this Friday—now that's authenticity!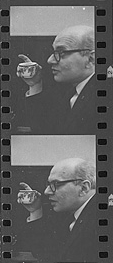 Arie ca Capo rewards the listener on repeat hearings, which thankfully are possible. Although premiered by the Da Capo Chamber Players, Arie was recorded by Harvey Sollberger and the Group for Contemporary Music (Nonesuch 1979) and later by Ciro Scotto (Nimbus 1987). As with most of Babbitt's mature works, its sectional structure maps out a variety of textural combinations (or shall we say combinatorics). Each of its five sections presents a solo instrument in an aria against the other four accompanying players: clarinet, cello, flute, violin, and then piano each has its turn in an intricately shadowed limelight. Moreover, each of the five arias contains a quintet, trio, quartet, trio, and quintet again. (The relation between its rhythms, textures, pacing, and precompositional structures are discussed in a 1988 Perspectives of New Music article by Ciro Scotto.) Of Babbitt's works, this one especially abounds in loquacious social interplay. It will be conducted by Robert Whalen and played by Arnone (piano), Spencer (flute), Marianne Gythfeldt (clarinet), Gregor Kitzis (violin), and Valeriya Sholokhova (cello).
Additionally, Arnone will again tackle the solo piano work Tableaux (1973), from the same time period as Arie, and Patricia Spencer will play Babbitt's later work None but the Lonely Flute (1991).
Charles Wuorinen, a composer associated with and influenced by Babbitt but whose music sounds nothing like Babbitt's, is represented on the program by his trio for piano flute, and bass clarinet (2008)—a polished and vibrant neo-baroque surface full of bustling energy and clarity.

Christopher Bailey's rapidfire Timelash (1999/2016), also to be performed, bases its "quasi-morse code rhythms" on the first 16 measures of Babbitt's violin and piano work Sextets. Resonances of carefully selected harmonies are also explored in this piece (of which further details here.) On the same program, a composition by Lou Bunk exploits the pliability of the clarinet, presenting cross-sections and intersections of three distinct themes, separated by silences.

Continuing the tradition begun earlier this season, this concert's intermission will feature an interview-discussion between me and the composer-theorist Robert D. Morris, who, in parallel with the latter half of Babbitt's career, developed his own independent approach to serial and post-serial composition. Morris has also been an avid listener of and writer on Babbitt's compositions over several decades.
Collide-O-Scope: Chamber works of Babbitt, Wuorinen, Bunk, and Bailey (mid-concert discussion with Robert Morris) Friday, June 17, at 8pm, $20, $15 (Students/Seniors). Tenri Cultural Institute, 43A West 13th St., NYC.
https://www.facebook.com/events/631465850347909/