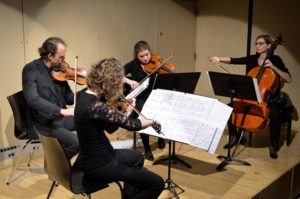 Ensemble Lux
Austrian Cultural Forum New York
November 17, 2016
NEW YORK – Austrian Cultural Forum New York makes part of its mission supporting chamber musicians from Austria, bringing them to the United States for concerts. One of the best of these concerts I have attended was this past Thursday's New York debut of Ensemble Lux, a string quartet with formidable technique and ambitious tastes in programming. Their concert ranged across a century's worth of music, from Anton Webern's 5 Movements for String Quartet (1909), to la pureté de l'envie blanche, a piece from 2010 by the Lux's second violinist, Thomas Wally.The concert opened with Olga Neuwirth's settori, a showcase for extended techniques: alternate bowings, rapping on the wood of the instruments, Bartôk pizzicatos, altissimo register filigrees and harmonics. Neuwirth uses this expansive palette as the means to fascinating, expressive ends. Hans Erich Apostel (1901-'72) was a student of Arnold Schoenberg and Alban Berg. The musical materials and aesthetics of the Second Viennese School are on display in Apostel's 6 Epigramme. While the pieces are well constructed miniatures, his last name is telling of his relative place in the 12-tone pantheon.
More engaging was Schoenberg's String Trio. Written after the composer's heart attack, a program reflecting this experience is often ascribed to the work. Whether one thinks it appropriate to do so, the piece is a remarkable late work by Schoenberg, juxtaposing the techniques of twelve-tone music and neoclassical phrasing with some of the visceral gestural language of his earlier Expressionism. Lux's performance paid note both to the work's Apollonian and Dionysian features. Correspondingly, Webern's 5 Movements, aphoristic vignettes written at the beginning of atonality's appearance, were played with exquisite care by the quartet.
la pureté de l'envie blanche juxtaposed periods of silence with angular runs nearly at the instruments' bridges. There were also tremendously quiet sustained passages. One was struck by the dynamic range the quartet had been able to deploy in ACFNY's small performance space, from thunderous outbursts in settori to the extreme pianissimos of Wally's work. Ensemble Lux's precision and control mark them as a group with a promising future. Hopefully, their next visit to New York will be soon.