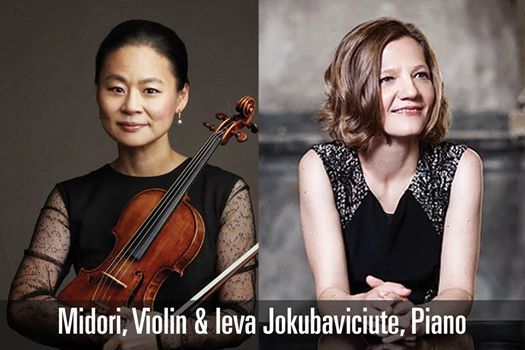 No matter how old the violinist Midori is, I'll always think of her as a child prodigy, the young teenager in the 1980s who played with A-list orchestras around the world. She hasn't disappeared from public eye between then and now, and the thrill of a child performing beyond her years is gone, but her name and her reputation still garner great admiration and respect. This month, Midori is touring a recital program she devised: works by five living female composers, including the premiere of a brand-new piece. On November 4, 2019, her performance in New York City with the pianist Ieva Jokubaviciute was at the nightclub Le Poisson Rouge.
From the first notes of Vivian Fung's Birdsong, Midori's effortless technique and silvery tone were evident. Also immediately evident was Jokubaviciute's role as confident and equal partner, rather than solely an accompanist. Fung's 2012 work, true to its name, had the violinist flitting the bow across the strings with subtlety and grace – this was not an "in your face" Flight of the Bumblebee derivative.
Dancer on a Tightrope by the Russian composer Sofia Gubaidulina featured delicate work inside the piano, with Jokubaviciute strumming strings inside the piano with her fingers and with a drinking glass. Midori drew a wistful melody across the strings of her violin, accompanied by a tremolo of low notes from within the piano.
Olga Neuwirth's 1995 composition, Quasare/Pulsare called for the pianist to use an ebow, an electronic device that uses a pickup and sensor coil to vibrate the piano strings. The eerie effect was matched by the violin's swooping notes that recalled a moaning ghost.
The world premiere of Unruly Strands by the Boston-based composer Tamar Diesendruck was just two days prior, at the Library of Congress in Washington DC (LOC commissioned the work). The most cohesive and coherent work of the evening, it was played with distinct finesse by Midori and Jokubaviciute. The work at times had a rather cartoonlike character, as the two instruments seemed to chase each other like a cat and mouse. The oldest piece on the program, Habil Sayagi, written in 1979 by the Azerbaijani composer Franghiz Ali-Zadeh, afforded both instrumentalists plenty of opportunity to display virtuoso technique, with Midori's violin replicating the sound of a middle eastern folk instrument and Jokubaviciute taking a percussive role, rhythmically slapping the piano case with open palms, ending the piece, and the entire evening, with a flourish.
Distractions from Le Poisson Rouge's servers aside ("Did you order the meatballs?"), the audience was rapt by the performances and the selections. I, however, became fidgety by the last quarter of the program. Though all the works were terrific compositions, spanning 40 years and four countries, there was a certain sameness of style that wore on me.