Just before the NY Philharmonic concert began playing Turangalila by Olivier Messiaen at David Geffen Hall on Saturday, the stranger sitting next to me asked if I thought he would like it. I told him it's very different and very thrilling. Just keep an open mind.
For classical music enthusiasts of a certain ilk, a performance of Turangalila is a hotly anticipated special occasion. It doesn't get performed all that often, perhaps because it requires additional personnel on stage (ten percussionists!), it takes up an entire program, AND you have to find an ondes martenot (an early 20th century electronic instrument) and someone to play it.  Although it was written nearly 80 years ago, it still sounds radical.
Hearing the Philharmonic perform the 80 minute piece, led by Jaap van Zweden with pianist Jean-Yves Thibaudet and Cynthia Millar playing ondes martenot, was indeed a thrill. The music is full of contrasts, which the Philharmonic's musicians brought out well. Sweet winds, acerbic brass, sharply staccato percussion and thunderous tympani. And that was just in the Introduction, the first of ten movements. By the end of Turangalila II, the seventh section, the ensemble was whipped into a frenzy, the music resolving into a massive major chord in a flourish of brass, strings and winds. Throughout the work, every section of the orchestra was used to maximum potential, practically a concerto for orchestra.
During the long and wildly enthusiastic ovation, the gentleman next to me turned to me and said he liked it! He described it as Holst fighting against Stravinsky, with Bartok poking at them. That sounded pretty accurate to me.
After the performance, I lingered in Geffen Hall's lobby, sipping a cappuccino and admiring the sizeable crowd in a post-concert schmooze – a new experience since the recent renovation now boasted a comfortable space with generous seating and a cash bar that was still open after the concert.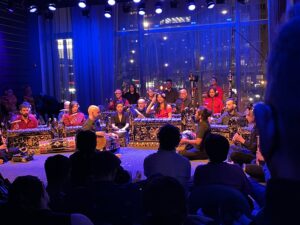 Next, I planned to attend the Philharmonic's "Nightcap" concert, scheduled for 10:30 pm in the Sidewalk Studio, an intimate space created during the 2022 renovation of the building.  Performing in this small space was Gamelan Dhamra Swara, a New York-based Balinese gamelan ensemble. The musicians gathered around two dozen gendèr (Indonesian xylophones), with four suling (flute) players and a couple of performers at drums and gongs. From the first rhythmic clanks of metal on metal, I was taken back to 2010, when I travelled with group to Bali (and filed this report on NPR).
It's a lot of noise for the small space, and the sound of the percussion was loud and visceral. Once I got past the ear-pounding volume, the effect was mesmerizing. Through several selections, some modern, some traditional, the group showed off its musical mettle, along with performances by two dancers clad in ornate traditional costumes. Through the floor to ceiling windows looking out over Broadway, I could see passersby stopping to listen, gaze over the line of taxis on the street and hear the sirens of the inevitable emergency vehicles.