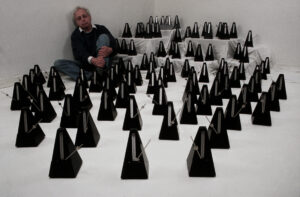 When you see New York Philharmonic's glossy brochures and online ads, you might be hard pressed to spot the new music offerings that are in nearly every program. For instance, "Trifonov Plays Schumann" hides the fact that there is a work for strings by the Lithuanian composer Raminta Šerkšnytė, a composition which Gidon Kremer referred to as "the calling card of Baltic music."
I mentioned this in passing to a staffer at the Philharmonic, and referred to it as a slam on marketing. I immediately regretted uttering that phrase, because it's not really about that. Marketing managers do what they need to – it's their job to sell tickets. Schumann sells, Šerkšnytė does not.
Here is my annotation of this fall's Philharmonic concerts for the tiny niche of new music fans.
September 29-October 1, 2023 "Joshua Bell, Copland, and The Elements"
This program description does in fact put the featured player of the new work front and center. On the other hand, you have to dig deeper to discover the fact that "The Elements" is a US premiere, and is a compilation of new works by five living American composers (Jake Heggie, Jennifer Higdon, Edgar Meyer, Jessie Montgomery, and Kevin Puts).
Footnote: brought to my attention by the illustrious Steve Smith in his Night After Night newsletter, you can watch a video of the world premiere of this work, available til October 1, here (courtesy of The Violin Channel's VC Live).
October 5-7 "Beethoven's Emperor, Schubert's Unfinished, and Steve Reich"
Here we DO get a clue right away about Steve Reich. Yay! Only needs a bit of clicking to learn that it's a world premiere co-commissioned by the NY Phil.
October 11 -14 "Trifonov Plays Schumann"
The aforementioned "calling card of Baltic music" is on offer: "De profundis" by the Lithuanian composer  Raminta Šerkšnytė.
October 19 – 21 "Bronfman, Brahms, and Ligeti"
Ligeti makes it onto the headline, yay! But deeper in the description is the fact that we get to hear Yefim Bronfman plays the New York premiere of a concerto written for him by the Russian-born Elena Firsova.
October 26 "Kravis Nightcap: Apollo's Fire"
Jeannette Sorrell directs the Philharmonic in the Handel epic, "Israel in Egypt" – – and also brings her great early music band Apollo's Fire to a late night show. I'm pointing this out because – while its not contemporary music, their unusual program explores music of ancient Jewish and Arabic origin with virtuosos on violin, Middle Eastern flute, oud, zither, and percussion.
October 27 "Sound On: Zorn, Azmeh, Chaker, and Chin"
If you're hot on new music, you've already got this on your calendar. Music by John Zorn and Unsuk Chin, and a NYP co-commission by Kinan Azmeh and Layale Chaker.
November 2-4 "Mälkki Conducts Pictures at an Exhibition"
We can count Ligeti as new music, right? He's only been gone for 15 years. This year, everyone including NYP is celebrating his centennial. And so now you know you'll hear his Piano Concerto played by Pierre-Laurent Aimard.
November 4 "Kravis Nightcap: Pierre-Laurent Aimard and Joachim Kühn"
PLA teams with jazz pianist Joachim Kühn, and they'll use Ligeti's Études as a jumping off point for improvision.
November 7 "Artist Spotlight: Pierre-Laurent Aimard"
Since we're counting Ligeti above, here's PLA playing the Etudes, "juxtaposed with works reflecting their cultural inspirations" (not sure what exactly that means, but I'm sold).
November 9 – 12 "Szeps-Znaider Plays Beethoven's Violin Concerto"
The thirty-something composer Carlos Simon is one hot item lately, and you'll get to hear his "Fate Now Conquers", which was inspired by something Beethoven wrote in his journal.
November 16 – 18 "Paavo Järvi Conducts Britten and Prokofiev"
You'll get to a chance to determine whether Veljo Tormis (who died in 2017) lives up to the reputation of excellence in Estonian composers, when you hear his Overture No. 2 on this program.
November 22 – 25 "The Planets and Atmosphères"
Though she died 50 years ago, we hardly ever get to hear music by the African-American composer Julia Perry. You will on this program (her Stabat Mater). Also, more Ligeti (I'm not complaining!).
November 30 – December 02 "Strauss, Rachmaninoff, and Bryce Dessner"
Bryce Dessner makes it onto the headline!  The NY premiere of his concerto for 2 pianos, written for, and played by the Labèque sisters.